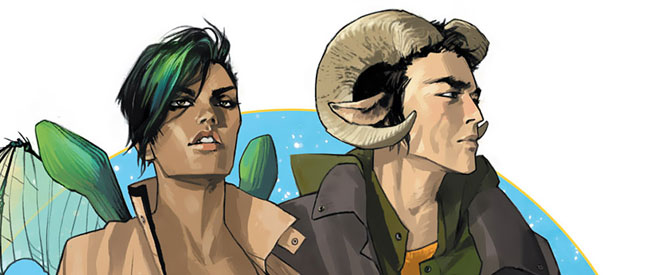 If you've been in a comic book store, read comic blogs, or talked to comic book fan friends in the last year you've probably heard why Saga, by Brian K. Vaughan and Fiona Staples is so great. You may have heard about the gritty language that mainstream comics shy away from, or maybe how you'll fall head-over-heels in love with the art. In our article earlier this week, we went into detail about how Saga is changing the comics game, but none of those things would be possible if this excellent Image series could not keep readers coming back after each issue.
Now, to celebrate the book going monthly, let's take a look back at the top 10 Saga moments from its first twelve issues, presented in chronological order.
Warning: Spoilers abound ahead!
A huge piece of –
Right from the first image on the first page, Saga sets the tone of what is to follow. A  single line hand-incorporated into art: "This is how an idea becomes real," followed by a close up, full-page image of our protagonist screaming, "Am I shitting? It feels like I'm shitting!" tells the reader that the author is not afraid of using real language, while making him or her wonder what the hell Alana could be doing that feels so much like shitting.
From the start, the reader is eager to turn the page and find out just what is going on. On this page, Vaughan and Staples birth the Saga universe into the world like one huge, satisfying shit: it's not particularly glamorous nor does it smell like roses, but it is real and it is glorious.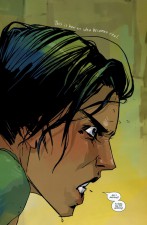 Marko chews the umbilical cord off his newborn daughter
This book is not afraid to get dirty and while there are many examples of this throughout the existing twelve issues, there are none so visceral as the image and description of Marko chewing the umbilical cord off of his newborn daughter. "Wasn't expecting… this much gristle," he grunts, after making a principled speech about the merits of nonviolence and civility, showing the reader that this book, above all, is about a family doing whatever it needs to do to get by.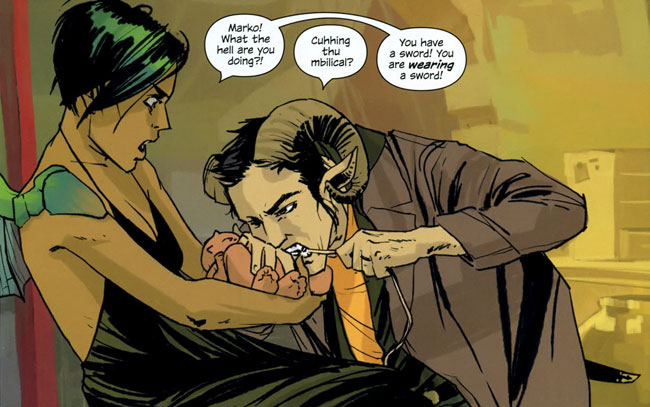 Lying Cat speaks
As a testament to the ridiculously imaginative concepts in this story, we present Lying Cat, a giant alien cat who can only groan in agreement, displeasure, or say the word, "lying", when someone is lying. Stalking silently through life next to the stoic The Will, Lying Cat's is, in essence, truth personified.
What's amazing about this particular character is the amount of characterization Staples manages to place on her even though she doesn't talk, and how BKV is able to disguise such an obvious plot device in a giant, intimidating version of something everyone on the internet is obsessed with.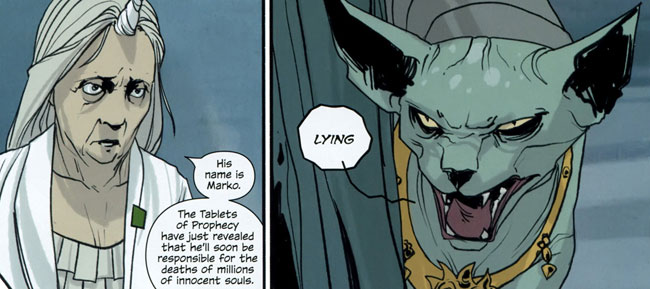 Secrets as a commodity
Another interesting way to hide plot devices, BKV establishes the rule that secrets can be sacrificed and used as currency when performing spells. The bigger the secret, the stronger the spell, one would imagine. This plants two huge ideas in readers' heads: one, that knowledge is power, and two, that nothing spectacular can be done without sacrifice; interesting ideas that surely will foreshadow even greater events in the future.
The Stalk, unveiled
The mere mention of The Stalk made The Will give up on his lucrative assignment to find Marko and Alana, so I doubt anyone expected to see what we saw on this page. Half grotesque monster from the depths of an arachnophobe's  worst nightmare, and half gorgeous facsimile of the Venus de Milo, The Stalk is sexy, deadly, and strangely human, despite her anatomy. We learn that she's been romantically involved with The Will and that they have a complicated will-they-won't-they relationship. We even feel sort of sad when, later, (SPOILER ALERT) she's killed by Prince Robot IV.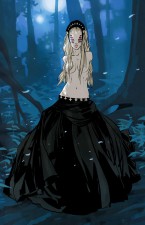 Izabel becomes Hazel's babysitter
The creators caught us off-guard again by revealing that 'the Horrors', the cruel and vengeful monsters of the forest, are actually sassy, punky child ghosts (and not the creepy, vengeful ones from Japanese horror movies), but they didn't stop there. BKV not only makes the 'monsters' relatable and fun, but juxtaposes them with mundane terms like 'babysitter' to give us a story we can really sink our teeth into.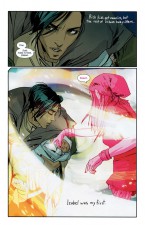 Drama
In the midst of running for their lives moments after childbirth, and dealing with ghosts and monsters and a war, what really causes problems for Alana and Marko is relationship drama. Who'd have thought that in a story like this, calling your wife the wrong name would be the thing that makes the reader cover his or her mouth in disbelief. This just speaks to the quality and character development of BKV's writing.
The grey areas
The Will, a monster in opposition of our heroes, who we know murders children without a second thought, demonstrates his opposition to children's sex slavery by graphically murdering a pimp. And just as we start to feel that maybe he might not be such a bad guy, Hazel's narration reminds us that he's a monster.
This scene is great because we suddenly get a really clear sense that BKV is a master storyteller—anticipating how the reader will react to different situations, and hammering home the idea that this story isn't about right or wrong, but about people and the grey areas in between.
You never know what you'll see in these books
BKV and Staples really know how to take advantage of the brief pause in reading that a person experiences between pages. They use this to ramp up anticipation for a split second before delivering a hard blow immediately on the following page. This is a great example. Marko and his mom show up on an alien planet, and we have no idea what to expect, but from our experience so far, we know we're going to see something good.
As page fifteen closes, Marko tackles his Ma, and says, "I promise, you don't want to see. Just keep your head down." Immediately, you're wondering what's coming, and the framing of the following page is so perfect. You see what he was talking about, and you wish you hadn't looked, but you can't look away.
The great controversy
Earlier this year, this page caught flack for its graphic content and raised controversy about censorship as it was banned on the Apple iOS store. In case it's not clear, the frame features Prince Robot IV wounded and dying in the arms of a soldier, and on his "face" is an image of a man sucking another man's penis.
While a clever way to nonverbally express Robot IV's idea that that particular situation sucked, this page wins a spot on this rundown because of the spark that it ignited in the discussion of the role of censorship, with most readers coming in on the site of free speech.
Could this idea have been expressed without that image? Sure, but the way BKV and Staples pulled it off with such loud nuance is masterful, and their decision to stand behind it  sent free thinkers' fists high into the air.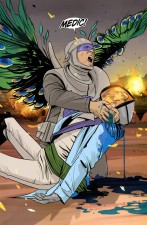 Honorable mention:
BKV has expressed on many occasions, that on the eve of the release of Issue 12, he felt that this panel would catch more attention than the blowjob scene. Unfortunately that wound up not being true, but it should have been. These guys are so cute, and their casual inclusion in this story is dry comics humor at its finest.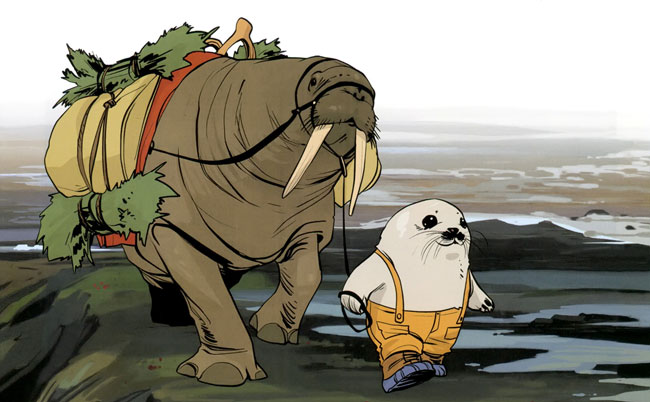 What are your favorite Saga moments? Sound off in the comments below!