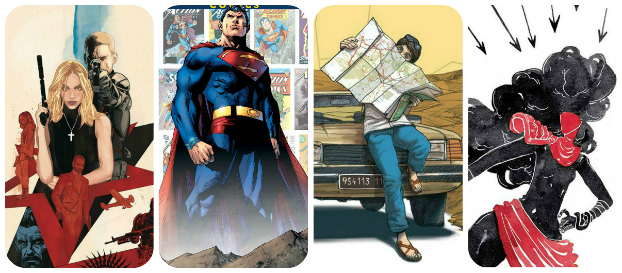 It's nearly Wednesday, and you know what that means: a fresh load of comics and graphic novels! With so many publications hitting your local comics store, comics events or digital storefront, the BF team are here to lead you through the woods with our weekly staff picks. Satisfaction guaranteed!
Comic of the Week
Clover Honey Special Edition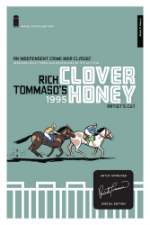 Apparently it's not enough for writer/artist Rich Tommaso to be hopping from one wildly different project to another. Over the past couple of years, during which time he brought us all-ages espionage thriller Spy Seal and the decidedly not all-ages horror comic She Wolf, he's apparently also been busy redrawing, relettering, and redesigning one of his older projects. I'm genuinely concerned about when the man finds time to sleep.
Clover Honey, originally published in 1995, sounds not unlike his current series Dry County, the second issue of which is also out this week. It takes a classic crime set up — an assassin, a bag of money with connections to the mob, a game of cat-and-mouse — and gives it a fresh twist. In this case, it's that aspiring hitwoman Abigail is a very human kind of crook, contending with everyday irritations like traffic jams and bad hair days on top of tackling the mob.
Rich Tommaso (W/A) • Image Comics, $12.99
– Tom Baker
Algeria is Beautiful Like America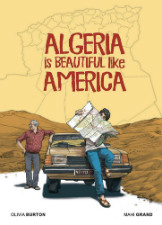 This blend of travelogue, memoir and post-colonial family history was originally published in 2015 by Steinkis, an interesting French publisher that focuses on issues of identity and culture. And this English-language version now seems a good fit for Lion Forge Comics, a US publisher that strives to produce socially relevant and thought-provoking titles that reflect the diversity of the world outside the comic shop.
The book traces the writer's journey to Algeria following the death of her grandmother, a "pied noir" emigre who moved from the North African country to France after the bloody war of independence. Accompanied only by a local guide, Olivia strives to understand her family's origins and actions as white settlers, against the painful background of colonialism. Her journey brings her face to face with questions of "heritage, history, shame, friendship, nostalgia and memory".
Olivia Burton (W), Mahi Grand (A), Edward Gauvin (Tr) • Lion Forge Comics, $24.99
– Tom Murphy
Action Comics: 80 Years of Superman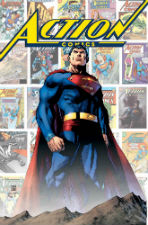 This deluxe edition hardcover collection celebrating eight decades of the Man of Steel traces the history and evolution of the character from his creation by Siegel and Shuster back in Action Comics #1 through his Golden Age and Silver Age incarnations and right up to the present day. All within a striking new cover by Jim Lee.
While Super-aficionados may argue about questionable omissions (and there's certainly one very significant one herein) this remains a strong sampling of the creators who have made such important contributions to the Superman mythos over the past 80 years. At the very least, a never before seen Golden Age story should be draw enough for comics historians and Super-fans alike to join in the celebrations.
Anthology – Various creators • DC Comics, $29.99
– Andy Oliver
Crude #1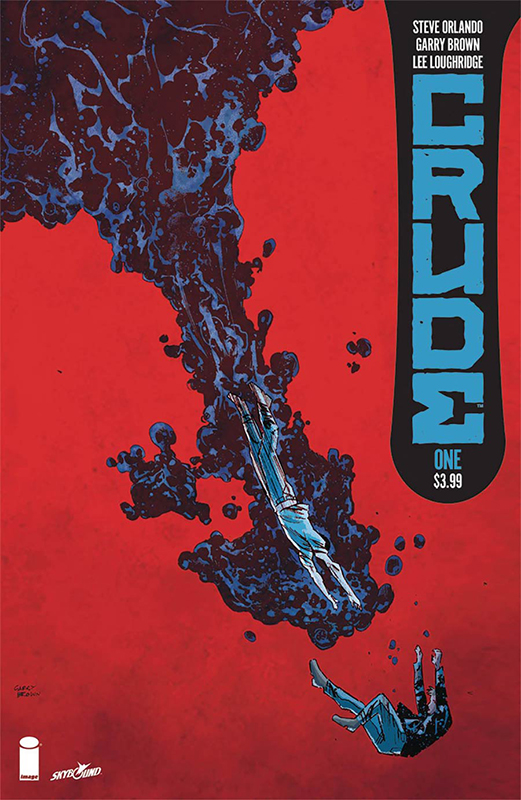 Piotr Petrovich was a killer. He did what he thought he had to do to provide for his family, but it came at the expense of ever getting to truly know his own son and what secrets he had. Now it's too late, as his son has been returned to him in a body bag.
In order to discover the truth, Piotr returns to the life he thought he had left behind and travels to the brutal refinery city known as Blackstone where his son had gone to escape. It's a tale of revenge, but also masculinity and to what extent we'll go to to hide who we truly are.
Steve Orlando (W), Garry Brown (A), Lee Loughridge (C), Thomas Mauer (L) • Image Comics $3.99
– Tyler Chin-Tanner
The Dead Hand #1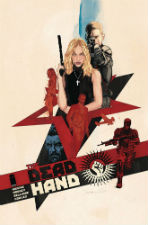 The murky and secretive world of espionage is fertile ground for great stories; and, by extension, the intrigue-infused Cold War has served as the setting for countless movies, novels, and comics that rarely fail to entertain. This is partly because the realm of spies is one that is, by nature, hidden to us. And, as history has shown when the veil gets lifted, the realities of this exciting realm are often stranger than fiction.
This week, Image Comics and best-selling writer Kyle Higgins (C.O.W.L., Hadrian's Wall) launch The Dead Hand, a new series with roots in real-deal, end-of-the-Cold War spy history that takes place in the modern day. Protagonist Carter Carlson, an ex-secret agent who once did his part to thwart Russian efforts to destroy the world, has tried to settle into the quiet life in the town of Mountain View. But, the past is not done with Carlson – he discovers that the town is inextricably linked to an old Soviet doomsday device that threatens to rekindle the fires of destruction, a relic of the Cold War known as the "Dead Hand".
Bringing this thriller to life with Higgins is artist Stephen Mooney whose panel work, covers, and splash-page montages are not to be missed; as well as Eisner-winning colorist Jordie Bellaire who never fails to hit the proper palette right on the money. There's no good reason to pass this one up!
Kyle Higgins (W), Stephen Mooney (A), Jordie Bellaire (C) • Image Comics, $3.99
– Matthew Box
The Family Trade Vol: 1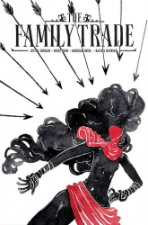 The set up of Justin Jordan, Nikki Ryan and Morgan Beem's Image series is pretty good: in an alternate history, it's spies, assassins and schemers who make the world go round…and also the world is a single steampunk-styled island. But it's Beem's artwork, as seen on that striking cover, that really caught my eye. That wonderfully evocative ink wash style is continued throughout, a sort of David Mack-meets-Colleen Coover aesthetic with a European influence to the caricatured faces.
This collection compiles the first arc of The Family Trade, kicking off a story that puts me in mind of the very good (and so, of course, not tremendously popular) Dishonored video games in its focus on street-level thievery and high-level political machinations in a fantastical setting. The ocean-bound city of the Free Republic of Thessalia finds itself in choppy waters when one of the younger members of the cadre of crooks and con artists who run the place accidentally sparks a civil war; intriguingly, because she refuses to kill. I'm on board!
Justin Jordan & Nikki Ryan (W), Morgan Beem (A) • Image Comics, $16.99
– Tom Baker