Debuting at Comico in the early '80s before finding a home at Dark Horse Comics, Matt Wagner's Grendel began as a cult noir-ish series in that decade's great indie boom. In the ensuing years Wagner has returned to the concept on a number of occasions and taken it in new directions. Early news from ECCC this weekend from Dark Horse spotlights a new miniseries for the character with a sci-fi angle. The full press release is below.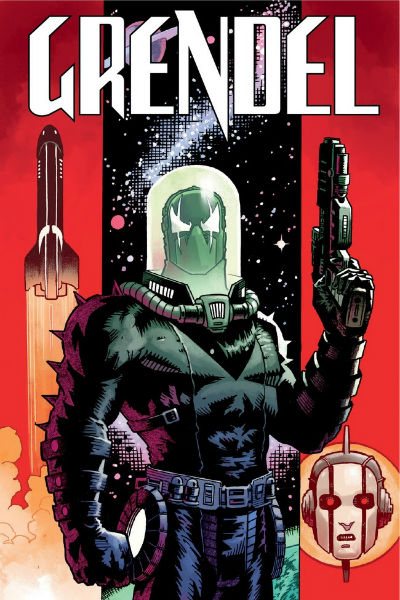 MILWAUKIE, Ore. (March 14, 2019)—Grendel Prime searches the stars for a new home for mankind, and Matt Wagner returns to his darkest creation! Today, Dark Horse is happy to announce a new Grendel series from Eisner Award-nominated creator Matt Wagner (Grendel, Mage), joined by colorist Brennan Wagner (Grendel vs. The Shadow, Batman), and letterer Dave Lanphear (Aliens vs. Predator: Deadspace, Mage: The Hero Denied). Grendel: Devil's Odyssey sees Grendel back in action as he sets off into space to save humanity itself. This new series will see standard issue covers illustrated by Grendel creator Matt Wagner, with a special issue #1 variant illustrated by Eisner Award winner Fábio Moon and variant covers coming for all subsequent issues.
As civilization comes to an end on Earth, the final Grendel Khan gives Grendel Prime a new directive: Find a new home for the human race. But will the deadly and relentless paladin ultimately save humanity . . . or destroy it? Find out in Grendel: Devil's Odyssey!
Grendel: Devil's Odyssey #1 (of eight) goes on sale October 2, 2019.
Praise for Grendel:
"Grendel is a brave and possibly even reckless experiment that has succeeded admirably."—Alan Moore (Watchmen)
"Matt Wagner created a world for Grendel that is brutal, violent, tragic and sad. It's also home to some of the best comic book stories ever created."—Eric Robert Nolan (The Dogs Don't Bark In Brooklyn Anymore)
"Grendel is a masterful creation that is ripe with inspiration and endless re-interpretation!"—Newsarama