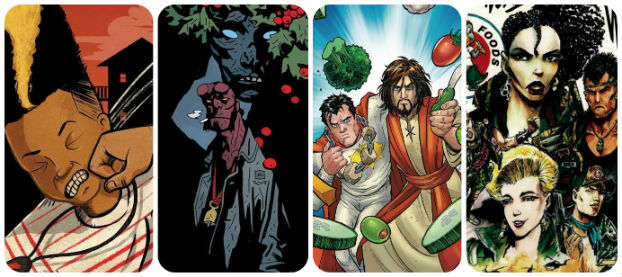 It's nearly Wednesday, and you know what that means: a fresh load of comics and graphic novels! With so many publications hitting your local comics store, comics event or digital storefront, the BF team are here to lead you through the woods with our weekly staff picks. Satisfaction guaranteed!
Comic of the Week
Third World War Book One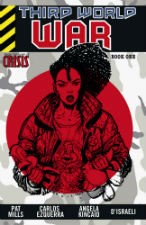 It's no exaggeration to say that Pat Mills was a huge influence on my developing social conscience as a child, with his original ABC Warriors run making me think about corporate greed, exploitation and privilege in ways that may otherwise have passed me by. In my late teens his work on Third World War in the pages of the UK Crisis anthology (and alongside a stellar array of collaborators) took that a step further with its game-changing approach to socially active comics. Now we can all finally revisit this landmark strip in the new Rebellion collection.
Described as "a searing political satire on capitalism, commercialisation, imperialism, and exploitation that still rings as true today as it did in the '80s" Third World War has been long overdue for contemporary consideration in a format like this. Follow recent graduate Eve, conscripted into a corporate military in South America in the first book of what will hopefully be a complete collection of the series.
Pat Mills & Angela Kincaid (W), Carlos Ezquerra & D'Israeli (A) • Rebellion/Treasury of British Comics, £19.99
– Andy Oliver
Fights: One Boy's Triumph Over Violence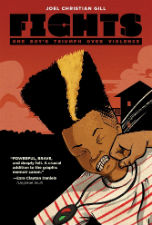 As a cartoonist, educator and advocate, Joel Christian Gill has shone a light on overlooked black lives and achievements in book series such as Strange Fruit: Uncelebrated Narratives from Black History and Tales of the Talented Tenth.
In Fights, he looks back to his own early life for what Oni describes as a "visceral and deeply affecting memoir" of his passage into manhood in the 1980s. Against a backdrop of urban deprivation and domestic abuse, the sensitive and confused young Joel finds himself lashing out and resorting to violence to deal with his problems. However, as he develops a sense of his place in the world, he faces the challenge of moving from conflict to compassion.
Gill's book promises a timely focus on questions of race, masculinity, violence and identity, as well as a message of optimism about the power of self-determination and human kindness in even the hardest of circumstances.
Joel Christian Gill (W/A) • Oni Press, $19.99
– Tom Murphy
Second Coming #6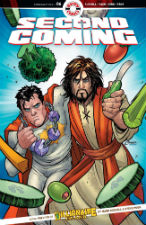 It's the grand finale of the Broken Frontier Award-nominated miniseries and DC's loss has very much proved to be Ahoy's gain as the mischievously satirical storyline comes to a close. This tale of a returned Jesus flat-sharing with Superman-style super-hero Sunstar has been brilliantly offbeat in its knowing humour and deserved all the accolades it has received.
In this extra-sized final instalment Sunstar and Shiela are off on honeymoon and Satan is about to start tempting Jesus once again. If you're a "wait for the trade" kind of person make sure the inevitable collection is right at the top of your must-buy list
Mark Russell (W), Richard Pace (A), Leonard Kirk (F), Andy Troy (C), Rob Steen (L) • Ahoy Comics, $3.99
–  Andy Oliver
Over My Dead Body TPB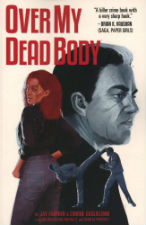 If there sometimes feels as if there aren't enough characters like John Wick around on comics shelves near us these days, Over My Dead Body brings us the dodgy Markham. He's a contract killer, but also happens to be the kind of conflicted character that allows a talented writer to bring nuance into what could very well be a run-of-the-mill slash and gore thriller.
Jay Faerber's work as a writer has often been described as sharp, but it's probably the art by Simone Guglielmini (for those familiar with the Near Death series) that will make a lot of readers happy.
Jay Faerber (W), Simone Guglielmini, Gigi Baldassini, Ron Riley & Charles Pritchett (A) • Image Comics, $16.99
– Lindsay Pereira
Derek the Sheep: Danger is My Middle Name!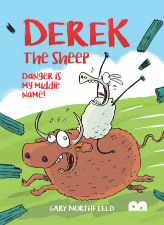 Gary Northfield's Bog Eyed Books has been such a joy over the last few years, publishing album-style collections of all-ages comics aimed primarily at the kids market. It's collected work published online and in anthologies like The Phoenix, and has included such faves as Jim Medway's Sgt. Chip Charlton and Mister Woofles of the Royal Canadian Mounted Police and Tor Freeman's Welcome to Oddleigh.
Its flagship title has been Northfield's own Derek the Sheep series, originally featured in The Beano and BeanoMAX between 2004 and 2011. It features the disaster-prone Derek, his animal chums and their anarchic farmyard escapades. A new volume of Derek adventures is always a welcome treat. You can read a review of the first volume here at Broken Frontier.
Gary Northfield (W/A) • Bog Eyed Books, £9.99
– Andy Oliver
Hellboy Winter Special 2019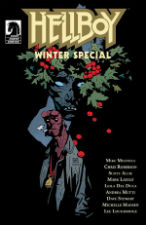 From Arbaz M. Khan's upcoming review at Broken Frontier:
Serving as a three-in-one, this trio of stories bring a joy to the season. Hellboy has always succeeded with its flexibility and ability to play with the idea of the meandering. Mignola's universe has succeeded through this narrative momentum; one that is both enriching and yet consistently plays within the cultivated world of the Mignolaverse.
For this issue Dark Horse managed to pull out all of the stops, by using former Hellboy and BPRD creators to celebrate the 2019 season. For each of the three short comics stories, the three teams display fantastic ingenuity. Ironically, Hellboy is only in one story of the three. Despite the lack of his presence, the other two stories manage to create an ethos that helps in developing the world around Hellboy.
Scott Allie, Chris Roberson & Mike Mignola (W), Leila del Luca, Mark Laszio & Andrea Mutti (A), Lee Loughridge, Michelle Madsen & Dave Stewart (C) • Dark Horse Comics, $3.99
– Arbaz M. Khan
Crisis on Infinite Earths Giant #1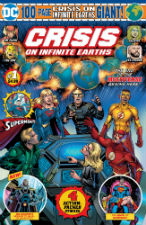 A vehicle to promote the current The CW Crisis TV crossover rather than the original continuity-shattering comics series, this latest publication in DC's Giants series will nevertheless doubtless have an appeal to the nostalgists out there.
Featuring a lead story by Crisis on Infinite Earths writer and Arrowverse Executive Producer Marc Guggenheim it also includes an original back-up and reprints from the '80s epic which once promised to clean up DC continuity once and for all but has been endlessly recycled by DC every few years in the intervening three and a half decades. There's something eerily resonant about the red skies of a Crisis for fans of a certain age, though, and no doubt many will be picking this up on that basis alone.
Marv Wolfman & Marc Guggenheim (W), Tom Derenick, Tom Grummett, Trevor Scott, Dany Miki & George Perez (A), John Kalisz & Chris Sotomayor (C), Wes Abbott (L), Jerry Ordway and Alex Sinclair (CA) • DC Comics, $4.99
– Andy Oliver