Another exclusive reveal treat courtesy of Dark Horse Comics today at Broken Frontier with this sneak peek at artist Scott Hepburn's cover for December's  Minor Threats #4. The series, written by Patton Oswalt and Jordan Blum, hits shelves next week and puts its focus on the lives of the lesser players in the super-villain world. Here's the solicitation info for that debut issue to give you a taster of what you're in for:
It's hard out there for a supervillain. Not the world conquerors, chaos engines, or arch-nemeses . . . but the little guys. The ones who put on uniforms, knock over jewelry stores, and get tied to poles. And things are about to get worse. The psychotic Stickman has murdered Kid Dusk, sidekick to Twilight Citys premier crime-fighter, the Insomniac. The Insomniac's teammates are tearing Twilight apart, turning it into a police state–desperate to capture Stickman and stop the Insomniac from crossing that final line which he may never come back from. Caught in the middle are the small-time c-list villains, finding it impossible to walk down the street without being harassed by these heroes. With a bounty on the Stickman's head, former villain Playtime decides to assemble a ragtag team of villains to take down the Stickman and kill him themselves.
And here's your exclusive look at the cover for Minor Threats #4: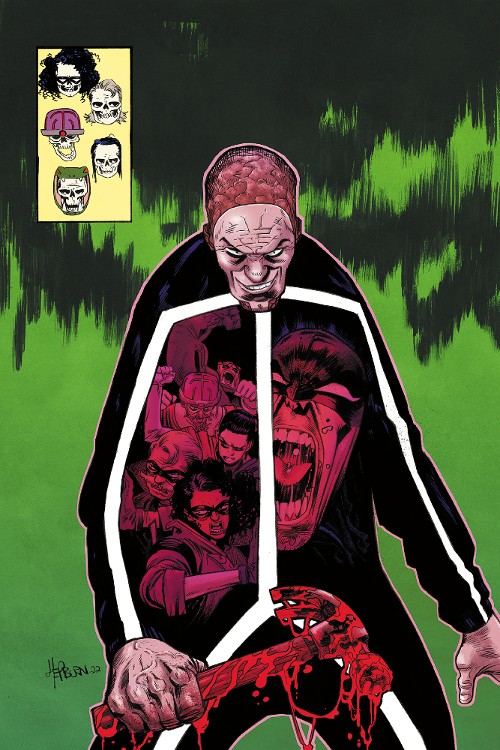 Writers: Patton Oswalt and Jordan Blum
Penciller/Inker: Scott Hepburn
Colorist: Ian Herring
Letterer: Nate Piekos
Cover artist: Scott Hepburn
Variant cover: Tess Fowler
On sale: 12/7/22
Summary: Betrayed by one of their own and at the mercy of the maniac they set out to kill, the Minor Threats are sent on a suicide mission by the Stickman into the inner sanctum of The Insomniac. See which of our cast of c-list costumed criminals make it out alive (hint: not a lot of them) as the most dangerous night of their lives comes to a nail-biting conclusion!