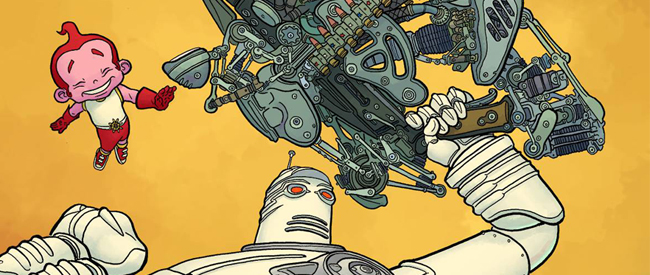 Tried, tested, and always new thanks to injections of fresh talent, this survey of the unabashedly cool in the world of comics brings veterans and newcomers together easily.
Featuring a typically eclectic array of top-notch comics by some of the industry's most talented creators, Dark Horse Presents continues to defy definition as anything but the very best original monthly comics anthology.
In this inaugural issue, DH chief Mike Richardson taps tried-and-tested contributors from the publisher's vast and versatile catalog of creator-owned properties to introduce the latest volume of the company's award-winning anthology series.
Covering a wide range of genres and subject matter, this opener introduces a handful of serialized stories complimented by a couple of stand-alone tales. Obviously, variety has always been the major strength of the anthology format, a staple of DHP since its inception and the main reason it has remained successful these past few years.

Headlined by a cuttingly satirical The Big Guy and Rusty the Boy Robot one-shot by Geof Darrow, this 56-page debut also features a hauntingly ethereal and experimental rumination on the origin and future of Kabuki by creator David Mack; a brand new Resident Alien mystery as Icarus takes on Las Vegas, courtesy of Peter Hogan and Steve Parkhouse; and an intriguing new kaleidoscopic trip into the center of our dreams by the brilliant Brendan McCarthy.
The issue is rounded out with a new ongoing fusion of combat sports entertainment and monsters in Wrestling with Demons, by Jimmy Palmiotti, Justin Gray, and Andy Kuhns, and the rambunctiously absurd stylings of Damon Gentry and Aaron Conley's Sabretooth Swordsman.
Each feature has its merits, and I'll allow the audience to draw their own determinations as to their favorite story, but for the record mine were McCarthy's Dream Gang, Hogan and Parkhouse's Resident Alien tale, and Darrow's turn as writer and artist on The Big Guy and Rusty.

If I had one criticism, it would be the pin-up gallery showcasing one derivative image of the Big Guy and Rusty the Boy Robot after another. Surely with space now at such a premium, another story – or at least a wider range of artists contributing images of these headliners – would have been a better investment of pages.
Despite taking a hit in the page count, DHP remains a hotbed of creativity, with veterans and newcomers co-existing easily, connected by their obvious dedication to the craft of making cool, original comics.
In these days of "waiting for the trade", anthology series are a great, cost-effective way to keep buying comics every month, and with DHP you're sure to get your money's worth. For sheer quality and accumulated big-name comics talent, there's no bigger or better bang for your buck(s).
Various (W), Various (A) • Dark Horse Comics, $4.99, August 20, 2014