Always pleasing to see bigger publishers teaming up with educational organisations to provide material aimed at a younger audience. Full details on Dark Horses and Trackers Earth's Captain Nick & the Explorer Society—Compass of Mems below.
DARK HORSE BOOKS AND TRACKERS EARTH TEAM UP FOR CAPTAIN NICK & THE EXPLORER SOCIETY–COMPASS OF MEMS
Explore lost worlds and discover hidden treasures with Captain Nick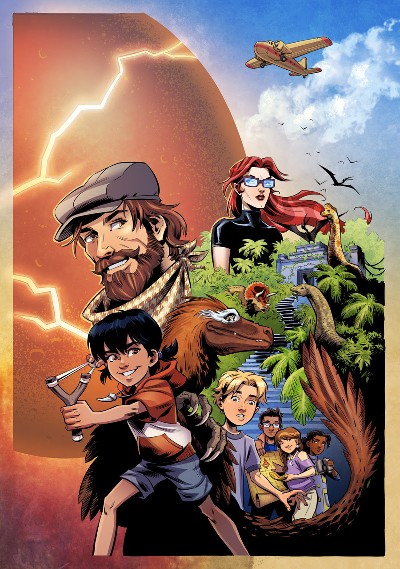 Dark Horse Books and Trackers Earth are proud to introduce Captain Nick and the courageous and resourceful Explorer Society, as told by the expert outdoor educators and adventurers of Trackers Earth! Based on their popular Captain Nick camp, the book is written by Grey Allison, Michelle McCann, and Trackers Earth co-founder Tony Deis. Pencils are by Thomas Pitilli, inks by Lukas Ketner, colors by Liezl Buenaventura, and letters by Troy Peteri.
Trackers Earth is an award-winning outdoor education organization with a mission to inspire kids and families to explore, connect, and care for the natural world. Through their programs and stories, Trackers Earth teaches kids old-school outdoor skills such as wilderness survival, nature awareness, and tracking. These experiences help kids develop resilience, confidence, and independence in all walks of life. Many of their camps teach these skills through fantastic live-action role-playing that takes kids out into the wilderness, including the official B.P.R.D. (aka Hellboy) Camp, which met with widespread acclaim. While Trackers has created non-fiction how-to skills books and short online and printed comics for kids at their summer camps, this is their first graphic novel with Dark Horse Books.
In Trackers Presents: Captain Nick & the Explorer Society—Compass of Mems, Captain Nick and the kids race to find the mysterious Compass of Mems before their nemesis, the Contessa, gets her hands on it. Can they safeguard this ancient relic and foil her plans to conquer the world? Captain Nick adventures are packed with lost worlds, ancient treasures, time travel, dinosaurs, and butt-kicking girl assassins!
Trackers Presents: Captain Nick & the Explorer Society—Compass of Mems TPB will be available in comic shops June 7, 2023 and will be in bookstores June 6, 2023. It is now available for pre-order on Amazon, Barnes & Noble, and at your local comic shop and bookstore. The book will retail for $14.99.