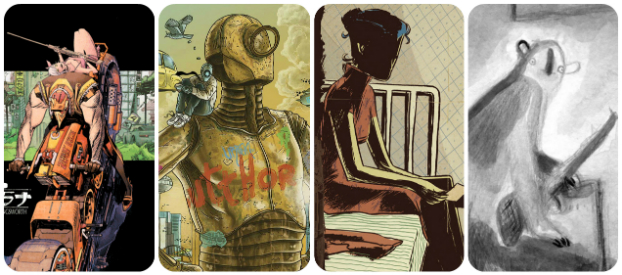 It's nearly Wednesday, and you know what that means: a fresh load of comics and graphic novels! With so many publications hitting your local comics store or digital storefront, the BF staff is here to lead you through the woods with our weekly staff picks. Satisfaction guaranteed!
Comic of the Week
Tokyo Ghost #1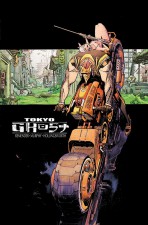 The world is going down the drain, and we could care less because we're too busy enjoying our little tech toys, filled with so much content that it's impossible for us to consume fully.
In Rick Remender and Sean Murphy's new series, Tokyo Ghost, our FOMO* on the next big thing right around the corner is higher than the water levels that have reduced 2090s LA to a number of toxic waste-islands. It's in this brutal environment that constables Led Dent and Debbie Decay enforce the law – the law being the will of Flak World, a mob-led entertainment conglomerate that is pulling society's strings.
Remender says that this book, filled with lots of social commentary and all the crazy tech Murphy is so wonderfully good at creating, is the craziest thing he's come up with to date. You might want to put aside your phone for a sec and give it a shot.
* Look it up, grandad!
Rick Remender (W), Sean Murphy (A) • Image Comics, $3.50
– Frederik Hautain
D4VE2 #1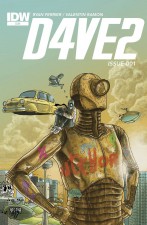 How often does it happen that you laugh out loud when reading a comic (that is intentionally meant to be funny)? Not that often, I guess. However, the first series of D4VE, by Ryan Ferrier and Valentin Ramon, caught me completely by surprise by doing just that.
Set in the future on an earth completely populated by robots (there's not a human in sight anywhere), slacker bot D4VE suffers from a midlife crises. Once he used to be part of the world's greatest alien exterminator squad, but now he's a defense-bot-turned-corporate-slave.
In the first series he found redemption while dealing with a sneaky alien invasion, his estranged bot wife and very rude and sex-obsessed bot kid 5COTTY. In D4VE2, it's one year later and with the world seemingly at peace, things seem pretty all right on 34RTH until the arrival of a strange ship sends D4VE head-first into an existential crisis: an inconceivable blast from the past that threatens not only D4VE's dwindling relationship with 5COTTY, but all of robot-kind itself!
Ferrer's script is coupled with the amazing artwork of Valentin Ramon (I suspect he is an avatar of ARTDRO1D 569 beamed down as a solid holograph from 34RTH), who seems to be born to draw robots and aliens doing mundane tasks like driving a car, doing the dishes and COMPLETELY PULVERIZING ALIEN SCUM. *cough* Ahem. Well, anyway: D4VE2 – treat yourself to good comics and support the bot-cause!
Ryan Ferrier (W), Valentin Ramon (A) • IDW Publishing, $3.99
– Bart Croonenborghs

Over the Line: An Introduction to Poetry Comics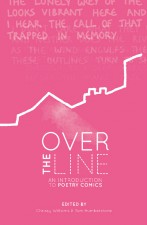 From Ravi Thornton's astonishing HOAX Psychosis Blues, which focused on her late brother Rob's battle with schizophrenia, to Clare Shaw and Louise Crosby's Seeing Poetry comics, we've examined the potential of the relationship between poems and comics on more than the odd occasion here at Broken Frontier over the last couple of years.
Chrissy Williams and Tom Humberstone's anthology Over the Line takes an intensive look at that link through work from many names that will be recognisable to Broken Frontier readers, including Conor Stechschulte, Douglas Noble, Emix Regulus, Inés Estrada, Lala Albert, Oliver East, Sean Azzopardi, Tim Bird and many more. No less a luminary than Alan Moore has said of the book, "I really can't recommend this venture highly enough", and it's another to launch this week at London's Gosh! Comics, on Thursday 17th September.
Anthology – various creators •  Sidekick Books, £15.00
– Andy Oliver
Heart in a Box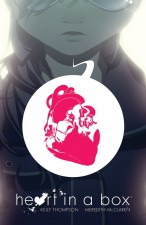 If you're feeling that your comics diet could do with a bit of generic variety at the moment, you could probably do worse than check out Heart in a Box, a stylish, imaginative and action-packed scuffle around the world of romance.
A collaboration between writer Kelly Thompson (Captain Marvel and the Carol Corps) and artist Meredith McCann (Hinges, Hopeless Savages), it's the story of Emma, who wishes her heart away in the painful wake of a romantic crash-and-burn. When a mysterious stranger takes her at her word, complications ensue. Before long she finds herself on a quest to recover the seven pieces of her heart…
Dark Horse are pitching this to fans of Scott Pilgrim, and McClaren's dynamic, manga-inflected artwork packs a punch along with the chuckles. Anyway, rather than listening to me, why don't you head to the Dark Horse site, where a free digital copy of the first issue is waiting for your perusal.
Kelly Thompson (W), Meredith McClaren (A) • Dark Horse Comics, $14.99
– Tom Murphy
Tempo Lush Tales of the Tanoox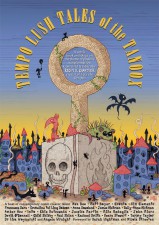 UK small presser Richy K. Chandler returns to the anthology format with a second Tempo Lush Tales offering, this time with the expanded name Tempo Lush Tales of the Tanoox. Chandler's brief to the plethora of UK indie talent on show here was a simple but laudable one: each creator has been asked to provide a tale of positive transformation and to put their own spin on that premise. We're also promised an explanation of the mysterious Tanoox of the book's title…
With well-established veterans of the UK small press scene on show here, like Chandler himself, Mike Medaglia, Francesca Dare, Jessica Martin and David O'Connell, Tempo Lush Tales of the Tanoox was always going to be worth your time. However, watch out also for some of the newer creators taking part, especially Kim Clements – another name I've been urging you to look out for in my 'Small Pressganged' column here at Broken Frontier. The book launches at London's Gosh! Comics this Friday, 18th September and you can see an exclusive Broken Frontier preview here.
Anthology – various creators • Tempo Lush, £7.00
– Andy Oliver
2 Sisters: A Super-Spy Graphic Novel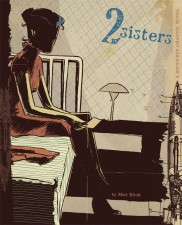 Matt Kindt's scripts have brought craft and vivid imagination to a range of mainstream genre material, but it's his independent work as a writer/artist that really sees him at his most intriguing. And if you've been suffering withdrawal symptoms since the conclusion of the stunning Mind MGMT last month, this reprint of his 2004 book from Top Shelf could ease your pain.
Coloured for the first time (by Marie Enger) and designed to sit nicely on the shelf alongside the recent reprint of Pistolwhip (Kindt's collaboration with Jason Hall), this deluxe format 344-page hardback is at once a fanciful World War II thriller, full of codes, gadgets and cyanide capsules, and the heartbreaking story of the eponymous siblings Elle and Anna, whose shared past and secrets are dredged up when one of them is recruited into the shadowy game of espionage.
Weaving together four tales across eras of history, 2 Sisters shows that even at this early stage in his career, Kindt was demonstrating his playful feel for the form and desire to tell big stories with a very human heart.
Matt Kindt (W/A), Marie Enger (Colours) • Dark Horse Comics $27.99
– Tom Murphy
The Bozz Chronicles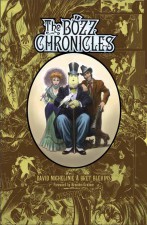 First appearing thirty years ago under Marvel's old creator-owned imprint Epic Comics, The Bozz Chronicles was a series far ahead of its time. A true generic mash-up, fusing classic Holmesian mystery with healthy dollops of sci-fi and the supernatural, David Michelinie (Iron Man) and Bret Blevins' (Inhumans) first creator-owned series was Steampunk before there was such a thing.
Following the misadventures of an alien detective and streetwise former Whitechapel prostitute, The Bozz Chronicles was an instant fan-favorite thanks to Blevins' fluid, atmospheric art and Michelinie's spot-on character development. Noted for its strong female lead and frank treatment of depression, the series came to a sudden halt when the creators decided against renewing their contract with Epic.
Thanks to the fine folks at Dover Publications, a whole new generation of readers can now lose themselves in the labyrinthine streets of Victorian London, following the strange misadventures of the Boswell & Flynn Consulting Detective agency.
Check out my review from last month if you must, but make sure you don't miss out on this classic 1980s title!
David Michelinie (W), Bret Blevins & John Ridgeway (A) • Dover Publications, $24.99
– Jason Wilkins