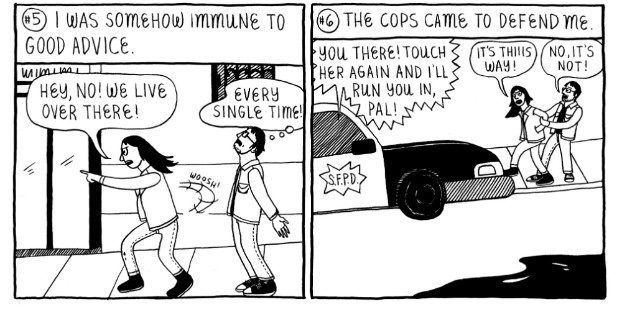 The latest one-shot from Hic & Hoc Publications, Foggy Notions is a collection of autobiographical shorts from Philippines-based artist November Garcia detailing her episodic misadventures during the several-year period she resided in San Francisco. Bleakly humorous in tone, this 30-odd page one-shot is a keenly observed series of vignettes dealing with both the colourful characters in her neighbourhood and a procession of largely dreadful jobs that she endured in that time.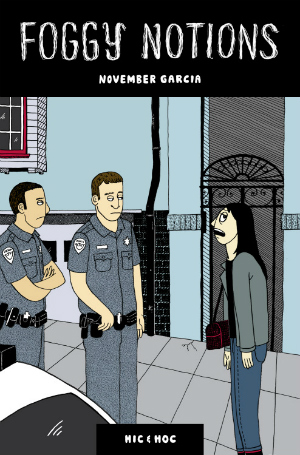 That may sound like predictably standard subject matter for autobio work but Garcia's comics connect instantly with the reader due largely to her appealing everyperson narration and self-deprecating persona.
The best slice-of-life work, of course, is usually that which allows us to identify with its protagonist by seeing a set of familiar circumstances through their eyes and Garcia is adept at translating events in her own environment into a series of instantly recognisable scenarios.
The opening story (below left) about an attempted mobile phone theft on a bus is a fine example of how her tales can move from darkly comedic accounts of personal mishaps into a far bleaker form of humour. A black eye resulting from said scuffle leads to accusatory stares and then into far more worrying possible long-term health concerns – all presented with a resigned and wearily witty accompanying commentary.
Social embarrassment is at the forefront of many of the strips herein. In 'Wasted in Oakland' Garcia tries to slowly piece together the forgotten events of a drunken evening the morning after in a playful piece of storytelling that exploits comics' unique relationship with the passage of time to cringingly funny effect.
There's also some wonderfully awkward moments in her journey through employment ranging from call centre woes to dealing with convenience store customers through to faecal slapstick during a period working at a kennel (below right). These strips are densely packed with observational humour, often feeling like a rapid-fire series of interconnected one-panel gags.
While Garcia's art is unsophisticated, its accessibility and honest charm perfectly reflects and complements her authorial voice. Many of the shorts in these pages – her character study of local homeless man "Everlast" for example – build up to rather brilliant punchlines which one can only hope actually happened. But if they are indeed retrospective embellishments they're perfectly acceptable ones.
The down side to Foggy Notions is that it all ends far too quickly and one suspects – or at least hopes – there are far more stories from Garcia's time in San Francisco waiting to be told. November Garcia is undoubtedly a cartoonist whose work we all need to keep a keen eye on in future. Watch out for possibly the most morbidly funny single panel in the history of autobio comics on the back cover as well for proof positive of that!
You can order Foggy Notions from the Hic & Hoc site here. For more on the work of November Garcia visit her site here. 
For regular updates on all things small press follow Andy Oliver on Twitter here.