To describe Jonathan Baylis's autobio work as Pekar-esque only goes so far in communicating his approach to this area of comics practice. So Buttons #11 is a short anthology collection of self-contained stories and illustration that has a comforting anecdotal feel, made all the more welcoming by Baylis's personable presence as narrator which instantly puts his readers at ease as if he were an old friend you were catching up with over a quiet drink. Each entry is illustrated by a guest artist, ranging from the established to emerging talent. From a UK perspective, for example, it contains work from UK small press legend Phil Elliott and rising star B. Mure (whose Ismyre books from Avery Hill Publishing have been so impressive over the last few years). It's all wrapped up in an eye-catching homage to 1970s DC humour comic Plop! in the style of Basil Wolverton by Jim Rugg. Fitting given the mix of pop culture and nostalgia herein.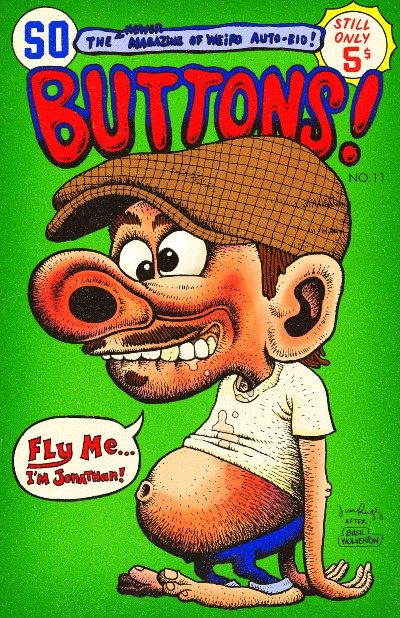 What makes So Buttons so relatable is the manner in which Baylis elevates the minutiae of life to fascinating mini-sagas in the making, reminding us that the smaller moments in life can often be the most vibrant and memorable. The initial story 'So… Scotchy Scotch Scotch' for example, illustrated with an accessible economy and a neat line in visual characterisation by November Garcia, recounts his quest to track down and sample a rare whisky that becomes something of a holy grail. Told with friendly humour, and weaving Joan Rivers, Prince Charles and TV game shows through its narrative, it's a sign of the good-natured and largely celebratory reflections on the past that are to come.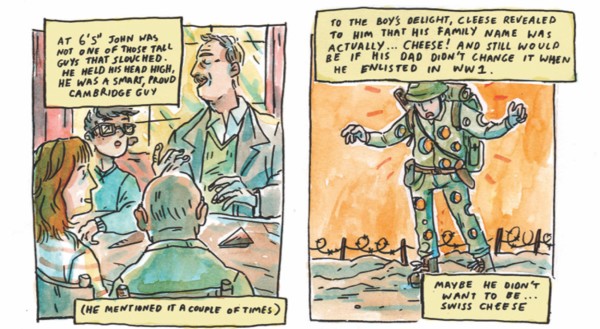 The highlight of the issue is the B. Mure-illustrated 'So… Cheesy' (above) which takes us back to Baylis volunteering with the Make-a-Wish foundation bringing the dreams of children with life-threatening conditions to life. It's a beautiful piece of feelgood comics that focuses on a teenage boy getting the chance to meet his comedy idol John Cleese at a restaurant, and Baylis's observation of one quiet moment of kindness from the Python star that provides the heartwarming standout story of the book. Mure gets the opportunity to show a different side of his visual storytelling from the fantasy of Ismyre here, emphasisising the sheer humanity of events perfectly especially in the way he captures the everyday realities of living in an ableist world. The carefully considered use of colour also gives this short a kind of dreamy, flashback vibe.
UK readers will appreciate 'So…Home is Wherever the Bollocks I Am, Apparently' which takes us back to Baylis leaving New York as a student in order to study in London for a semester. It's there near his flat in Lewisham that he discovers the legendary comics shop of yesteryear Skinny Melink's and falls in love with indie, alt and small press work for the first time. It's a tale that also reminds us that sometimes comics can be a very small world indeed and that our sequential art family trees are interlinked in all sorts of surprising and unexpected ways. Phil Elliott's cartooning is a joy here, capturing another era of comics retail when comic shops might have been niche, overlooked operations but at their very best were also treasure troves of undiscovered wonders.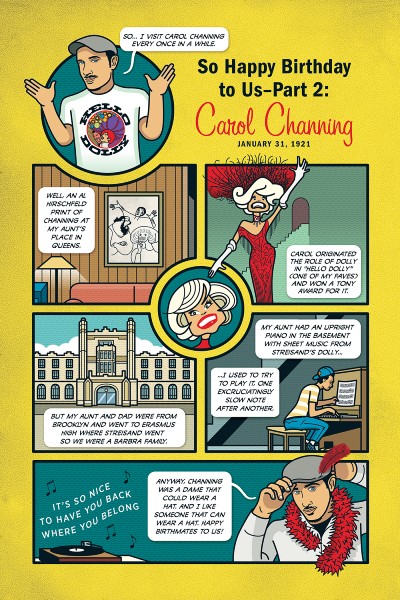 The longest story in #11 is 'So… You're the Tops' illustrated by Jeff Zapata, coloured by Adam Walmsley and lettered by Rick Parker. It's an opportunity for those of us of a certain age to wallow in nostalgia by sharing in memories of Bazooka Joe bubble gum and comics, Star Wars trading cards, and missing scenes from A New Hope. It recalls Baylis's relationship with Topps, the company behind all those chewable confectionary and collectible cards (and for a while a comics line) from childhood summer vacations with his grandmother through to his time working for them. The visuals here have a fittingly jaunty, breezy life to them and a short follow-up illustrated by Rick Parker attempts to answer that long unsolved comics mystery – why did a child like Bazooka Joe wear an eyepatch?
There's much more to enjoy in these pages which have an endearingly scrapbook-style mix of sequentials and single illustration. There's contributions from old BF faves like Maria and Peter Hoey (above, with their trademark sense of graphic design), and a page from the inimitable Fred Hembeck for example. But the beating heart of the book is obviously Jonathan Baylis's amiable raconteurial storytelling style. Lovers of autobio comics will delight in the many varied visual interpretations of his genial recollections in these pages.
Jonathan Baylis, Jim Rugg, November Garcia, A.T. Pratt, B. Mure, Garrett Gilchrist, Andy Rash, Phil Elliott, T.J. Kirsch, Fred Hembeck, Jeff Zapata, Rick Parker, Adam Walmsley, Maria & Peter Hoey, Lucas Eisenberg-Baylis, and Miss Lasko Gross • Tinto Press, $5.00
Buy online here or from Tinto Press here
Review by Andy Oliver