In Patt Kelley's strange but oddly recognisable worlds the convergence of the everyday and the utterly bizarre cis a regular occurrence. His work has an eerie quality that is both darkly humorous and yet often powerfully poignant at the same time. I first covered his comics a few years back on the old Broken Frontier site when I looked at the Top Shelf-published What Am I Going to Do Without You? here.
In more recent times I've written very positively about both his surreal coming-of-age story Scout here and the award-winning Fedor – a fictional re-imagining of the life of the real Jo Jo the Dog-Faced Boy – published by Hic & Hoc here. In our latest 'Small Press Inside Look' creator commentary today at Broken Frontier Patt talks about those books and some of his other projects from both inside and outside the world of comics.
If you've never encountered his comics before then be prepared to meet a creator with a truly individual and distinctive voice below..
The Calm Before the Storm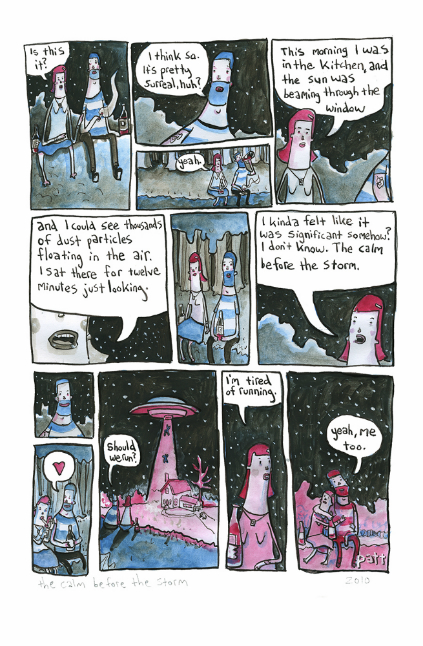 The Calm Before the Storm is a one-page story that I did really quick in my sketchbook back in 2010 if memory serves. I've always been interested in starting stories at strange places within the narrative. Opening a story with a conversation that's already underway or in this case literally at the end of what's clearly a much longer story.
Here the reader is forced to make inferences based on what they're given. Are the two characters friends? Lovers? Perhaps they just met moments before and are drowning their sorrows over the state of whatever's happening with the UFOs.
Their timelines converging for the first time at this very moment.
I won't tell you what I had in mind. Make the story your own.
My main objective with this one was to capture a moment between two people. A moment of resignation, and one that bonds the two characters together for whatever's about to come next.
There's nothing too special about the art here. Just a quick sketchy style. Some watercolor and ink. No rulers, or any stylized typography.
The story was printed in my now out of print collection All of Them Witches and was also turned into a short film by French filmmaker/photographer Etienne Rallion.
Dead Tooth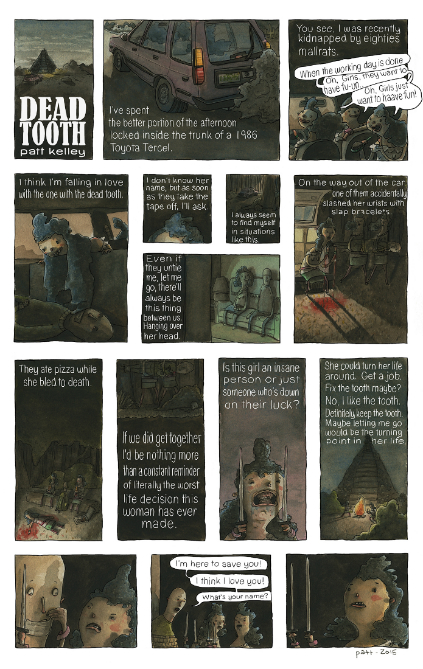 The inner ramblings of a lonely man who's just been kidnapped by a trio of eighties mallrats.
There's something beautiful in an imperfection. A lazy eye or a snaggle tooth won't define you as a human being, but without it you'd be boring. Our world puts so much emphasis on an unimaginative standard of unattainable beauty. Why do we all want to look the same?
The main character here, after coming to terms with his abduction, falls for the girl with the dead tooth. He creates storylines in his head, and by the time he's dragged from the car he's infatuated with her.
He doesn't really know her. He has an amalgamation of things he's observed and inferred, but he's determined to save her from the downward spiral that is her life.
I mean, she did just kidnap a dude.
I ended it on an ambiguous note. He professes his love. Tells her that he's going to save her. One would assume that up until now she was completely oblivious to the man's intentions.
Maybe she was just surprised and would kill him anyway.
Maybe he hit a note. Maybe she was just looking for someone to save her.
I guess, when it all comes down to it you never know the answer to things like this until you ask.
Dead Tooth is another single page story. This one is a lot more polished than The Calm Before the Storm both in story as well as the art.
The page was created the way I do most of my comic work these days. I start with a sketch. I do the final page on a sheet of cold press watercolor paper (usually, like a 90lb stock). I go from pencils into watercolor. Do some white highlights with acrylic.
I then scan the page and ink it digitally in Photoshop, followed by a layer with the type. I'll use a standard Arial font to plot out the letters. On a separate layer I trace over the font layer, so I have what looks like my own handwriting, just extremely neat.
Dead Tooth was published in my collection And Then There Was Nothing
Scout #1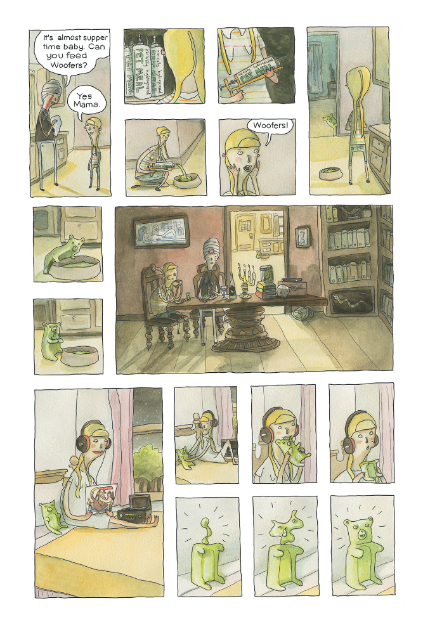 There's a lot of weird shit in this book that I just kind of write off as normal. There are murderous creatures all over. Scout's mom was in a coma for ten years and can now commune with the dead and has the gift of animal magnetism. There's been a dog plague, and Scout comes across an old hermit in the woods who's been living in a literal underground house below a field with what could very well be the last dog on the planet.
I think if you have to explain things to your readers you're doing them a disservice. Questions will be answered in subsequent issues, but not everything. Some shit is just weird and can't be explained away without coming off as forced. There's something magical about not knowing how things work. In fact when you do get down to the bare bones and mechanics of things the reality is usually pretty boring.
This page features a character named Woofers. Woofers is Scout's pet. An ambulatory gummy bear with regeneration capabilities. You can bite your pet's head off, eat it, and another will grow in its place.
I know. It's weird.
It will be explained a bit more in the future, but at this point in issue one it's not necessary. If you bludgeon your reader in the head with a list of info at the very beginning, then often the story will lack depth and becomes uninteresting. If you wait to reveal truths until just the right time you can make a real emotional impact in your story.
The page was created with the same technique as the Dead Tooth page. And yes, Scout is listening to Los Campesinos' 'Hold on Now, Youngster…' in the bottom left panel.
Also I totally love gummy bears!
(Read a BF review of Scout #1 here)
Fedor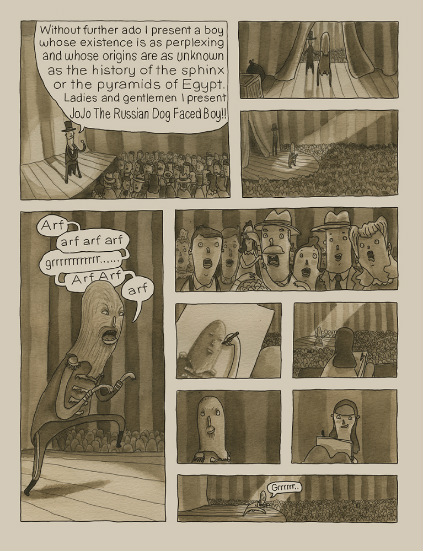 Fedor is a work of historical fiction. It's based on the life of Fedor Jefftichew, better known as JoJo the Dog Faced Boy. He was a circus sideshow performer who exhibited in the late 1800s and early 1900s. He had a condition called hypertrichosis which produces an excess of hair, particularly covering his entire face.
There's not much in the history books about his personal life. Next to nothing about his romantic life. All I've ever come across was a bit about a wedding with a dog faced girl. In reality I'm pretty sure this was just a publicity stunt to bolster ticket sales. Fake weddings were common place in the history of the sideshow, and there's no mention of it anywhere else. If he was actually married there would be evidence beyond a newspaper ad.
This got me thinking. Was he happy? Was he ever in love? I based my story around his relationship with the invented Helena, the completely normal daughter of a pair of sideshow oddities. They meet in their teens, and the relationship goes back and forth throughout their lives. Fedor gone for years at a time, always wanting to be with her but not wanting to give up his career.
Since the story is based in reality, I wanted the look of it to echo the timeframe of the story. The interior art is done in a sepia tone that mimicked the photography of the era. I used my traditional watercolor pages with digital ink and lettering.
The cover is a sculpture in the style of a faux cabinet card photograph. During this time sideshow performers would sell these photos for income. I have two of Fedor's cards that were taken in California in the early 1900s shortly before his death.
The book was published by Hic & Hoc Publications and received a silver medal in the Society of Illustrators Comic and Cartoon Art Annual.
(Read a BF review of Fedor here)
Abridged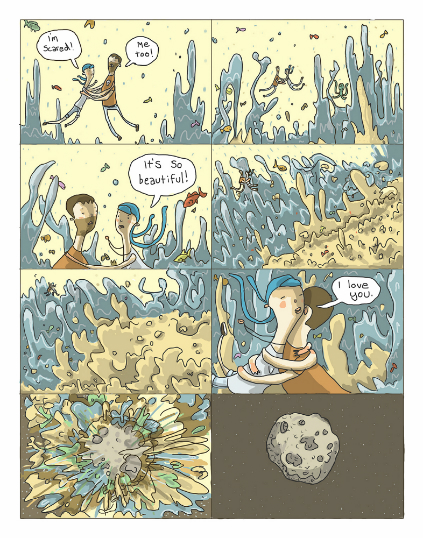 Okay, I'm a jerk! Huge spoiler alert with this page, but it's my favorite one in this book, so deal with it! Long story short, this book is about a secret crush and the end of the world. A love letter to infatuation and the power of attraction.
The nameless main character gets in touch with a girl who he's had a crush on, but has been too timid to say anything. Once news breaks of the end of the world he confesses everything, and they decide to spend their last few days on a road trip to the ocean.
The planet is losing its gravity. Dogs, people, cars, etc are sucked into space. Is this scientifically possible? Probably not. There's no science involved here. Much like with Scout, we're just going to let weird shit be weird shit.
Here on the last page the two are sucked into the ether and their eminent demise is seemingly the last thing on their minds. They leave this world, figuratively and literally, with every bit of their hearts full and happy. A truly satisfying death if there ever was one.
I always fear that sometimes my work comes across as pretentious. We live in a truly horrible world. You see something awful any time you turn on the news, or look at Facebook. I however, despite the evidence to the contrary, believe that there is still magic in the universe. Pepperings of sheer beauty and wonder sprinkled in with the shit. A lot of my work conveys that. I like to mix horror and happiness, ugliness and beauty.
We tend to be wary of honesty and emotion. It makes us uncomfortable for some reason. I think I can come across as over sensitive or even maudlin with my work. I just believe that if you want to write a great story you have to really pour your whole heart into it.
This book is a bit of a departure visually from what I normally do. I usually work in watercolor, and this one is entirely digital. I drew the pages in pencil on a cheap copy paper, scanned them, and did everything else in Photoshop. I'm normally one to stay away from technology with my work. I prefer the feeling of brush on paper. It's just soothing to me. It was however a fun exercise in moving outside of my comfort zone and trying new things.
The book was originally created for The Comics Workbook Composition Competition run by Frank Santoro and the Santoro Correspondence Course. The story didn't place but eventually got into the first Society of Illustrators Comics and Cartoon Annual.
You could always buy the book, but it's in my Tumblr for free here…
Circle of Life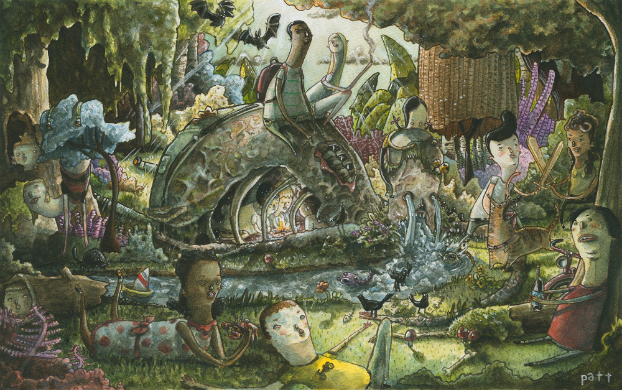 So this obviously isn't a comic, but it's a decent look into what else I do with my art when I'm not making comics.
Also it's totally a shameless plug for what I'm doing right now. I'm working on pieces for a show at Stranger Factory in New Mexico. It's happening from March 3 – April 2.
This is the piece I'm using on the promo images/postcards for the show. The promo images have the title for the show 'Circle of Life' as well as the show dates and info. This is the original piece without all of that.
The piece is titled "As we play with reckless abandon" and is a meditation on how we dance around death on a daily basis without actually acknowledging it. It's a scary thing to contemplate, so I think we keep it at arm's length as much as we can. All the while ignoring that it's there and right in front of our faces.
It's pretty much straight watercolor with the occasional touch of white acrylic paint to make the highlights and reflections pop. The original size of the piece is 11×17"
I'm really excited about the pieces I've been putting out for the show and it's near torture to not be able to show anything else, so I can't wait for March!
For more on Patt Kelley visit his site here and follow him on Twitter here. You can visit Patt's online store here and buy Fedor from Hic & Hoc's online store here. 
For regular updates on all things small press follow Andy Oliver on Twitter here.