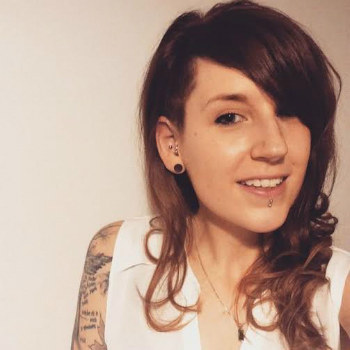 Rozi Hathaway first came to prominence in 2014 as one of the artists involved in Ravi Thornton's acclaimed graphic memoir HOAX Psychosis Blues, alongside the likes of Bryan Talbot, Karrie Fransman, Hannah Berry, Rian Hughes and Mark Stafford. Since then she has self-published her first solo comic The Red Road – reviewed enthusiastically here in this column earlier this year – contributed to Keara Stewart's anthology A Bit of Undigested Potato, and been one of the team behind feminist zine Down to Your Skivvies.
Committed 'Small Pressganged' readers, of course, will be well aware that Rozi Hathaway is also one of my 'Six Small Press Creators to Watch in 2015', a group of up-and-coming exciting talents who I have been regularly following this year through review, interview and feature coverage. Today, in the first of a new series of articles wherein small pressers will be talking about their creative process on specific projects, Rozi guides us through her work on HOAX Psychosis Blues, The Red Road and some of her shorter story work…
HOAX Psychosis Blues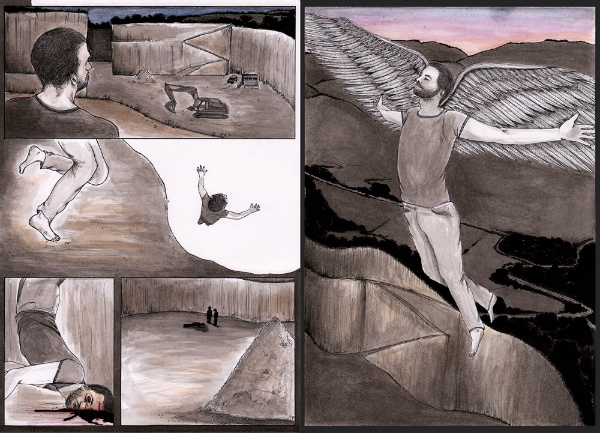 First up I'm going to talk a bit about this particular spread in the graphic memoir HOAX Psychosis Blues, by Ravi Thornton. The book itself is a collection of poems written by her brother Rob, who suffered from schizophrenia and subsequently took his life because of his illness. Each poem is illustrated by a different artist, with interluding narrative in between to structure the story.
The poem that I was illustrating fitted into a 6-page block, and I had complete freedom in the page layouts. The poem I was given was referring to Rob after his death; the aim was to be completely clear about the circumstances, but counter the undeniable pain of loss with something uplifting and beautiful. This spread is from the opening two pages, in which I had to depict Rob's death, and his freedom following.
I chose to start off with very dark tones to simulate the hazy time of day just before dawn. Drawing the death of a real person was an uncomfortable experience, but my aim was to be candid, and depict the atmosphere as well as I could. Quarry mines have a very open and cold feeling to them, especially when inactive, so it was important to me to give this sense of stillness and vast loneliness. The facing page depicts Rob's freedom, keeping the theme of stillness and quiet was still very important, as if Rob found his own peace whilst the whole land slept.
The Red Road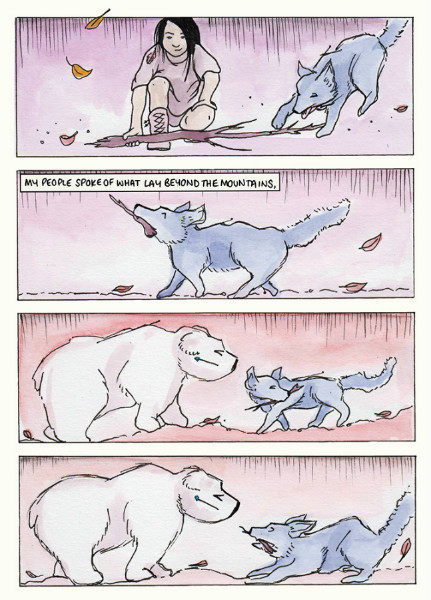 Next up is my own self-published work, The Red Road. This page has to be my favourite page in the whole book. The story itself is very dark and, at times, rather uncomfortable. However, it was important to me that the reader could really relate to these characters, find joy in them, and even make it feel as if you are in the story with them. As the Bear and the Coyote are Spirit Animals, in theory they don't exist, but they do to the main character. For me, this interaction is a brief and simple connection that explains the characteristics of both Bear and Coyote in just a few panels. Still to this day, it makes me smile.
The Red Road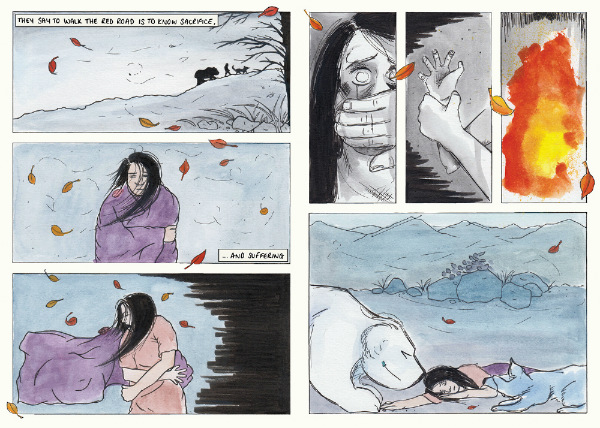 This next spread was quite mentally and emotionally difficult to draw. How do you show violation, violence and horror, without actually showing it? Flashes of memories are key to the pace of the whole story, and this one is probably most pivotal, linking the story to the surreal imagery at the beginning of the book. I wanted to show that the girl is battling her own personal demons even with her loving and goofy Spirit Animals by her side. Like with anything harrowing and painful in life, even if you have the best support system, you can't escape the reality. I used greyscale and stark red and yellow of the fire to differentiate from the pale colours of the rest of the story, plus adapted my style of drawing into a scratchier, horror-esque feel to further show the painful memories of the protagonist. Cheery, right?
'Locomotion' from A Bit of Undigested Potato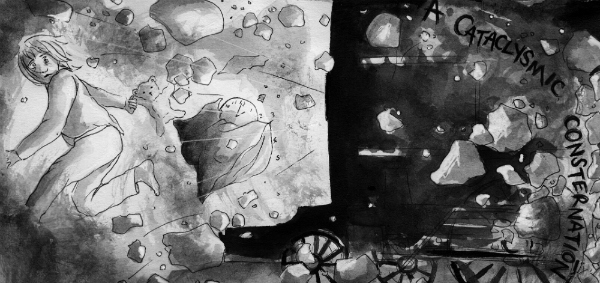 In this next panel, from my one-page comic for Keara Stewart's nightmare and bad dream-themed anthology A Bit of Undigested Potato, I was showing a snapshot of a personal recurring nightmare I had as a child. That fear of being chased in a never-ending nightmare is fairly common, but how do you portray it? The guidelines given by Keara were for greyscale or black and white only, which actually made it easier to really play with the contrast of the comic. I also got to test-run my white roller-ball gel pen for highlighting which worked a treat! My main aim for this panel was to show just how utterly terrifying it is to be in that nightmare, and hopefully I did the job well!
Rejsen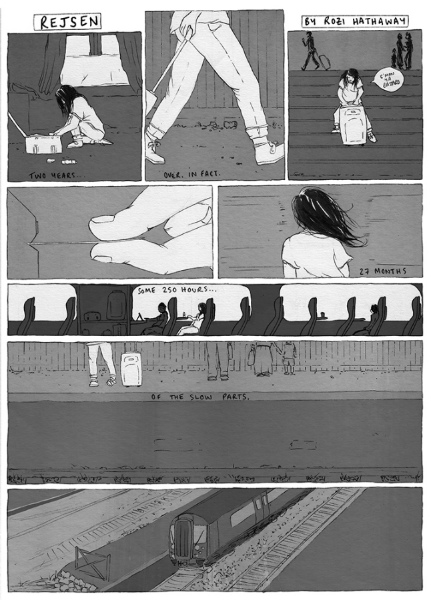 Finally, this is a page from my recently created two-page submission for Dirty Rotten Comics' Summer Anthology, entitled 'Rejsen'. I usually work on very surreal, atmospheric and often dream-like stories, so for this one I wanted to create something far more true to life. Rejsen, meaning 'the journey' in Danish, documents a typical journey to Manchester from my home in Northampton to see my boyfriend.
I've been doing this journey for well over two years; the delays, the changes, the toils of public transportation and even the views lend themselves well to the comic form, and I chose a simple greyscale theme to highlight how it feels to be in love at a distance. The background people are scribbles, with only the two main lovers being of any importance at that moment in time. Love, y'know?
Why Danish, I hear you all say? I've been teaching myself Danish for almost 8 months now, as my boyfriend and I are off on a Scandinavian adventure to travel and see friends next month. As the wonderful girlfriend that I am, I like to randomly spout Danish words and sentences at my other half (who has no idea and no intention of leaning anything other than Mancunian), confusing him on a daily basis. Fordi, der er sjovt!
So there we have it. I hope you've enjoyed reading about what I do! I keep a weekly blog of everything I'm up to over at my website, so feel free to pop on over and have a nosey about. You can also subscribe to my blog posts via email if you are somewhat fond of my ramblings. It's worth it – honest! And you should DEFINITELY buy everything I've ever done. Andy Oliver said so*.
*maybe.
For more on the work of Rozi Hathaway visit her website here. You can like her Facebook page here and follow her on Twitter here. 
The Red Road can be ordered online here. 
For regular updates on all things small press follow Andy Oliver on Twitter here.