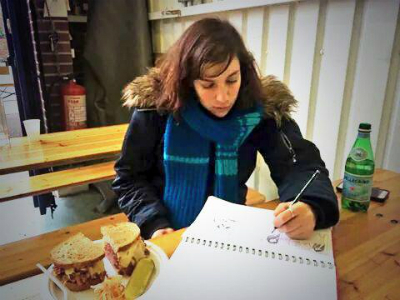 The last time Danny Noble – one of my 'Six UK Small Press Creators to Watch in 2015' – spoke to me at Broken Frontier (in this interview in March) it proved to be the most popular creator chat I have ever run in this column in its near four-year existence.
Noble, of course, is the artist behind the hugely popular social media phenomenon Was it… Too Much for You? featuring the misadventures of the naked drunken toddlers-in-adult form incarnations of Oliver Reed and Alan Bates, the autobiographical slacker comedy of Monday Morning, and frequent anthology contributions in books like Dirty Rotten Comics and A Bit of Undigested Potato. She's also the regular artist-in-residence at the monthly Gosh! Comics/Broken Frontier Drink and Draw, the next meeting of which is this Thursday 30th July. 
Danny, above right, who never draws without a huge salt beef sandwich at her side, is the second self-publisher to take part in our new series of 'Small Press Inside Looks' in this column wherein artists discuss their creative process and give insights into their behind-the-scenes working practice. Join her as she explains – in her own utterly unique and totally inimitable style – the therapeutic nature of making comics, designing album covers for her band The Meow Meows, and how those hairy men-children Alan and Ollie took on a life of their own…
Danny's Creative Process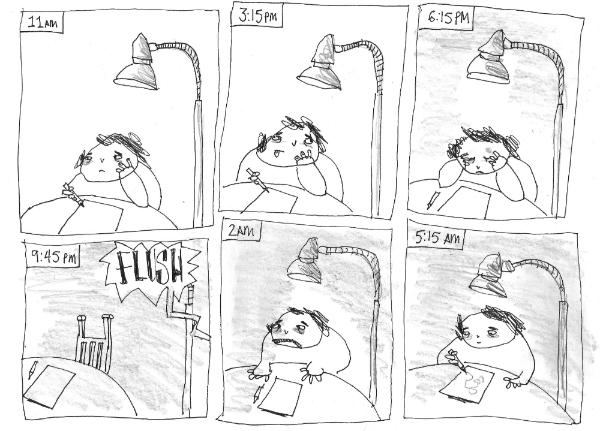 This is how I work. Either I torture myself with a blank page before giving up completely and passing out in front of some god-awful telly, or I compulsively spew forth every little shame and irritation happening in my life, entirely unaware that the room is falling down around me.
Monday Morning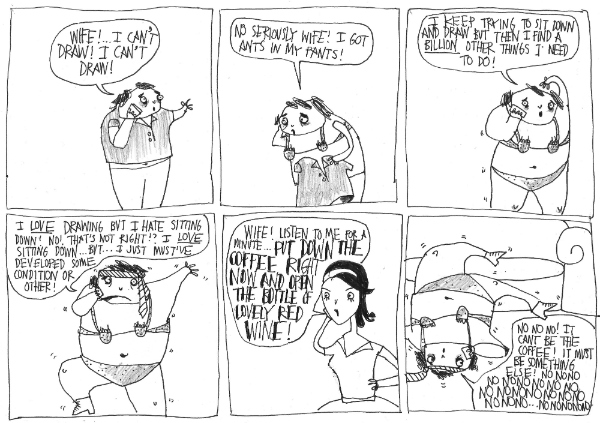 These are pages from my online comic Monday Morning. Generally I'm an easy kind of jolly kind of person, but when everything gets a bit much I find making these strips a lot cheaper and more effective than therapy…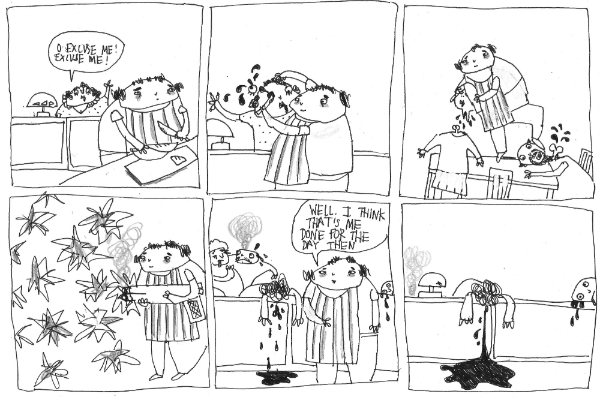 When I worked in kitchens after an 8-hour day of being charming to folk who may not have deserved to be charmed, instead of spitting in the food, I could draw a strip.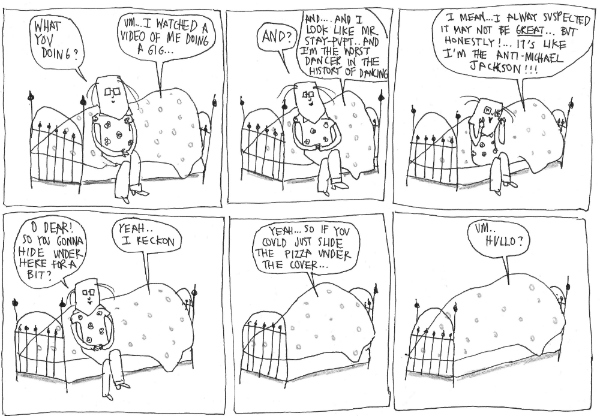 When I disgrace myself in any manner of ways, if I draw a strip I only have to hide under the covers for a few hours rather than a whole week.
And when I behave like a reckless idiot, I can upload a strip to social media where my ma and pa can read it and worry about me rather than living in blissful ignorance.
Monday Morning was reviewed here at Broken Frontier.
The Meow Meows Album Covers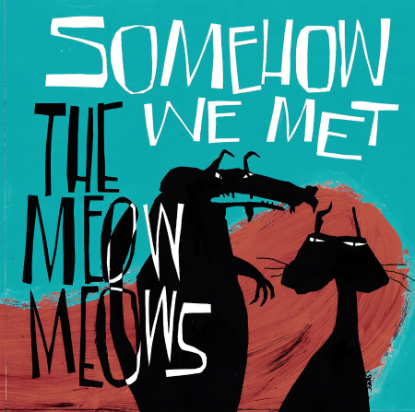 BUT LOOK! I can use colour too! It's true! Here is an album cover I made for my band The Meow Meows.
Some of the songs were dark  absurd fairy tales of modern love and life under the wicked coalition. I made the Meow Meow character a lost Red Riding Hood, but just as haggard and dangerous as the wolf she meets in the woods.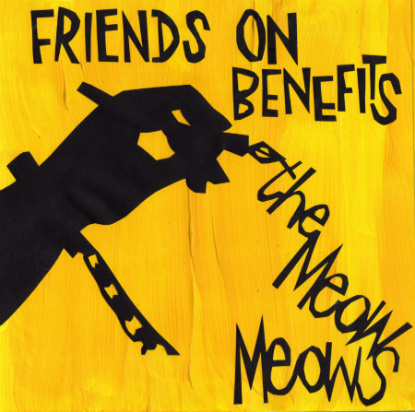 Our next EP was even more explicitly political and I liked using yellow and black 'cause as well as being eye-catching, it was like shouting danger danger DANGER DANGER! It felt like everyone was shouting DANGER DANGER DANGER DANGER at that time, but somehow we elected a Tory government anyway.
Insomniacs' Helpline
Occasionally I've tried to bring colour and ambition to my comics too. Here are two pages I did from gigantic too-big-to-read-on-the-bus comic called Insomniacs' Helpline.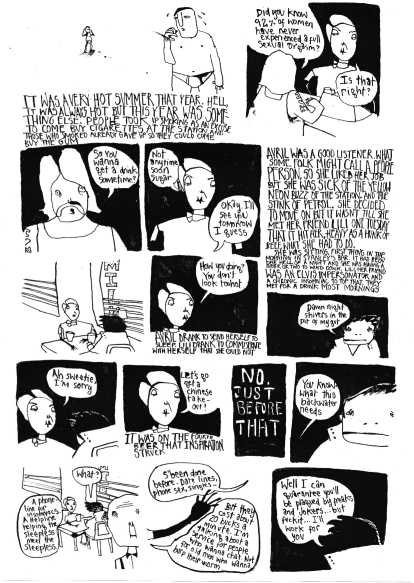 It wove three different styles and stories around a central inky premise of a group of peculiar friends (characters I stole from posters and cds and crap lying around my room. Like I was Kevin Spacey in Usual Suspects)  running a helpline for the sleepless in an unnamed American town. It would almost certainly have cost thousands of pounds to print each one. Which seemed a little excessive for a daft comic.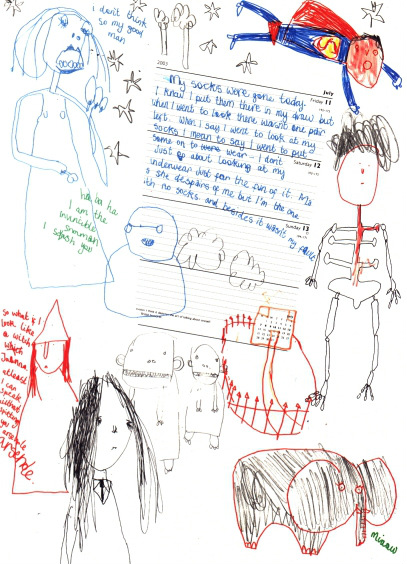 I liked messing around with styles, but the most important thing is always the story. And 'cause my stories go stale quick I try to get 'em down on paper the fastest way possible.
Was it… Too Much for You?
Now I could not talk about my work without mentioning my babies. Hairy naked Oliver Reed and naked Alan Bates. The premise is this…..In 1969 they met on the film Women In Love. When they wrestled naked in front of a roaring fire the frisson was so great they have been unable to dress themselves since. My strip Was it…Too Much for You? is not about the actors really, nor the characters in that film. But it is THEIR story.

Here they are so loud and forceful their bellowing has broken through the panels and is bothering their neighbour Tom Selleck.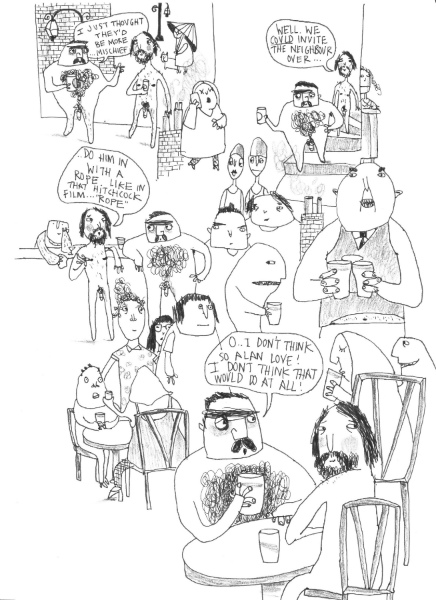 Sometimes I like to scrap the panels altogether and have characters wondering around a page dragging time along with them in chaos. Like in this page from a short short story I did for the brilliant boys at Dirty Rotten Comics.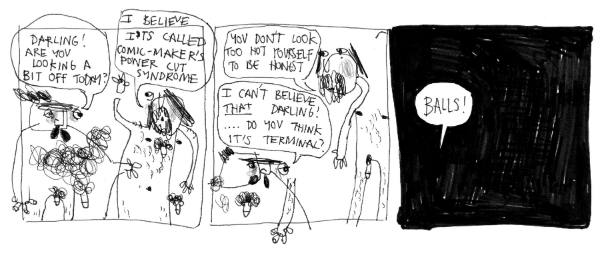 I draw them on whatever's to hand and in all kinds of cramped unsuitable conditions. This one I drew in the middle of a power cut that was much less romantic than I hoped but I used my difficulty drawing as the subject of the strip.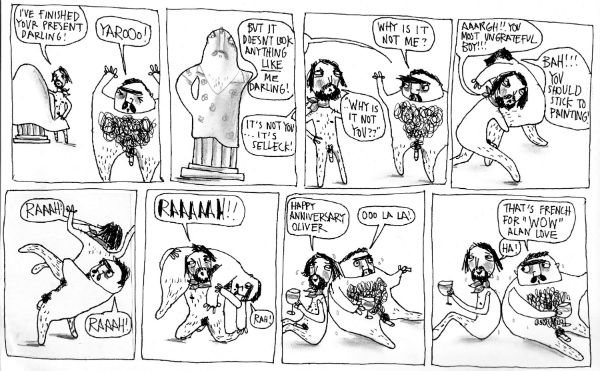 And this is the point when I realised I had no control over them any more. I was simply recording their terrible antics as they had taken over the story and I had no idea what they would do next.
Who knows what is to come next. You'll have to ask them.
Was it… Too Much for You? was reviewed here at Broken Frontier. 
For more on Danny Noble's work visit her site here and her tumblr here.
You can buy copies of Monday Morning here, her novel Mary Deadly here, and Was it… Too Much for You? and her latest release Hangover Farm here.
Find out more about The Meow Meows here and buy their albums here. And, finally, you can also follow Danny on Twitter here and 'like' her Facebook page here. 
Danny is the regular artist-in-residence at the monthly Gosh! Comics/Broken Frontier Drink and Draw. You can meet her along with guest creators Mark Stafford and David Hine this Thursday 30th July.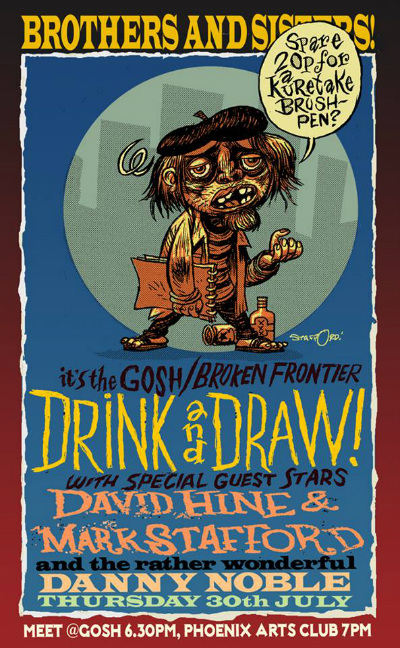 For regular updates on all things small press follow Andy Oliver on Twitter here.