"There's no point in being grown up if you can't be childish sometimes…" That's a Doctor Who quote from Fourth Doctor Tom Baker's time in the role of course but it could equally relate to the world of Brighton-based artist Danny Noble's Monday Morning. Although in the case of the exploits of the cast of characters in her webcomics collection perhaps "sometimes" in that sentence should really be switched with "all the time"…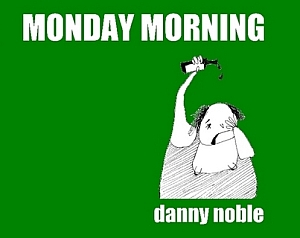 Every so often I come across a compilation of comics that I suspect have at least an element of semi-autobiography to them but secretly hope the reality is that it's oh so much more than that. Monday Morning's comic strips can range from one to eight panels a pop and chart the largely alcohol-induced misadventures of Noble's central character – an impossible to dislike, cider-imbibing, perpetually befuddled protagonist whose day-to-day activities largely centre around the repercussions of her behaviour on the night before…
Slacker comedy with style, Monday Morning is a genuinely laugh-out-loud catalogue of booze-related personal disasters, resigned reflections on modern living and inadvertent public slumber. It's the kind of slice-of-life work we can all empathise with. Who hasn't woken up after an evening out wedged in a litter bin with a stuffed toy under their arm for instance? Who can't relate to having to use a bra as a leash to take the dog out for a walk when its lead goes missing? And you would have to have lived a very sheltered life not to have nearly drunkenly burnt down your parents' kitchen at least once in your existence…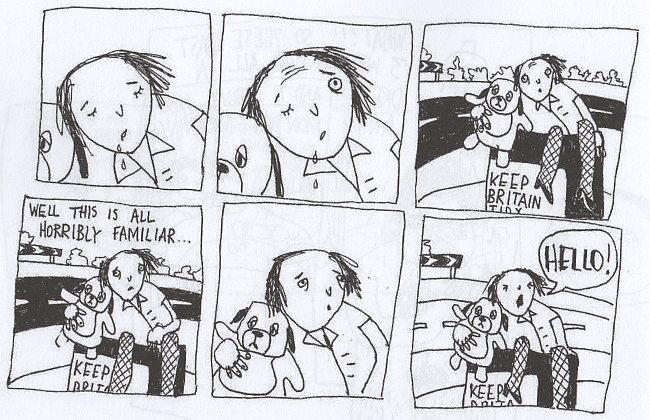 Being a little less facetious for a moment, this print edition of Monday Morning isn't entirely alcohol-centric in its subject matter! It's also full of wittily observed moments of social awkwardness – being shamefully castigated by the locals for putting the recycling out on the wrong day, enthusiastically welcoming a new neighbour and then realising afterwards it was the pizza delivery man, illicitly springing elderly relatives from the rest home for a trip out, the grief of treading on a slug in your socks, and being ID-ed in your thirties. Well we're back to drink with that last one but you get the idea.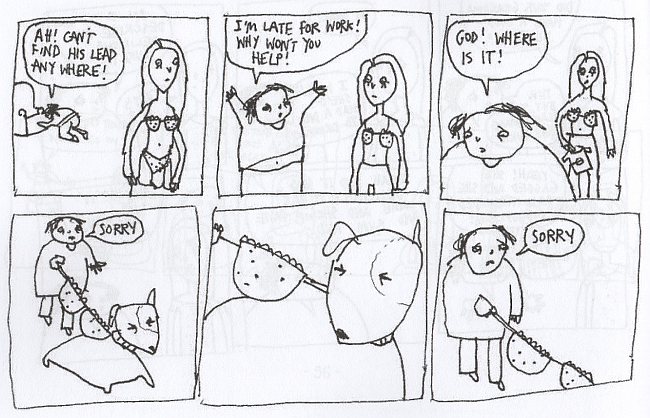 Noble has a raw and slightly scratchy cartooning style but it's one that is never less than highly expressive and rather appropriate given the general tone of the book. There's a rough and ready feel to her strips – distorted, slanting, childlike panels, for example, or a sometimes hurried look to her figures – but it's a perfect match throughout for the atmosphere of the comic, and the lethargic, knowingly aimless depiction of the characters therein. In short, a visual representation, structurally, of Monday Morning's memorably languid tone.
Painfully funny humour with brilliant timing – just look at Noble's pacing and her use of dramatic on-panel pauses to clever comedic effect – Monday Morning is a heady mix of everyday humiliation, blasé inebriation and random slovenliness. "Why o why did I drink all of the delicious cider?" proclaims Noble's hungover on-page persona in one memorable image. I don't know why either. But if that's the price that had to be paid for these intoxicated antics to be metaphorically projectile vomited across the comics page then I'm bloody glad she did!
For more on Danny Noble's work check out her tumblr here. Monday Morning is available here priced £5.00 plus postage. You can read more recent editions of Monday Morning on her site here.
For regular updates on all things small press follow Andy Oliver on Twitter here.