It's nearly Wednesday, and you know what that means: a fresh load of comics and graphic novels! With so many publications hitting your local comics store or digital storefront, the BF staff is here to lead you through the woods with our weekly staff picks. Satisfaction guaranteed.
Comic of the Week
The End of Summer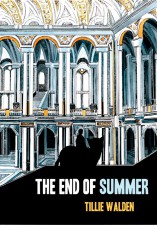 Few unpublished graphic novelists can boast of gaining quite the advance buzz about their debut long-form work as Texan teenager Tillie Walden has this year. Her first full-length comics narrative The End of Summer comes to us via Avery Hill Publishing, those always eagle-eyed discoverers of exciting new talent, with the preview of the book that we ran earlier this year at Broken Frontier already having firmly caught the comics world's imagination.
Set in a vast, sprawling castle environment as a family settle in for the winter, The End of Summer is a dark drama that centres on the releationship between young Lars and his twin sister Maja, and mixes gothic fantasy with hints of autobiography. We often talk in critical commentary circles of exciting new talents to watch but Tillie Walden is more than that – this is comics genius in the making. Pick up The End of Summer at its Gosh! Comics launch on Friday or at ELCAF at the weekend to see just why that statement is completely devoid of hyperbole. You can read a full-length interview with Tillie Walden at Broken Frontier here.
Tillie Walden (W/A) • Avery Hill Publishing, £9.99
– Andy Oliver
The Complete Eightball 1-18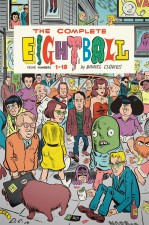 You could argue that 1989, when Fantagraphics let Daniel Clowes loose with his one-man anthology Eightball, marked the birth of modern alternative comics. Mixing a gift for the grotesque, an eye for the absurd and a talent for the most biting of social satire, Clowes soon established himself as one of the defining talents of a generation.
This slipcased two-volume collection includes the serialised landmark works Like a Velvet Glove Cast in Iron and Ghost World, as well as one-off instant classics like Pussey, Art School Confidential and I Hate You Deeply. And not only does it contain a whole dollop of material that's never been reprinted before, but each issue is reproduced in full, giving you the opportunity to taste – or relive – the issue-by-issue thrill of seeing what Clowes was going to come up with next.
No doubt this is a big-ticket item, but if you want a fab edition of some of the most defining alt comics of the last 25 years (to go alongside the less pricey but equally essential Drawn & Quarterly anniversary collection), this is probably an essential for your library.
Daniel Clowes (W, A) • Fantagraphics Books, $119.95
– Tom Murphy
Hangover Farm
First published back in 2004, self-publisher Danny Noble's Hangover Farm finally returns to print this week! Noble, of course, is one of our 'Six UK Small Press Creators to Watch in 2015' and her creative resurgence on the small press scene over the last few months has been remarkable to behold.
Hangover Farm follows the adventures of a trio of twentysomething slackers through their booze-filled mishaps, mornings after the night before, and general outrageously behaved excess. In contrast to the slapstick antics of some of her other work, however, it's also a very poignant story of unrequited love and the foibles of human nature. You can read a full review of a comic I described as "acutely observed and painfully funny" here at Broken Frontier and order a copy online here.
Danny Noble (W/A) • Self-published, £4.00
– Andy Oliver
Redhand: Twilight of the Gods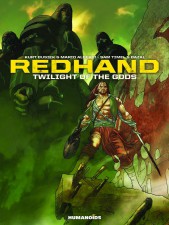 Kurt Busiek and Humanoids are both names with a long track record of quality, so I'm doubly excited for this long-overdue release.
Originally published in French, Busiek and Alberti's lush fantasy saga follows amnesiac warrior Redhand as he comes into conflict with a strange world's gods – and things get more interesting from there. This handsome hardcover collects both Busiek-penned volumes, as well as a concluding chapter from Sam Timel and Bazal.
The book's preview pages reveal a gritty, fully-realized world with jaw-dropping art – not unlike what Busiek and Dewey are doing now in The Autumnlands: Tooth and Claw for Image. Luckily, the last volume's creators are up to the challenge set by the first two: Timel is no stranger to high-concept action in his series Milan K, and Bazal previously contributed to the space-operatic Retroworld.
Kurt Busiek & Sam Timel (W), Bazal & Mario Alberti (A) • Humanoids Inc., $34.95
– Paul Mirek
The Fiction #1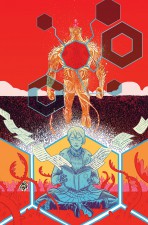 This week, two of the hottest up-and-coming creators on the scene take readers on a journey into the heart of Story in this new offering from BOOM! Studios. Curt Pires, fresh off the success of Pop!, teams up with David Rubín (The Hero) for a whimsical, harrowing tale of friendship and loss.
When four childhood friends discover a set of magical books in an attic, they are transported to a magical realm where stories have come to life. Tragedy strikes when one of their group vanishes, sending the remaining three back home with a pledge never to reveal the truth behind the disappearance.
After a second member of their clique goes missing years later, it's up to the two remaining friends to solve the mystery of the magical books and travel once again to the mysterious realm of their youth to uncover its dark secrets.
A deceptively complex series that challenges our perceptions of how we interact with stories, The Fiction showcases a meeting of the minds of two future masters of the form.
Curt Pires (W), David Rubín (A) • BOOM! Studios, $3.99.
– Jason Wilkins
Clover Honey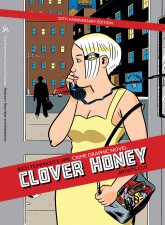 Cartoonist Rich Tommaso has been a presence on the indie comics scene for a couple of decades now, writing and drawing a number of comics and graphic novels for publishers including Fantagraphics, Top Shelf and Dark Horse. More recently, he's been the driving force behind Recoil Comics – a boutique publisher of some very stylish genre comics.
Originally published as a graphic novel by Fantagraphics twenty years ago, Clover Honey is now being re-released in an expanded, enlarged and revised edition by Alternative Comics. Tommaso uses his crisp cartooning style to tell the tale of Abigail, an aspiring hitwoman who hits the road to track down Trevor, her former mentor, who's on the lam with a big briefcase of mob dough.
Tommaso used the emerging form of the 'graphic novel' to mix noirish thrills, road-movie conventions and meditations on family ties and responsibilities, creating a work that deserves a fresh look.
Rich Tommaso (W/A) • Alternative Comics, $14.95
– Tom Murphy
Black Canary #1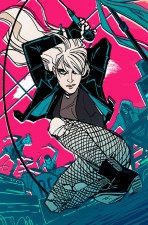 My comics fandom just barely won out over music as the number-one pull on my free time, so Brenden Fletcher and Annie Wu's rocking new take on Black Canary is an immediate pull for me.
Dinah Lance stepped into her role as butt-kicking bandleader in the pages of Batgirl (co-written by Fletcher and Cameron Stewart). In her solo series, she's taking her show on the road for an old-fashioned journey of songwriting and self-discovery.
The series seems to be very much invested in combining the drama of band life with traditional superheroics. That combo could make BC a one-of-a-kind book in DC's Divergence lineup.
The other big draw is Annie Wu's screenprinting-inspired art style, which echoes the tone of gig posters and handmade zines. Dust off your leather jacket – the show starts this Wednesday.
Brenden Fletcher (W), Annie Wu (A) • DC Comics, $2.99
– Paul Mirek
Empty Zone #1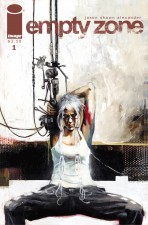 After spending more than a decade on work-for-hire gigs for titles such as
Hellboy, Abe Sapien, Batman
and
Queen & Country
, Eisner-nominated artist Jason Shawn Alexander returns to his roots with the creator-owned series he started 20 years ago, at the age of 19.
Part Blade Runner, part The Crow, Empty Zone is a dark and seductive cyberpunk horror story set in the year 2118. It stars Corinne White, the only surviving member of a military strike team who now makes uses of her various military enhancements and years of combat training to work as an independent contractor/bounty hunter.
But when a series of events reunites her with the squad she left for dead (and who are still dead!) she must find reconciliation with her past by choosing between either redemption or damnation.
Jason Shawn Alexander (W/A) • Image Comics $3.50
– Tyler Chin-Tanner