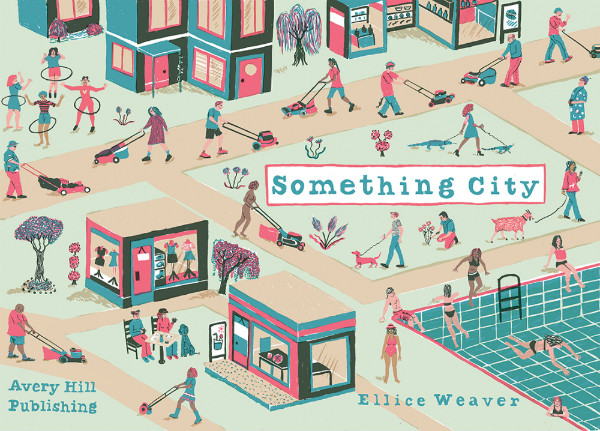 ELCAF WEEK!
One of the most eagerly awaited debuts of 2017, Something City – Ellice Weaver's first graphic novel – is innovative, distinctive and the product of an artist with a singular creative vision. In short, it sums up everything we have come to expect from the ever incisive and considered curation of Avery Hill Publishing, who launch the book at this coming weekend's ELCAF. If you regularly follow our coverage here at Broken Frontier then you'll also be aware that Weaver is one of our 2016 'Six Small Press Creators to Watch' and an artist around whom there has been a steady, growing buzz over the last year or so.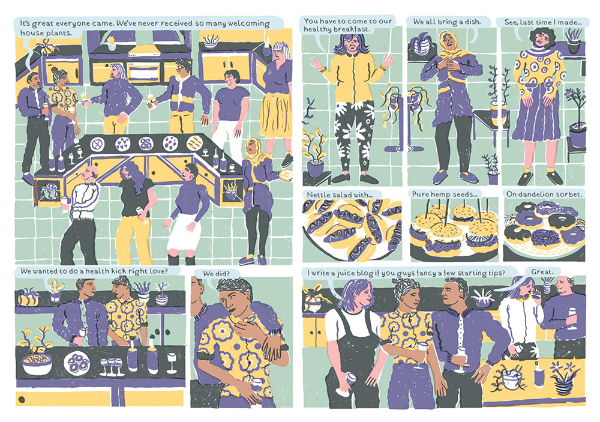 Something City is effectively a series of tangentially interlinked vignettes of life in the titular locale – an environment made up of a series of disparate social groups that include a nudist colony, a prison, a scientifically advanced society where apps can change appearance, a retirement village and an Amish community. Each chapter of the book is set in one of these neighbourhoods and gives brief insights into the lives of some of those who reside there: a couple escaping the disastrous decisions of their past, a doctor looking for self-discovery in naturism, a young woman confined by her own claustrophobia and a sympathetic fantasist, among others.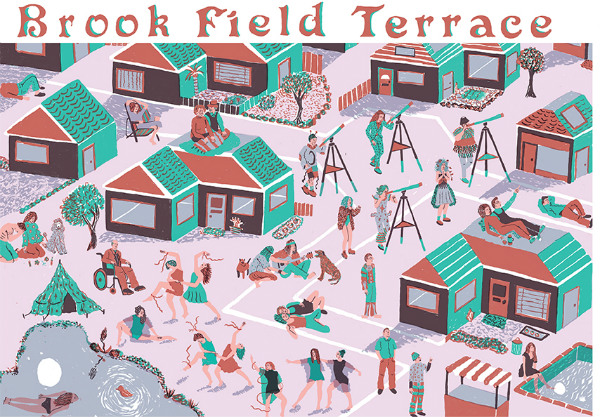 It's a clever central premise that allows Weaver to tackle a vast array of genres from semi-science fiction to social commentary to quieter, poignant human drama. Something City is a mishmash collection of populaces, diverse not just in terms of their social structures but also their technological ones. But, throughout, there are subtler connections between its divided sections. Ideas of personal space, freedom, confinement and self-expression abound that, while often polarised in theme, still complement each other in narrative.
The book's landscape format and Weaver's faux naive perspective gives the pages of Something City an immediate feeling of scope and of bustling community. Each segment begins with a full-page spread of the part of the city it depicts. So packed and involved is the activity going on in each of those single illustrations that they feel not simply like tales in themselves but like a myriad of interweaving stories; lives fleetingly touching, connecting, impacting and passing each other by. Visually, environment becomes almost organism – individual existences all contributing to the development and evolution of their surroundings.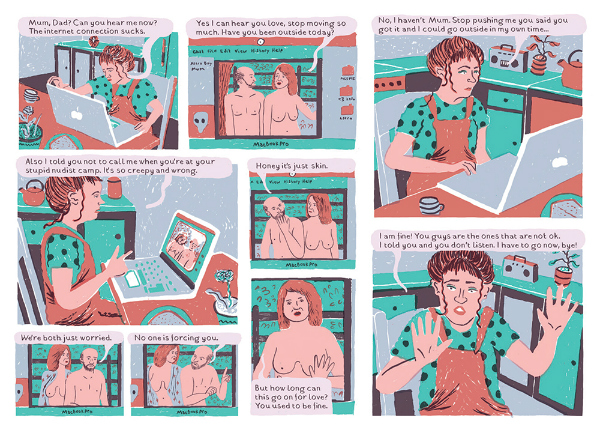 Throughout, Weaver ensures that the different outlooks and perspectives of the locals in each part of the city are reflected in each setting. It leads to an intriguing question with more than a hint of the psychogeographical for us to ponder on. Is each location in Something City shaping its inhabitants or are they are shaping it?
As ever Weaver's  gorgeous use of colour – such a signature mark of her work to date already – is on glorious show and gives subtle nuance to the themes and mood of each story in all its carefully considered and slightly muted glory. There's a very transitory feeling to each chapter but that ties so intrinsically into the notion that we, too, are simply observers passing through the boundaries of Something City and experiencing it in the guise of tourists.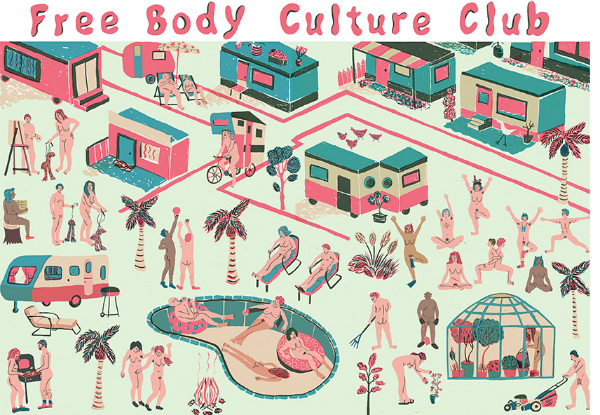 The book is interspersed with news reports that allow a greater overview of this patchwork world and, slowly, as its pages progress characters and plotlines gently converge in gentle, cyclical harmony. With its haunting evanescence, entrancing hues and Weaver's unique and charmingly idiosyncratic approach to the page, Something City is a stunning first offering from one of Avery Hill's finest debutants to date.
We told you here at Broken Frontier that Ellice Weaver was a creator to watch in early 2016. We meant it. But with Something City she has surpassed all expectations. Without a doubt this is your must-buy pick at ELCAF as our 'Comic of the Festival'.
For more on Ellice Weaver's work check out her site here and follow her on Twitter here. You can buy Something City from Avery Hill Publishing who will be at ELCAF at Table 55 from Friday-Sunday or online here. 
For regular updates on all things small press follow Andy Oliver on Twitter here.