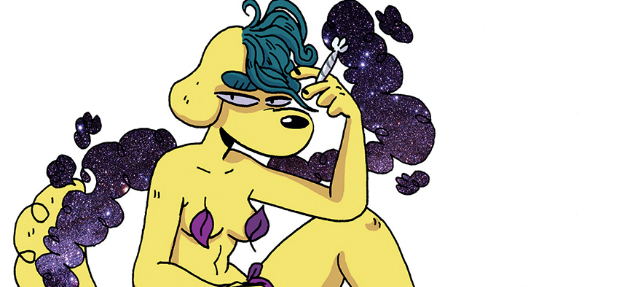 If Comic Book Slumber Party's Deep Space Canine had been a 1970s Marvel comic it would have had the words "Because you demanded it!" slapped all across its cover.
As titanic team-ups go, the convergence of two of our favourite British Comic Awards-recognised small press institutions – Comic Book Slumber Party and Avery Hill Publishing – would certainly justify such a bold retro-style claim. Outside of their respected comics material the two parties have one other very definite and pronounced link: both of them have been untiring in their missions to bring some of the very best self-published talent out there to new and expanded audiences.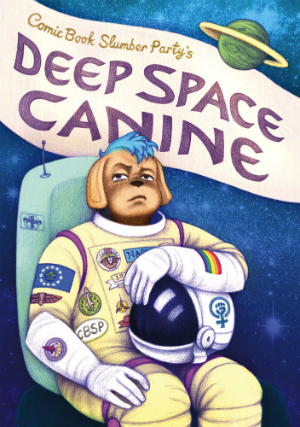 CBSP's series of anthologies – featuring their signature mascot character Greasy – have been a (semi) annual treat, bringing together a diverse array of international women artists with often wildly different approaches to comics storytelling. If they have been hampered by just one thing in that time, however, it has been that very small print runs and quick sell-outs have meant they have never quite had the profile they deserve.
But now, with the publishing backing of Avery Hill, and their latest group effort Deep Space Canine (launched last week at Angoulême) that looks set to change. Following up on the dark fantasy of Fairytales for Bad Bitches and the no-holds-barred Greasy's Guide to Nookie, Deep Space Canine uses the same interlinking framing sequence to give its contributors the opportunity to give their own takes on this issue's sci-fi theme.
Curated by editor Hannah Chapman and designed by CBSP's Alice Urbino, Deep Space Canine sees Greasy memorably captured in a strikingly composed Katriona Chapman cover (above). Beth Wood provides the framing tale and within just three panels the uncompromising humour has already underlined that we're in familiar and welcome raucous Greasy territory here.
This time around our canine heroine is exploring space, alone aboard her stellar craft (except for her robotic aide and confidante) discovering new worlds, interacting with strange alien civilisations and desperately hunting the cosmos for her lost pair of best knickers…
Wood has cracking comic timing in terms of panel-to-panel pacing and sizing, a slightly meta wit and a penchant for drolly and gently mocking the standards of the sci-fi genre that ensures these segments have the requisite sense of CBSP irreverence. Her expressive cartooning gives us a Greasy who is in turn laidback, defiant, vulnerable and hard-ass.
Pages by Beth Wood and Lucy Haslam
Wood's pages lead into four stories by Lucy Haslam, Honey Parast, Jenn Woodall and Becca Tobin who bring their own stylistic sensibilities to Greasy's misadventures. Haslam's short sees Greasy visiting another planet in a tale of destructive slapstick on an unimaginable scale. Fractured environments, busy layouts and skewed perspectives combine effectively to give her pages the most alien of feels.
Honey Parast presents us with a Greasy who becomes one with the universe in a photographically-inspired sequence that combines existential profundity with pop cultural triviality in one of the standout pieces in the entire book. It's trippy, transcendental and indicative of a creator to investigate further as a matter of priority.
Pages by Lucy Haslam and Jenn Woodall
There's an unlikely cameo in the pages of Jenn Woodall's contribution that may bring a smile to the faces of longer-term CBSP fans. Woodall's storytelling has a more traditional clarity to it as we flash back to the past and witness Greasy and chums giving a group of booze-stealing space pirates their just desserts. There's a lovely sense of camaraderie and the comfort of friendship in the body language of the characters in Woodall's opening scene. This reminder that messing with Greasy is a seriously bad idea also encapsulates everything the audience has come to recognise as the character's most appealing traits.
Mysteries are solved as that elusive pair of knickers becomes the focal point in Becca Tobin's offering. Tobin's melting, dreamlike visuals and gorgeous use of colour are as in evidence here as they were in CBSP's previous Tobin publication Hotel World (reviewed here at Broken Frontier). It's a vibrant, thematic merging that brings events full circle. Lize Meddings also provides jauntily astral endpapers to underline the book's science fiction themes.
Pages by Honey Parast and Becca Tobin
While not every story lead-in from the framing sequence quite gels 100% this is still a much tighter issue structurally than Greasy's Guide to Nookie. Some may miss the endearingly chaotic aura of previous incarnations but the reduced and focused line-up of artists and the more consistent page count for each short gives the book a stronger internal rhythm than its predecessor.
For a number of years now it's felt like CBSP have always been on the cusp of greater things but, logistically, never quite been able to make that next step up in terms of recognition. The expanded readership for Deep Space Canine will hopefully remedy that. After far too long a wait it's reassuring to see Comic Book Slumber Party back in all their fabulous, uncompromising, in-yer-face glory!
You can buy Comic Book Slumber Party's Deep Space Canine from the Avery Hill Publishing store here priced £10.00 and follow CBSP on Twitter here.
For regular updates on all things small press follow Andy Oliver on Twitter here.