It's been something of a Rachael Smith celebration over the last two weeks here at Broken Frontier as her second graphic novel The Rabbit from Avery Hill Publishing launched to great critical acclaim. I reviewed the book earlier this week here describing it as "Smith's strongest work to date, this is a deliciously dark, endearingly whimsical and tenderly observed tale of childhood rites of passage."
The book tells the story of two sisters – 14-year-old Eleanor and 9-year-old Kathy – who have run away from home, and the injured rabbit they name "Craig" that they tend to as they traipse through the countryside. As Craig begins to take on human characteristics and grows to gigantic proportions, the two girls are forced to confront the fears that led them to fall under the control of this bizarre floppy-eared despot in the first place… 
The Rabbit was also our 'Comic of the Week' last week and I interviewed Smith as part of my ongoing 'Small Press Spotlight on…' series of interviews earlier in September here. Today, ahead of tomorrow's London launch for The Rabbit at Orbital Comics, Rachael provides the latest of our 'Small Press Inside Looks' wherein artists talk about their creative process on specific projects and give insights into their behind-the-scenes working practice.
Prepare to enter the surreal and sinister but touchingly poignant world of The Rabbit from the perspective of its creator Rachael Smith…
The cover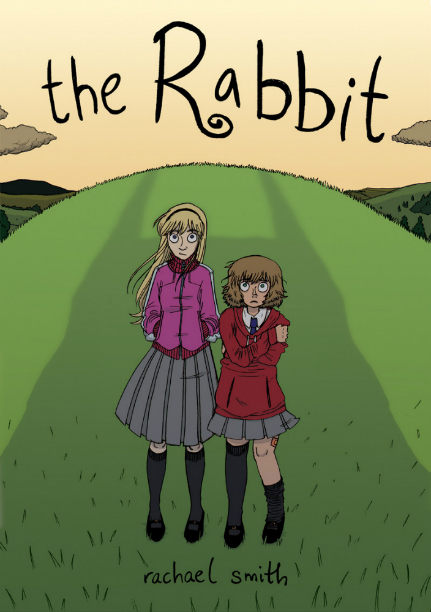 This cover was a right ball-ache. I always get nervous about covers. They're so important aren't they? At first I thought about putting Craig, the rabbit, on the cover, but then that's giving away part of the story that I wanted people to lead up to in the book itself. It was too spoilery putting him right at the start. So I made him a shadow looming over the girls instead. I like how, even on the cover you can kind of see how different the girls are. Eleanor is nervous, but trying not to show it, being a bit casual with her hands stuffed in her pockets, Kathy is just plain frightened, grasping at her hoodie as if it's her only friend in the world.
This cover took a lot of do-overs to get it just right. The amount of grass around the girls' feet, the amount of detail in the hills behind them, the blurring of the shadow at the edge of the hill, the position of the clouds – all of these aspects are things I lost sleep over and fiddled with for hours. Stupid covers! I'm happy with it now though, thank goodness, Adam (Cadwell) helped me tweak it a lot which I'm super grateful for. I think it's a very intriguing image that will (hopefully) make it impossible not to pick up in a shop. The printed copies have UV spot varnish on the girls and the title too which looks hella swish.
Pages 10 and 11 (double-page spread)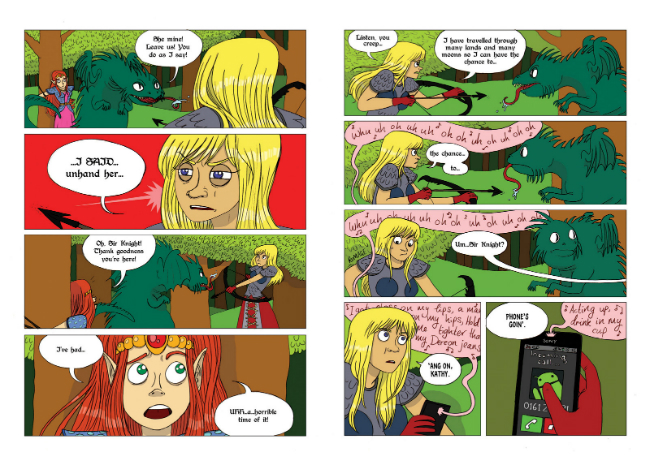 This is the first time we meet the girls, and they are not themselves. The book opens in the middle of one of their make-believe games. They are pretending to be a Knight (Eleanor) and a Princess (Kathy). The colours are bright and garish, like they would be in an imaginary fantasy land. I really like how these two pages work together. At the start of page 10 we're pretty certain this is a Knight rescuing a Princess from an evil dragon, but just three panels in we're getting clues that this maybe isn't 'reality', as the Princess seems to be stumbling over her lines. Then on page 11 as Eleanor's phone starts ringing the imaginary evil dragon starts to wonder what he should do with himself, as if suddenly aware of his own non-existence, looking from Eleanor to Kathy for an explanation. In the last panel of the spread the green of the grass is suddenly a much duller colour. The girls are being pulled back to reality by this all-too-real phone call.
Page 16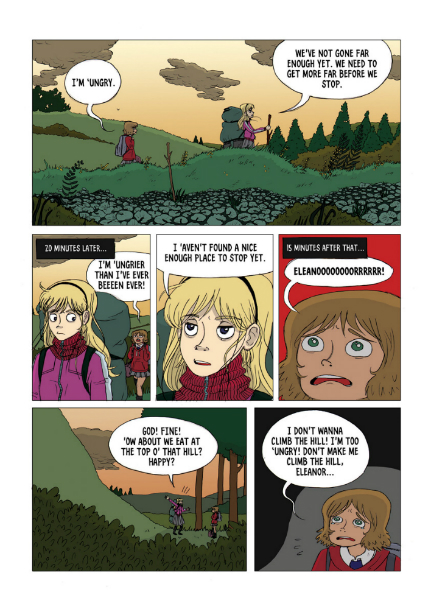 This is the first, proper, 'real' conversation the sisters have, and it was important, from the start, to show who was in charge (Eleanor). Eleanor is the practical, tough one; Kathy is the caring, whimsical one. Eleanor feels like her life is out of control right now – so she deals with that by controlling Kathy, sometimes in not very nice ways. Gosh, I could talk about them for ages. I like this page though – that establishing panel at the top took me an entire day but it works. I wanted the sisters to be wearing clothes that clashed with each other – but that also clashed with the natural world around them. They are out of place. They are lost. And they aren't getting along. Great.
Page 38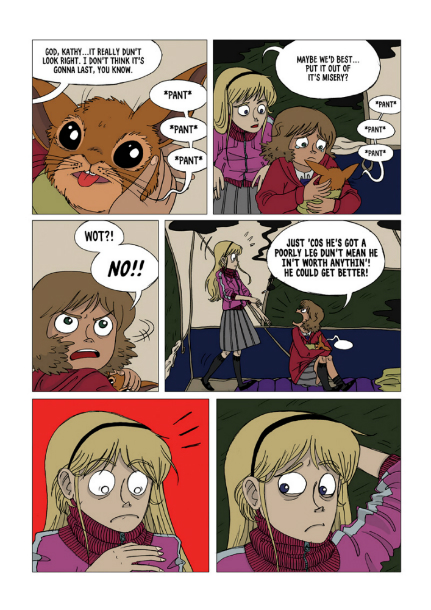 Golly this is harder than I thought it would be…I've had a glass of wine now though so let's crack on… Right, the girls have found their rabbit. Eleanor wanted to leave it where it was – but as its leg was hurt, and as Kathy has enough empathy for the two of them (and probably for the whole of the UK), they've brought it along (for ONE night, says Eleanor). It's not very well though, and the girls have very different ideas on how to deal with this. This is the first time we see Kathy successfully stand up to her big sister – and she does it because she's not standing up for herself – she's standing up for the rabbit. "Just 'cos he's got a poorly leg dun't mean he in't worth anythin'!" is one of my favourite lines in the book. Kathy is a champion of the disadvantaged, and she relates with anything that isn't perfect. For once Eleanor doesn't shout at or hit her little sister for acting out of line, because she knows she's right.
Page 41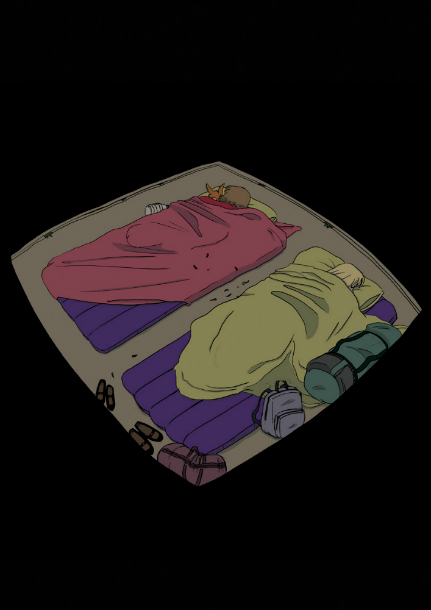 I really like this page for the quietness it brings after the girls' argument about the rabbit. I was close to putting stars and a moon above them but I was like: "Rachael, don't be a dick – people will get that it's the night time without you ramming it down their throats." So hopefully they will. There's a big moon on page 43 though in case they don't. It's a magical night where something magic and strange happens which shapes the rest of the story, so I wanted this quiet, contemplative page to be here just to give the comic a bit of a beat before the surreal-ness starts. The last semblance of normality…
Page 48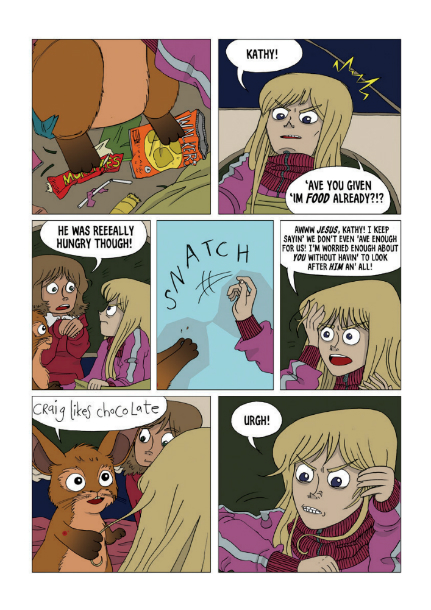 Craig, the over-sized, cartoonish bunny rabbit I promised everyone, has arrived. He's eaten a lot of junk food…and he's a bit creepy. I'm proud of this page because the middle panel kind of sums up what the whole page is about – Eleanor snatching her hand away from Craig's paw. Eleanor doesn't trust this weird rabbit, so she rejects him and his attempt at a handshake. Once again, Kathy is being the empathetic, care-giver, and Eleanor is the stoic, practical leader. At least for now.
Page 55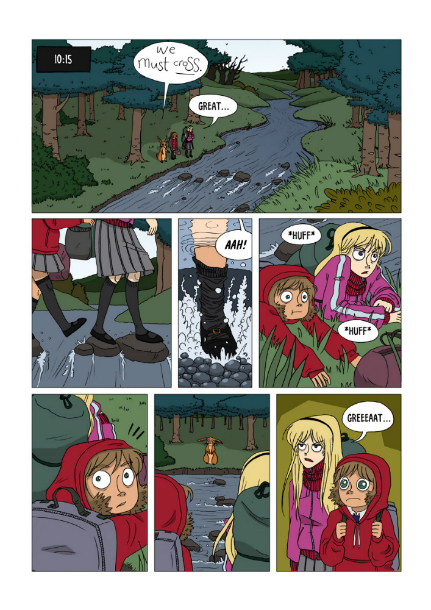 I've chosen pages that are all from the first third(ish) of the book – to avoid spoiling anything too much. The gang must cross a river, at Craig's command. They are literally crossing a threshold after which things start to get really strange…(to put it another way: Please buy the book, guys – honestly, it's dead good and gets dead weird!). When I started this page I cursed the Rachael in the past who wrote the script, without giving future Rachael who had to *draw* the script any thought at all. "A flippin' RIVER! I've never drawn one of those!" I muddled through though and I think it came out pretty good. I really like the last panel – the differences in the girls' reactions to poor Craig stuck on the other side is really funny (for me, anyway).
For more on the work of Rachael Smith visit her website here and follow her on Twitter here. You can buy The Rabbit from the Avery Hill Publishing online store here priced £10.99.
For regular updates on all things small press follow Andy Oliver on Twitter here.
The London launch of The Rabbit is this Friday 11th September at Orbital Comics. Full details here.