Rachael Smith's Quarantine Comix was one of 2020's most remarkable achievements in comics, providing a relatable account of the strangest year of our lives and undoubtedly establishing itself as one of the medium's most important social documents of these times. Described as "Funny and sad and relatable and wise… like the hug from a friend you didn't know you needed" by actor and comedian Chris Addison, it was a strip that connected many of us in isolation through its recognisable scenarios and often poignant observational humour. So we're delighted to hear there's an imminent collection coming from Icon Books this May!
Rachael Smith has, of course, been a creator we've covered extensively here at Broken Frontier over the years, and our Andy Oliver also interviewed Rachael live about Quarantine Comix as part of the ELCAF online coverage last July. Her many acclaimed books include The Rabbit, Artificial Flowers, Wired Up Wrong and Stand in Your Power. Below there are further details from the Icon Books press release to whet your appetite ready for the Spring.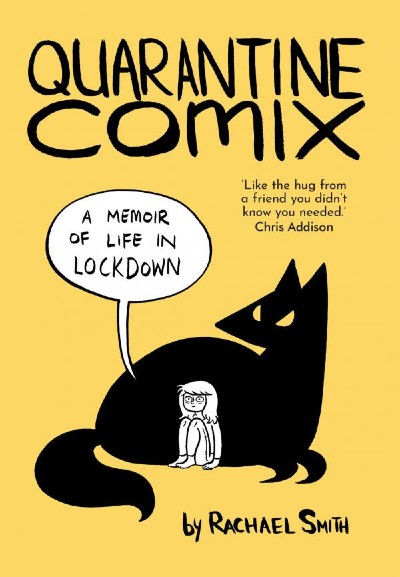 Written and drawn every day during the 2020 lockdown and shared online with #QuarantineComix, 2020 Comedy Women in Print-shortlisted Rachael Smith's delightful comics helped people who were isolated all over the world to feel connected.
At times laugh-out-loud funny, at others bitter-sweet, philosophical or downright silly, this collection of 200 drawings tells the story of one woman overcoming loneliness and self-doubt with exquisite, wry humour and raw honesty.
During a time when many feel anxious and apart from loved ones, Quarantine Comix offers relief in shared experiences.
These comics were a lifeline to so many of us. A ridiculous, humane insightful, pointed lifeline.' Paul Cornell, author of London Falling and the Witches of Lynchford series
'One of the best things to come out of lockdown.' Lew Stringer, comic artist.
'In a period where every day seemed the same, Rachael found a way to make every day different. A tiny, comforting light of understanding, humour and hope in a dark time.' Kieron Gillen, author and creator of The Wicked + The Divine.
'Harrowing! Heartfelt! Hilarious! Cartoonist Rachael Smith's Quarantine Comix are a brutally honest assessment of our internal strife, with more vim and vigour than a Yorkie bar and wine chaser.' Shelly Bond, creator/editor of Black Crown