With her debut graphic novel House Party released to great critical acclaim last year, and British Comic Awards recognition via a nomination in the Emerging Talent category, 2014 was a breakout year for Rachael Smith. Smith's star has continued to rise in 2015 with a back-up strip in Titan's Tenth Doctor Doctor Who comic, and anthology appearances as diverse as a strip in One Beat Zines' Sleater-Kinney tribute Not a New Wave through to more of The Amazing Seymore in Jamie Smart's multi-creator Moose Kid Comics.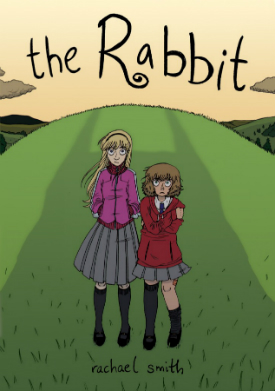 Earlier this year it was announced that Smith's second full-length graphic novel The Rabbit would be coming to us via Avery Hill Publishing, South London's celebrated micropublishing mavens. For observers of the UK indie comics arena it was a perfect match – one of the most exciting new self-publishing talents in years coming into the fold of the eclectically curated publishing catalogue of AHP.
In one sense The Rabbit continues in the vein of Smith's previous work in graphic novels and comics like House Party and I Am Fire in that it's another powerful character-led piece of storytelling. Yet, in other regards, it's something of a notable departure with a narrative that tumbles into the darkest and most sinister metaphor with ever increasing rapidity as the book's page count progresses.
This is the story of two sisters – 14-year-old Eleanor and 9-year-old Kathy – who, for reasons that become clear as the story moves forwards, have run away from home. Travelling on foot through the countryside, their escape from a group of local bullying lads leads to Kathy coming across and "adopting" an injured baby rabbit.
As the two girls continue their trek through the woodland their cute companion reveals an unexpected ability to talk and "Craig", as he is christened, grows more demanding and menacing as his monstrous girth increases. As events become more surreal and bleakly fantastic the sisters must confront fears far closer to reality – and the very reasons they are out alone in this rural wilderness in the first place…
As with any Rachael Smith offering rich characterisation and relatable experience is at the heart of The Rabbit. In this case it's Smith's incisive dissection of the complexities of sibling relationships that speaks to the reader with such familiar authority. Eleanor's exasperation and her propensity for making herself feel in control of her life by dominating and controlling her younger sister – an odd combination of being simultaneously concerned for and yet still verbally abusive towards Kathy – is beautifully observed. As is Kathy's strange mix of resentment towards – and admiration for – her older sister which is something anyone who has grown up in the shadow of an elder child will understand.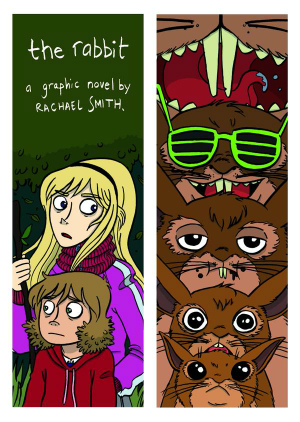 When I reviewed Smith's contribution to One Beat Zines' Sleater-Kinney tribute Not a New Wave recently I spoke about her often understated control of the possibilities of the form and it's that same subtle manipulation of the medium's narrative properties that is one of The Rabbit's great strengths. When we first encounter the girls, for example, they're engaged in one of their playful reveries and the gradual fading in and out of reality as invented fantasy scenario slowly dissipates and everyday actuality takes hold is sublime in its delicate transition. It's also a reminder of the ages of our protagonists and how these drifts into daydream mirror their struggles to find their place in the world.
This blurring of the borders between the material world and the metaphorical one is central to the thematic core of The Rabbit, and as Craig begins to exert more power over the sisters so too do their surroundings begin to melt into a morbidly surreal otherworld. The once picturesque natural environment collapses into a grotesque subterranean parody where cruelty and cartoon physics take centre stage as this animalistic avatar of the intricacies of the girls' relationship, and the poignancy of their situation, manipulates and toys with them.
As a storyteller Smith doesn't simply create characters, she inhabits them. She knows when to communicate their personalities through memorable dialogue – sometimes caustic, sometimes desperately affecting – but is also canny enough to know when a subtle piece of visual characterisation is more appropriate. From their play-acting to their running away, Eleanor and Kathy's tale is one that revolves around escaping from a reality that they will have to eventually face up to and accept; to come to terms with loss instead of evading the pain of it, to confront their fears instead of fleeing from them.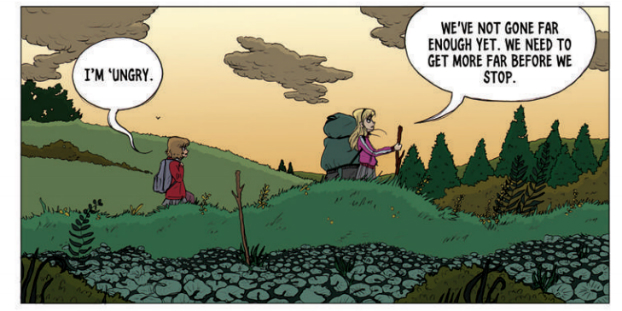 Smith's strongest work to date, this is a deliciously dark, endearingly whimsical and tenderly observed tale of childhood rites of passage. Such is the depth of Rachael Smith's character-led storytelling that when you enter the world of The Rabbit you stop being a passive observer and immediately become an active participant instead.
For more on the work of Rachael Smith visit her website here and follow her on Twitter here. You can buy The Rabbit from the Avery Hill Publishing online store here priced £10.99.
For regular updates on all things small press follow Andy Oliver on Twitter here.
The London launch of The Rabbit is this Friday 11th September at Orbital Comics. Full details here.