Every few weeks we sift through all the dozens of crowdfunding communications we receive here at BF each week to bring you a handful of the more intriguing, exciting, experimental and daring uses of the form that we spot, along with some interesting campaigns we've found ourselves. These are comics that both fit the Broken Frontier coverage ethos and that we think deserve your support and backing!
Welcome to Crowdfunding Corner…
Draw the Line

The who and what: "There really is no more direct route to the heart." The words of Draw the Line organiser Myfanwy Tristram when she spoke to me last year on the power of comics to effect positive change. If you're a regular BF reader, of course, then you're aware that Draw the Line was the 2017 Broken Frontier Award winner in the Best Webcomic category. The project saw over 100 international artists come togther to create comics and illustrations that showcased actions we can take to improve the world around us in an easily accessible online resource. It included work by such regular names at Broken Frontier as Karrie Fransman, Hannah Berry, Wallis Eates, Katriona Chapman and our very own EdieOP, alongside the likes of Fumio Obata, Kripa Joshi, Steven Appleby and Roger Langridge. It's now crowdfunding through Unbound.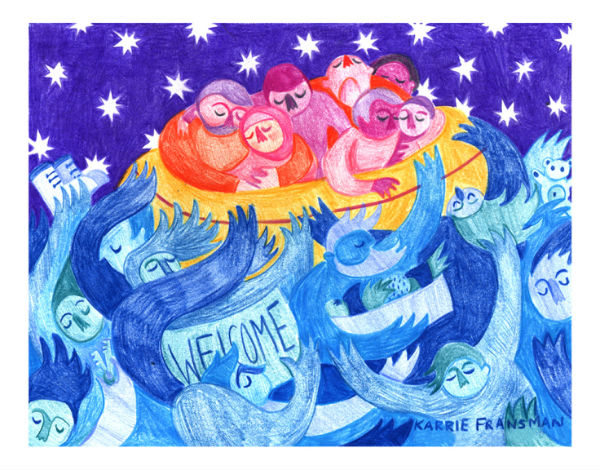 PUT OUT A WELCOME MAT: Let refugees know that they are welcome. (By Karrie Fransman)
What's on offer: Prints, commissions and original art are all on offer beyond the usual physical and digital copies. There are also upper tier rewards that include artist talks and workshops.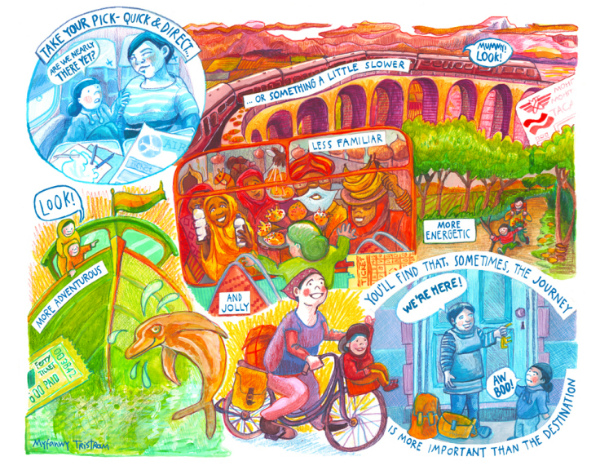 GO CROSS-COUNTRY: Taking fewer flights can be a reward in itself, if you take time to enjoy the journey as well as the destination. (By Myfanwy Tristram)
Why you should back it: A book that embodies the heart and soul of comics community, Draw the Line feels as much like an artistic movement as it does a collection of illustration and sequential art. This is comics activism at its very best! You can read that Broken Frontier interview with Myfanwy Tristram on Draw the Line here and a blog post by Tristram on the crowdfunding campaign here.
Back the Unbound crowdfunder here!
– Andy Oliver
Wash Day
The who and what: A slice-of-life offering, Wash Day is described by writer Jamila Rowser as a comic that "pays tribute to the beauty and endurance of Black women and their hair." Comprising 27 pages, Wash Day follows protagonist and Bronx resident Kimana through her Sunday routine and the ups and downs of her day including "fresh coffee, rising rent, girl talk and catcalls." It's illustrated by Robyn Smith who says of the project "There's something radical about a story of a Black woman taking time for herself and taking care of herself in ways extremely specific to Blackness."
What's on offer: Outside of the usual print and digital copy options there are stickers, prints and original pages from the comic also available.
Why you should back it: Slice-of-life comics play on the innate empathetic qualities of the form to allow us a unique insight into the experiences of their subjects. Wash Day is a comic created by women of colour for women of colour with impressive-looking visuals from the available sample art. Be quick though – this one has only a week left of its campaign!
– Andy Oliver
Isabella and Blodwen
The who and what: A new YA graphic novel from Britsh Comic Awards-nominated Rachael Smith, Isabella and Blodwen explores themes of friendship and coming of age. It follows 16-year-old Isabella who feels like an outsider having been accepted at Oxford University at an early age, and Blodwen the witch she accidentally releases from her bottled prison at a local museum, as they put aside their differences to help each other find their places in the world. Another book crowdfunding through Unbound.
What's on offer: Signed and sketched-in books as well as a reward tier that gets you a copy of Smith's lauded Wired Up Wrong. You can also back the project at a level that gives you a portfolio review and one that gives you a page of original art from the book.
Why you should back it: Rachael Smith has long been a huge favourite of ours here at Broken Frontier from her early self-published work through to her multiple collaborations with Avery Hill Publishing. From House Party and The Rabbit, through to Artificial Flowers and Wired Up Wrong Smith creates characters we invest in because we recognise our own struggles and aspirations in theirs.
Back the Unbound crowdfunder here!
– Andy Oliver
The Edge Off
The who and what: With a tagline of "Taken meets Eraserhead", The Edge Off is a collaboration between writer Fraser Campbell (Alex Automatic), artist Iain Laurie (And then Emily Was Gone), colourist David B. Cooper (Alex Automatic) and lettering by Broken Frontier Award-nominated Colin Bell (Beast Wagon). It follows a night in the life of mob enforcer Lee Butler whose dupilictous ways catch up with him when he awakens in a drugged state to discover his daughter has been kidnapped. In his drug-influenced quest to find her he must "run a violent gauntlet towards a confrontation that will force him to face up to every terrible decision he's ever made."
What's on offer: Extras available to back include Frank Quitely (above left) and Garry Brown alternate covers,. There's also original art from the comic still on offer
Why you should back it: The book has a cracking indie creative team with an established track record in creating comics that combine the psychological, the unsettling and the eerie. In short, they're a perfect fit for this kind of disquieting noirish subject matter!
– Andy Oliver