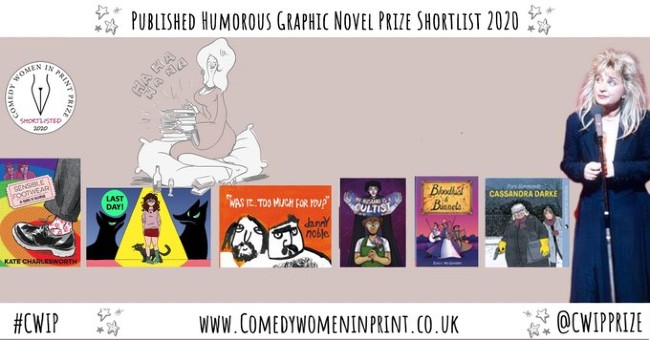 The Comedy Women in Print Prize has announced its shortlists today. Lots to check out across the categories but obviously our focus at Broken Frontier is on the new 'Humorous Graphic Novel' category (in association with LDComics) which also covers self-published work. Founded by comedian, actress and writer Helen Lederer the CWIP Prize is described as "the first UK and Ireland comedy literary prize to shine a light on witty women authors."
If you want to check out reviews of some of the longlisted artists we compiled a list earlier this year here at Broken Frontier. On the shortlist is Danny Noble, one of our original 2015 'Six Creators to Watch' (we do tell you well in advance!) whose debut long-form graphic memoir Shame Pudding was reviewed last month here at BF. You can also read a recent review with Danny here.
Here's the 'Humorous Graphic Novel' shortlist:
Kate Charlesworth Sensible Footwear: A Girl's Guide (Myriad Editions)
Mei Lian Hoe My Husband is a Cultist (Self-published)
Emily McGovern Bloodlust And Bonnets (Simon & Schuster)
Danny NobleWas it…Too Much For You? (Self-published)
Posy Simmonds Cassandra Darke (Jonathan Cape)
Rachael Smith Stand in your Power (Self-published)
Congratulations to all the shortlisted creators! You can read more about Comedy Women in Print Prize on the CWIP site here.