It's your last call for the Gosh! Comics/Broken Frontier Drink and Draw tonight co-hosted by BF's Editor in Chief Andy Oliver and Gosh's Tom Oldham.
In the unlikely event you missed the amazing poster below for the event – created by the Cartoon Museum's Cartoonist-in-Residence Mark Stafford – then a reminder that Mark and his frequent collaborator David Hine are our guest creators for the evening. Hine and Stafford have worked together on a number of projects including the SelfMadeHero adaptation of Victor Hugo's The Man Who Laughs (reviewed here yesterday at BF), 'The Bad, Bad Place' in Soaring Penguin's Meanwhile… anthology (one of our Staff Picks here this week), and in the upcoming Broken Frontier Anthology (available for pre-order here).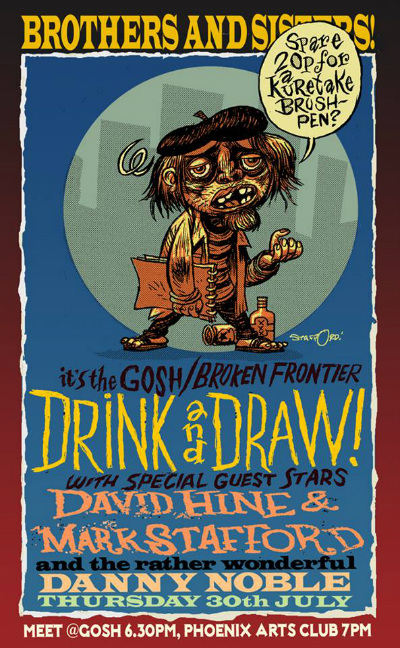 Also in attendance will be our regular Artist-in-Residence, the irrepressible Danny Noble. Danny gave us her own ever unique perspective on creating comics this week at Broken Frontier when she wrote this highly entertaining creator's commentary on her work here.
Danny will have copies of her latest comic Hangover Farm (reviewed here at BF) for sale and for Drink and Draw attendees she's offering a very special bonus. All copies of Hangover Farm sold tonight will come with an on-the-spot sketch of one of the "Five Stages of Hangover" from the choices of fear, nausea, sorrow, shame, and drunk again. Fans of Danny's Monday Morning strips will know she is one of the leading practitioners in the field of Morning-After-the-Night-Before-Caricaturing so this is an opportunity not to be missed.

The evening begins at 6.30 in Gosh! with a chance to meet Mark and David and get copies of The Man Who Laughs signed before we move on to the Phoenix Artist Club at 7.00pm where the drawing japes begin. Full details can be found on on the Facebook event page here.
Look forward to seeing you there!