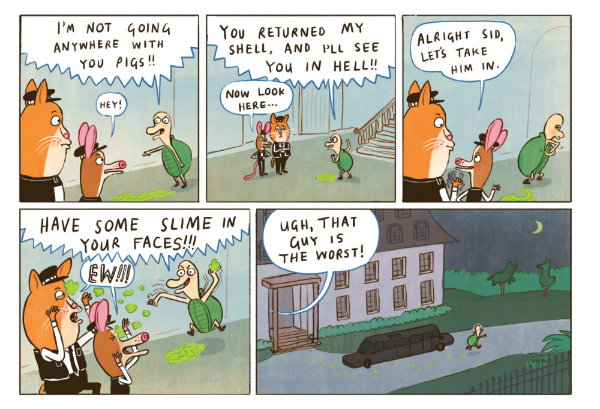 Springing from the witty imagination of artist Tor Freeman, webcomic Welcome to Oddleigh depicts the (largely) crimefighting (mis)adventures of police officers Chief Inspector Jessie and Sergeant Sid and follows their exploits as they tackle some of the titular town's truly oddball reprobates.
Freeman's background is in children's illustration (she was awarded a 2012 Sendak fellowship) and her jaunty, anthropomorphic collection of colourful characters reflect that influence. Each short story is presented in landscape format instalments giving an episodic newspaper strip feel .
Welcome to Oddleigh is good-natured, charming escapism which no doubt will have an instant appeal to a younger reader. But such is the strength of the impeccable comedic timing, and the wonderful ludicrousness of the situations this daring duo find themselves in, that each story will also provide distracting comfort reading for an adult audience as well.
The first story 'Shell' is a prime example of the offbeat scrapes that Jessie and Sid find themselves in as they face a tortoise burglar with a penchant for slipping out of his shell to avoid capture. It's full of exactly the kind of icky moments of gross slapstick that kids adore (don't ask where that chelonian slime came from!) and ever inventive uses of the criminal fiend's stealthy abilities.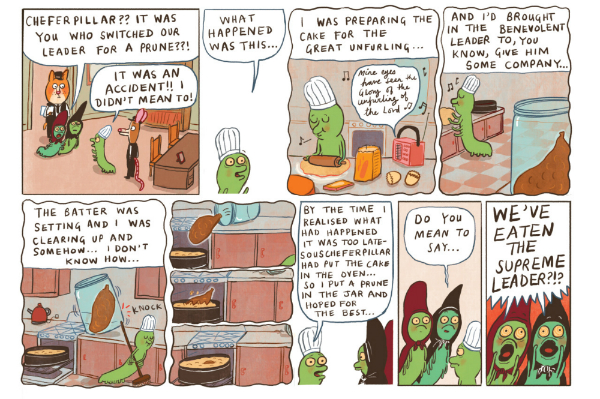 In 'The Dentist' Jessie takes a step away from the daily grind for some emergency oral care for a toothache in a tale that plays on a universal fear with some gruesome fantasy cutaways and a cracking punchline. The third story 'Cult' even has a little social commentary to it as the caterpillar cult the Cocoonies prepare for their leader's "Great Unfurling". Once again, the "Yuck Factor" is very much in evidence with one particularly funny but stomach-churning sequence.
Freeman's panel-to-panel storytelling impresses throughout and her cartooning is expressive and animated, with visual characterisation ensuring our engagement with her very likeable cast. The first three stories are still available as a print collection in London's Gosh! Comics but the entire series can be read online for free. You can also meet Freeman at next week's Gosh! Comics and Broken Frontier Drink and Draw.
For more on the work of Tor Freeman visit her site here and follow her on Twitter here.
For regular updates on all things small press follow Andy Oliver on Twitter here.