Creator Rachael Smith (Doctor Who, Blue Bottle Mystery: An Asperger Adventure) has been a long-term fixture here at Broken Frontier over the last few years. We've followed her work from her self-publishing days in comics like I Am Fire to her first graphic novel House Party from Great Beast through to her acclaimed Avery Hill Publishing releases The Rabbit and Artificial Flowers. Last year she self-published a minicomic titled Wired Up Wrong – an accessible, poignant and witty account of living with depression and anxiety that I named as one of my 2016 'Ten UK Small Press Comics You Need to Own!'.
This past weekend saw Smith launch a Kickstarter campaign for a new deluxe version of Wired Up Wrong. One that adds an extra 100 pages to the book's original 40-page count. Today at BF, as part of our semi-regular Crowdfunding Corner blogs, we give you the lowdown on why you should be backing this bumper comics offering!
The who and what: Wired Up Wrong details Smith's struggles with mental health issues mixing humour, autobio and visual metaphor. Smith's depression is embodied in the form of a huge black dog called Barky. The strip also co-stars her boyfriend Adam, her cat Rufus and two game show hosts who live in her mind!
This new version hugely expands on the original – a comic that I said of here last year: "Approaches to depicting mental health issues in comics have been diverse in style and tone over the last few years. What Smith brings to the table is an autobiographical account that embodies a sense of accessibility… with a gentle wit and clarity that never patronises its readership."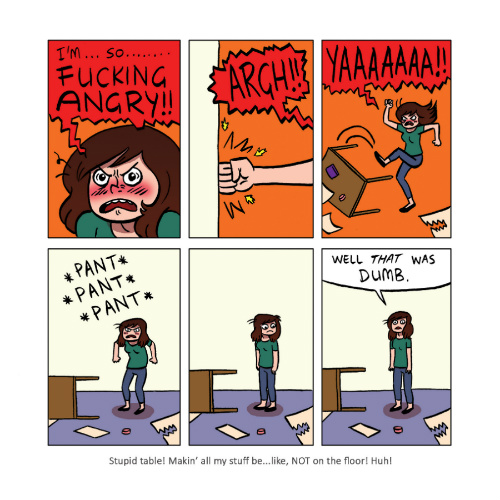 What's on offer: Aside from the usual print, sketched and digital copies there's also the option of a top rewards tier that gives you a page of art from the book itself!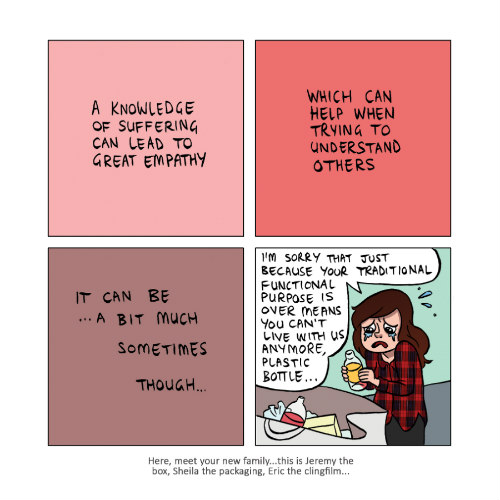 Why you should back it: I described the original incarnation of the book as "possibly the most vitally important use of the form yet from one of the now established mainstays of the UK indie comics circuit" and this is, indeed, graphic medicine that uses comics to powerfully communicate the experience of living with depression with a relatable and empathetic connectivity.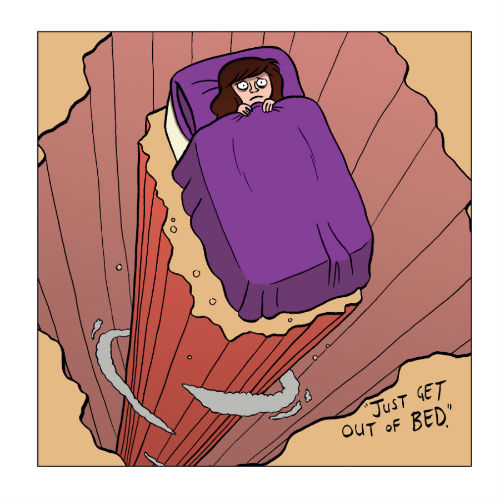 But don't just take my word for it! Doctor Who writer Paul Cornell appears in the campaign video above and actor Chris Addison has also boosted the book calling it "a beautiful, funny, revealing comic." This is one of the most essential self-published books of 2017 and if you want further evidence then I'd point to the Kickstarter campaign – it had hit over 50% in just its first day of funding!
Follow Rachael Smith on Twitter here and visit her website here. Enjoy more pages from the book below including some unseen on the Kickstarter page.