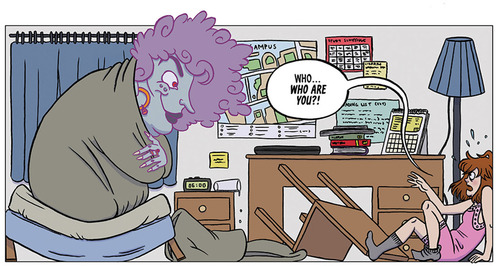 The prolific Rachael Smith is not an artist to rest on her laurels. After last year's massively lauded Wired Up Wrong – her collection of autobiographical strips on living with depression and anxiety – she's back working on her latest graphic novel Isabella & Blodwen. The story of a contemporary university student and the ancient witch she releases from a magic bottle, the book explores such familiar motifs from Smith's work as identity, coming-of-age and finding our places in the world. The book is currently crowdfunding via Unbound Books.
A British Comic Award-nominated creator, Smith's past books include House Party (Great Beast), The Rabbit and Artificial Flowers (both Avery Hill Publishing). She has also contributed to a number of prominent comics anthologies and been a regular in the pages of Titan's Doctor Who line. Today at BF I chat with Rachael about the book's themes, the crowdfunding experience through Unbound, and shifting from autobio to fantasy comics…
ANDY OLIVER: What is the basic premise of Isabella & Blodwen? And can you tell us a little bit about its titular duo?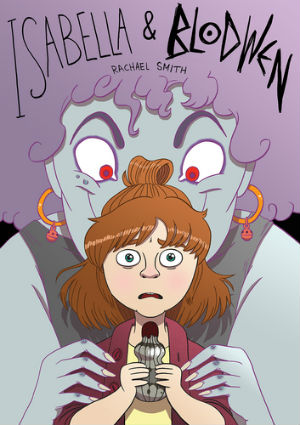 RACHAEL SMITH: The story is based on a silver, stoppered bottle, which is real and you can go see it at the Pitt Rivers Museum in Oxford. It was donated in 1915 by a woman who was a little bit scared of it as she was convinced there was a witch inside. My story is about what happens when the bottle is opened.
We follow Isabella, who, even though she's only 16, has been selected to attend the prestigious University of Oxford. Isabella is very academically gifted but not so great at getting on with other people. She thinks all her fellow students are idiots. As you've probably guessed, Isabella is the person who eventually opens the bottle and lets out Blodwen, a fun-loving and malevolent witch, who turns Isabella's world upside down.
How did the project come to Unbound Books?
I pitched it to Lizzie Kaye, the comics/graphic novel editor there and she loved it. I did really well crowdfunding my last book on Kickstarter and thought it might work well for this one too – but because it's my most ambitious book yet at 200 pages, I didn't want to be on my own with it. Unbound seemed to offer the best of both worlds. I get to have Lizzie as my editor now too which is awesome. She's going to make sure this book is my best work!
While there are some more obvious fantasy elements to the book than your other graphic novels it seems that at its heart Isabella & Blodwen is still a very character-led piece, touching on subjects that have been central to your slice-of-life work – coming-of-age themes, identity and loneliness. How do the more fantastic elements of the book allowed you to explore those ideas in new ways?
Oh for sure, I always start with my characters and sort of…hang the story around who they are/what they want/what they need etc. Isabella & Blodwen is no different. One example of how I use the magical elements of the story to learn more about the character is when Blodwen puts a curse on Isabella so she can only hear people speak to her if they genuinely care about her. Isabella's world becomes very quiet then!
Rachael's crowdfunding video for the project
There's often a rich seam of darker comedy in your work. How does that manifest itself in Isabella and Blodwen?
A lot of the story is built around trust. As we meet the characters in the book I hope the readers struggle as much as Isabella as she tries to figure out who is genuine and who just wants to take advantage of her. Some of these struggles are comedic, and some are pretty scary and dangerous.
What is the core target audience for Isabella and Blodwen?
I would say early teens upwards. There's only one instance of bad language in it (very restrained for me!) and there's some scenes that look at the idea of abuse and consent, but nothing that (I believe) shouldn't be discussed with young people in the first place. I think older folk would enjoy the book just as much too. I'm certainly enjoying making it 🙂
It's a very different project from your last book. Was that shift in tone a conscious decision after the acutely personal reflections of Wired Up Wrong?
Definitely! I actually wrote the script for Isabella and Blodwen last year (2017) so I've been itching to start on it since then. I started working on Wired Up Wrong just after I'd pitched I&B to publishers and ended up finishing and Kickstarting that before I made any firm decisions about where I&B's publishing home was going to be. I&B is a very different book from WUW obviously because it's a made-up, crafted story. You'll read it from start to finish like a normal story – whereas WUW you can dip into wherever you like. It's nice for me to work on different projects like that – it helps stretch different creative muscles.
You're no stranger to the rigours of the crowdfunding process (as I can certainly attest to having been in the Kickstarter promotional video for your last book Wired Up Wrong!). The Unbound process is a far longer campaign though. How have you found it to differ from a traditional Kickstarter so far and what do you see as being the unique challenges of its longer-term nature in keeping momentum going and attracting backers?
Well, at the time of writing we're still pretty early on in the process, the campaign has been online for about three weeks and we're on 15% with almost 100 backers. Lizzie told me it would be a much longer-term thing than a Kickstarter because we can keep the campaign going for as long as it takes – whereas KS campaigns are always a month or less. This project also needs a lot more money as it's going to be a big, beautiful, hardback book.
I'm keeping momentum going by writing weekly updates about how the book is coming together. Over the weeks to follow I'll be talking about character design, story structure, putting a comic page together, research, etc., etc., basically everything that goes into putting a big graphic novel together. These updates are exclusive for backers of the campaign, so it's definitely worth it if you're interested in making comics yourself, or if you're just interested in knowing some behind-the-scenes secrets 🙂
What are some of the reward options on offer for backers? What should Isabella and Blodwen supporters look for outside of the standard digital and print copies?
The rewards start from £10 all the way up to £150 so there should be a reward to suit most budgets. The good thing about this being a longer-term campaign also is that people have the time to wait for their payday before pledging. I think the best reward on there right now is the Early Bird option – where you get a pretty nice discount on the book. It's only available to the first 100 customers though so be quick for that one! There are also rewards that get you sketches, commissions, original pages, even portfolio reviews if you want some advice on your own comics.
It's become a staple question of my interviews with Unbound creators so here's your opportunity to pitch directly to our audience. In 50 words or less why should they back Isabella and Blodwen?
It's going to be my best book yet. It's my best writing and my best drawing. The characters are well-rounded and I think readers will become immersed in their world very easily. Blodwen has been a LOT of fun to create and I think she'll be a lot of fun to read too.
And, finally, what else are you up to in the world of comics at the moment? And at what events can we expect to see you at through the summer?
I've just launched a new minicomic called Jack and Lucy which I wrote and which the amazing Jacob Phillips has illustrated. I'm also working on a bunch of stuff I can't really talk about right now – but mainly working on the new giant graphic novel I've been yammering on about obviously! My next events are CICE on June 2nd, MCM Manchester on July 28-29th, CovCon on 15th September, Thought Bubble on September 22-23rd, and ICE Brighton on November 3rd. I've also applied for NYCC this year and will know whether I got in soon…cross your fingers for me!
Don't forget to back Isabella &  Blodwen here.
For more on Rachael Smith's work visit her site here and follow her on Twitter here. You can follow Unbound Books on Twitter here.