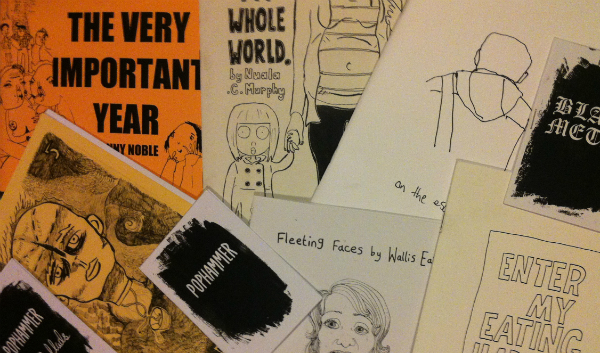 Is the easier availability of high quality printing options for self-publishing having a negative knock-on effect for small press comics work presented in a traditional zine or DIY culture format? Or is grassroots publishing healthier now than it's ever been? That's the gist of the debate in today's return to our 'State of the Small Press Nation' discussions here at Broken Frontier.
For those late to the party you can read the four previous entries in this series here. Our conversations to date have covered questions regarding the infrastructure of UK comics, the expanding number of shows and fairs, and the issue of whether the potential audience for small press comics is growing at the same pace as new practitioners to the scene. They've included the views of practitioners from across the UK indie comics spectrum – from prominent small press creators to DIY culture self-publishing newbies, through to boutique micropublishers and beyond.
DIY culture in a broader sense, of course, is going nowhere. One only has to look at the renaissance of the zine scene in the UK in recent years to see that and, of all the self-publishing events I attend each year, it's those that have a more tangential link with comics – last year's excellent Alternative Press Takeover at the Bishopsgate Institute, for example, or the ever bustling DIY Cultures Fair – that not only seem impervious to the entropy affecting some of the smaller UK comics shows but are also flourishing and continually building an audience.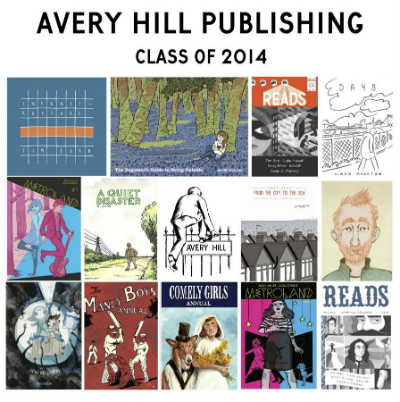 So what we're asking today is aimed directly at the comics market. Is there a pressure to abandon zine-style presentation and embrace a more polished feel for publications? Are punters likely to avoid picking up a comic based on a decision that centres purely on its physicality? To what degree are those traditional photocopied, folded and stapled comics works being squeezed out of the equation? And how much does the audience for both ends of the small press presentational spectrum overlap?
David White is one half of the team behind Avery Hill Publishing, a micropublisher who may be known today for their handsomely produced, professionally bound, boutique-style graphic novels and comics but whose early material in anthologies like Tiny Dancing and the first volume of Reads had a far more traditional, old school small press feel to them. White believes that there's still plenty of room for both aspects of presentation within self-publishing and that the real question is one of targeting your audience.
"Personally, I love the fact that there are so many publishing options for creators these days. You can still print your work at home, or on the photocopier at work, staple them together yourself, and find a willing audience. You can also get your work printed professionally at a higher outlay and quality, and find a willing audience, some of which will be the same as the audience which is looking for the more traditional zine-type production values. I count myself amongst those in the middle of that particular Venn diagram.
The polished 2014 output of Avery Hill Publishing (above right) earned them a Broken Frontier Awards 'Best Publisher' nomination. In their early years, though, they embraced grassroots zine and minicomics culture as seen in The Young Tony Hadley Chronicles, Offensive Derek the Badger, and Mitchell Collection above.
"But whilst the ability to self-publish work that might be a bit shinier, and a bit more professionally put together may have changed creators' options, for me the most important aspects are still the quality of the work, and getting access to the audience that's most likely to appreciate it. It's all about making the work you want to make, in the format you want to make it, and then direct it in the best way possible if you want anyone to read it. The options available mean the scope of format you can achieve is wider than ever, but if it doesn't tally with the work, and doesn't chime with an audience, it doesn't matter how shiny or beautiful it looks."
Tempo Lush's Richy K. Chandler (Rosie and Jacinda, Bang! Crash! Whizz!) agrees with this sentiment that a comic's identity and vibe plays a key role in how it should be presented to a possible readership. "Slicker looking comics can work fine alongside more handmade looking ones as long as the content is suitable for the final look of each printed work." Soaring Penguin Press supremo John Anderson echoes the thought that DIY presentation can actually be an intrinsic part of a book's appeal and identity, citing a pertinent example from Soaring Penguin's recent past.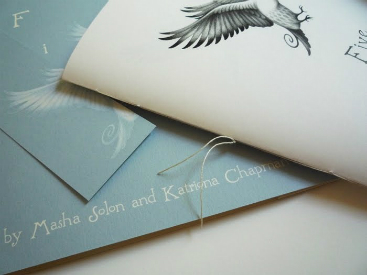 "There is a counter-culture movement that sees comics as being too slick. And it's a valid viewpoint. I've seen a few books that were… okay. Not great. But looked terrific. And sold as a result, better than other, possibly better titles that lacked the production values.
"We've had personal experience that relates to this. In 2013, I made an agreement with Masha Solon and Katriona Chapman to publish their book Five as a little hardcover. It's a lovely little book where the poem is perfectly complemented by the illustrations. The original product was a hand-made book that sold pretty well (above right). But the hardcover failed to make much of a dent. I think as a DIY product, it had a charm and a cachet that, as a hardcover, it lacked."
David O'Connell (Jampires, ink + PAPER) notes that we need to be realistic about the immediate impressions potential readers will have when browsing self-published work. "It's understandable that buyers (particularly new readers) are going to go for something that looks more professional as a safer bet for their pennies. However, Breakdown Press produce very popular books that have a crafted zine-y feel, so I suspect that it's actually a design issue: creators need to work harder on their covers and table presentation. The zine scene seems very healthy from what I see of it – politically/economically uncertain times make for a happy alternative press."
Recent publications from UK micropublisher Breakdown Press
So has the ability to self-publish work with a more "professional" look to it meant greater exposure on the shelves of venues that previously may have been unreachable for the budding small presser? Gill Hatcher (The Beginner's Guide to Being Outside, Team Girl Comic) thinks so "There probably is a bit more pressure nowadays to produce high quality printed comics, but DIY comics still sell if they're priced appropriately, especially at zine fairs and more 'indie' comics events. Overall I think it's a good thing that people like me can produce a comic that Waterstones is willing to put on their shelves, because it looks and feels like a proper book."
Hatcher goes on, though, to make a vitally important point about relative definitions in regards to the accessibility of affordable high quality printing options. "I do get a little bit annoyed when people talk about how cheap printing is these days. Whilst printing has never been more affordable, it can still be very expensive for people on low incomes."
Have we seen the end of traditional style zine minicomics from Donya Todd for the forseeable future?
So have creators who previously produced work in what have been perceived as DIY or zine-styles formats felt the need to upscale? For Donya Todd (Bimba, Death & the Girls) the explosion in work with higher production standards is likely to inform her own approach in the future. "Seeing such quality comics at conventions this year has made me want to up my game. I'm going to concentrate on bigger work rather than small, cheap zines. I think there has been a shift from photocopied zines to full books but there will always be a place for affordable smaller works too." Alex Potts (A Quiet Disaster) is another artist for whom direct experience of what his consumers demand has been a guiding factor. "I have put out photocopied comics in the past and I learned years ago that people prefer to buy comics that are printed in better quality. I can only imagine it would be even more so the case these days."
Can I Borrow Your Toilet? – Gareth Brookes's self-published masterpiece, and The Black Project in both its small press incarnation and handsomely packaged Myriad iteration
Gareth Brookes (Manly Boys and Comely Girls, The Black Project) may be one of the UK comics scene's greatest proponents of DIY culture but he has a salutary reminder that hearkening back to a Golden Age of handmade zine culture may well be missing the point. "Anyone who knows me will tell you that I'm a grumpy Luddite but nevertheless I think it's perverse not to use whatever technology is available to make work. The kids queuing up to get their Punk Zines photocopied in 1981 were making use of the latest technology and so should we."
It's a viewpoint that Joe Decie (The Listening Agent) concurs with. Decie is adamant that creators should welcome the opportunities available to them to present their work in as polished a form as possible. "The fact that people have high quality professional printing can only be a good thing. Why would you not embrace this technology and make the best comic book you can? And if you want a rough and ready look, fine. Risographs are everywhere offering cheap and highly customisable printing. Let's not forget Riso is nothing new, zine makers have been using them since forever. I think it's brilliant that people are being innovative with them, treating them like silkscreens. DIY all the way with those beauties."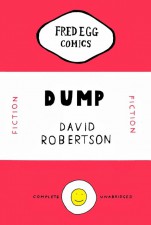 David Robertson (David Robertson's Dump, right) is another creator who has embraced the opportunities available to him "I am aware that my own self-published comics no longer look like the traditional model, as this may be off-putting to some "zinesters". When I started I did it the time-honoured way, but I reached a stage years ago where I didn't want to get sacked from my day job! I began using an online printer, Lulu.com, instead."
Rachael Smith (House Party) has had a foot in both the self-publishing and micropublishing worlds and also thinks that "high quality printing can only be a good thing for self-publishing" and Mickey Lam (Mr. Yang Fights Aliens)  concurs "It raises the standard by which books are presented. When it comes to handmade, I've seen a full range from washed-out photocopies to beautifully hand sewn-and-bound. Raising standards is not a bad thing."
Has the ability to publish a much more professional looking book led to newer creators on the scene being naïve about price points though? I touched on this briefly last year in my 'How *Do* I Get Coverage for My Self-Published Comic?' column here at BF when I talked about deserving newer creators failing to build a readership because their pricing levels were so impractical. Accent UK's Colin Mathieson (co-publisher of books like WesterNoir) makes a related observation when he says "Quality will always sell but creators have to be realistic with economics and not price themselves out of the market before they've found an audience."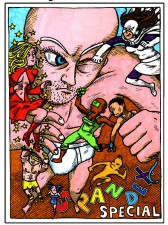 This is something that Martin Eden (Spandex, left) is actively looking to avoid. He states "People can get glossier publications but that doesn't stop the same old typos etc… I hate some of the prices – I don't want to spend over a fiver for a self-published comic. I've got a good, cheap printer and I always want my comics to be affordable."
The affordability of your work is a vital factor in getting it seen. From a personal perspective the evidence of this is abundantly clear in the comparative click-throughs to online stores via 'Small Pressganged' reviews. Realistically priced work will see significantly more follow-up interest than those comics that are selling for several pounds for not many more pages. It's a constant source of disappointment to me to see talented people I've covered here in the past apparently disappearing from comics entirely after the (presumed) disillusionment of poor sales. A more pragmatic pricing decision may well have seen them reach the readers they deserved.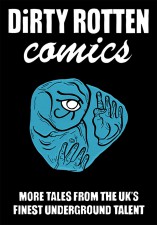 Kirk Campbell of Dirty Rotten Comics (right) pulls no punches when addressing this. "Greed is the one thing that will kill grassroots publishing. Traditional zines and D.I.Y comics can now be produced to a higher quality for less money than in the past, but you often find that self-publishers try to therefore price themselves into a higher market and in doing so leave their audience behind. The market is changing rapidly and cannot be compared to that of say even 5 years ago in terms of print quality and its impact on price points. The issue here is the hugely-inflated price of attending conventions having a knock-on effect on the margins of self-producers (be it DIY or otherwise) trying to get their product out to audiences."
For a number of creators co-existence between philosophies will endure and while many more artists may opt for higher quality printing than previously there will always be a place for a DIY approach to small press comics. As Paul Shinn (March of the Penguins) says "I think that the easy availability of high quality printing makes the mass-production of self-published work easier to achieve, but surely the self-publishing scene is about making things, and the zine/D.I.Y. culture format is possibly the best expression of this. I think they can co-exist and the increase of the cheaper high quality printing won't ever have a negative knock-on effect on the zine/D.I.Y. culture, which is still the format that people will start out with and experiment with when they're finding their feet."
Craig Collins (Metrodome, Crawl Hole) is similarly hopeful "D.I.Y books are more present at some shows than others, and they're always to be welcomed – it's a brilliant thing. I would hope they're not suffering for the rise of quality printing in self-publishing, that they can happily coincide, and that people would buy a great D.I.Y zine over a mediocre book with a flashier print job"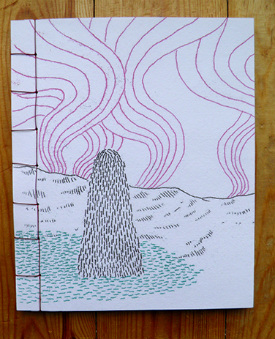 P.M. Buchan (Love Will Tear Us Apart) also believes that one approach should not necessarily impact on the other. "I would say that grassroots comics are more healthy now than ever. Look at Gareth Brookes' most recent comic [The Land of My Heart Chokes on Its Abundance – right]. There's always going to be a market for lovingly crafted zines. High production values aren't going to do anybody any harm, they're only going to make the rest of the world take us more seriously."
Likewise, Gary Clap, the other half of the Dirty Rotten Comics publishing team who states "I don't see that there needs to be any competition between the two. I'm sure that the audience for traditional/DIY is still there, and I'm not convinced that high-quality printing would have enough of an impact to eliminate that. For us, it's been a real benefit being able to print good looking books at low costs; particularly as an anthology, it's great being able to give our contributors something that feels well put together and professional."
Ryan O'Sullivan of T-Pub (publishers of Neil Gibson's Twisted Dark, below left, and Tabatha) feels the appeal for DIY-style presentation to a non-committed comics audience is to a certain degree negligible and has advice for those looking to present their work in a more prestige format. "I think that more mainstream convention attendees tend to prefer trade paperbacks to single issues. And while there is some charm to having a DIY style stapled comic, I think that charm only really appeals to people already in the comics industry. (Or at least, the hardcore fans of it.) If you're expecting to sell to people who are more casual in their comic consumption, such as through the direct market or to bookstores, or even the average convention attendee, then why not print a trade collection? You've already done all the artwork, all you have to do now is compile it.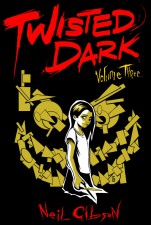 "If the cost of a large print run of trade paperbacks (200+) is too much for you on your own, why not form a collective? Job lots can rapidly reduce the individual cost of printing books. Get ten friends, approach a printer, print 2000 books (200 each) and you'll 1) be able to afford the print run and 2) make more money per book."
Cliodhna Lyons (Killer Queen, Sorry I Can't Take Your Call at the Moment but I'm Off Saving the World)  who publishes as Ztoical has a far more practical consideration, feeling that certain skills are being lost in the process. "I do feel access to printers has allowed people to skip steps, for want of a better phrase, in developing as comics producers. They often now jump straight to full colour perfect bound books without learning the dos and don'ts, waste money/energy and become disillusioned with producing comics."
Chris Kent (The Golem and Flood) also points to the practicalities involved – gauging your audience and creating a physical end product that is tailored to them. "There are lots of print options, lots of cheaper options, but you really need to know the quality that you want and go after it, knowing your audience and the type of product you're creating. Reliable print contacts are essential. Basically create the best that you can afford. Some creators like myself who work non-digitally have some extra costs and time constraints. I think that my latest work Flood (below right) is probably the closest to my initial concept."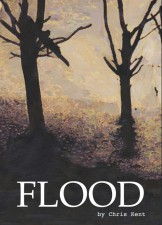 When it comes to questions of physical presentation, then, we do seem to be at an intriguing juncture for self-publishing. Compare some of the small press books in your local comic shop with Marvel's "self-covered" offerings and you'll note that it's not even a case of matching the print standard of the mainstream's biggest publisher; many of those self-published books will actually be of a far superior quality. When you can produce comics yourself that look better on the shelves than the output of the corporate side of the medium it's easy to see how tempting it is to put an emphasis on physicality. And, of course, the greater number of self-publishers putting slicker, shinier comics out there, the more subsequent pressure there is on others to compete with that…
Ultimately, though, and certainly from the perspective of 'Small Pressganged' coverage, a polished product is an irrelevance if the contents are of dubious creative worth. Small press punters are a cannier lot and, at the risk of being accused of generalising, their buying decisions are more likely to be based on aesthetic value rather than the compulsion of habit or the completist mentality of their counterparts closer to the "mainstream". As Paul Shinn mentions above, DIY culture is about the act of making and creating for itself and that, as a practice, is going nowhere. As long as this column is running at Broken Frontier those producing excellent work in a traditional zine-style format will always have a champion – glossy covers or not!
Perhaps one of the central points to come out of this discussion is about knowing who you are creating for – whether that be a specific readership or whether it be for yourself – and marketing the presentation of your work accordingly. That, of course, opens up the question of defining who your audience is. Something we will be returning to in the 'State of the Small Press Nation' in the very near future….
If you have any thoughts on the points expressed here please do add them in the comments section below.And if you're a UK DIY comics self-publisher, small presser or micropublisher then there's still time to take part in upcoming columns. Contact me via my Broken Frontier e-mail address on our staff contact page here.
For regular updates on all things small press follow Andy Oliver on Twitter here.