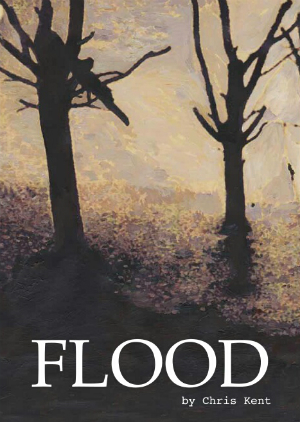 Chris Kent is a creator who refuses to be tied down to just one medium. His comics practice is informed by his work in a number of other disciplines from painting to sculpting through to woodcarving. As such, his graphic novels to date have experimented with a number of presentational techniques. A mix of collage, pencils and painting in Medusa, his psychological horror story dealing with the war in Iraq, for example, or the rigid and inventive application of the nine-panel grid in his supernatural thriller The Golem (reviewed here at BF).
His most recent graphic narrative, Flood, is again a very differently structured work to preceding offerings. In fact I used the term "graphic narrative" very deliberately in that last sentence because Flood is not comics. It's an illustrated story that combines prose with a single image on each page. That art is not sequential in the strict panel-to-panel sense that we define comics as but, as we all know by now, I do happily bend the rules a little in 'Small Pressganged' to accommodate the allied self-publishing worlds of zines and other forms of graphic storytelling from time to time. This is one such occasion.
Flood plays on very real environmental fears from contemporary headlines to craft a brooding tale of societal collapse in microcosm. Taking the meteorological disasters of the last couple of years in the UK as its foundation it presents a tale of a village isolated in a catastrophic case of flooding that finds itself completely cut off from the outside world. As the hoped for aid from the authorities fails to materialise it slowly dawns on the locals that rescue may never be coming.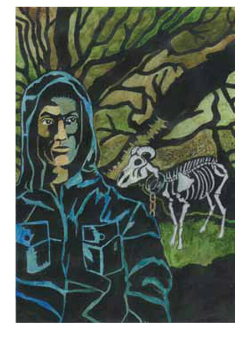 A once thriving community slowly degenerates and a climate of fear and suspicion begins to grow. Exacerbating their situation, the floods have caused a landslide that has uncovered something from the distant past that should have stayed hidden. Villagers begin to disappear as tensions build up and a reversion to superstitious ritual begins. Civilisation's comfort zone has been devastated by the forces of nature and this small group of people stand on the brink of disaster…
Given that Flood is a story that is far more interested in posing questions than in necessarily answering them, Kent's use of a single image to illustrate the themes and situations of the text of each of the book's 30-ish pages is an effective device. It draws the reader into events by asking them to consider what they are not seeing as much as dwelling on what has been revealed – the mysterious, intangible, greater picture always being just that little bit beyond the audience's immediate grasp.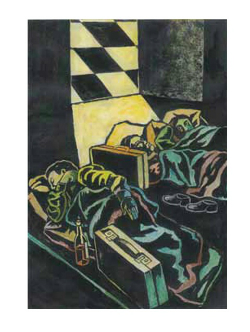 Kent's moody and atmospheric painted visuals do suffer a little from being presented in such reduced scale on each page. Ideally I would have liked to have seen each picture presented as a full-page image with text to the left of it in order to give the art some room to breathe. But the economic realities of self-publishing are often a force that cannot be vanquished so easily. Still, this is some of the creator's best work to date in terms of visual input. The haunting use of subdued, yet varied, colours that means the characters seem to blend in and out of the backgrounds they inhabit memorably accentuates the eerie otherworldliness of the daunting new world they find themselves in.
What works far less well is that Flood as a short story is just far too ambitious for the word count involved. Simultaneously, it's attempting to be an environmental parable, a supernatural thriller, and a commentary on a crumbling community in crisis. The lack of time and space to devote to any one of these facets in depth means that the book's attempts to adopt a teasingly oblique storytelling style are more akin to a frustratingly obscure one instead at times. Still, I would rather see work that over-reaches than work that is complacent in scope, and you can certainly never accuse Chris Kent of the latter…
For more on the work of Chris Kent visit his website here. You can read an interview with Chris in a previous 'Small Pressganged' column here at Broken Frontier. Flood is available from his online store here priced £5.99.