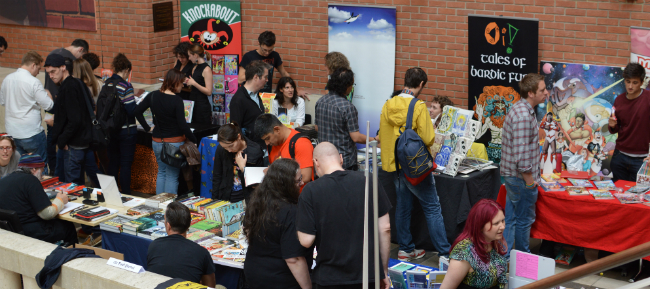 Is the rapidly expanding number of UK comics-related shows, fairs and festivals to exhibit at an advantage? Or is this level of growth actually stretching small press creators and their customer base too far? These are the crucial questions we'll be asking in this latest of our 'State of the Small Press Nation' series here at Broken Frontier. We began these features before Christmas with a related two-part discussion (part 1 here and part 2 here) about whether the audience for self-publishing was growing rapidly enough to match the influx of new creators onto the scene, and last week Ricky Miller of Avery Hill Publishing spoke here about the challenges surrounding the very infrastructure of UK comics.
In this edition we are returning to our multi-creator discussion to hear views from across the UK indie comics spectrum – from prominent small press creators to DIY culture self-publishing newbies, through to boutique micropublishers and beyond – in an effort to provide a representative sampling of what some of those practitioners at the front line of the scene feel about the challenges facing us as a creative community in 2015.
The subject of today's conversation is a topical one given that it's relatively recently since we came out of the UK's major independent con season. Depending on your viewpoint, of course, over October and November we were either overwhelmed by an untenably excessive number of comics events or we were spoilt for choice with a near two-month celebration of the medium. While it seems churlish on the one hand to be ungrateful about this scheduling explosion – who could have imagined such an interest in the medium just a few short years ago, after all? – it is a valid question to ask whether or not we may have now reached saturation point.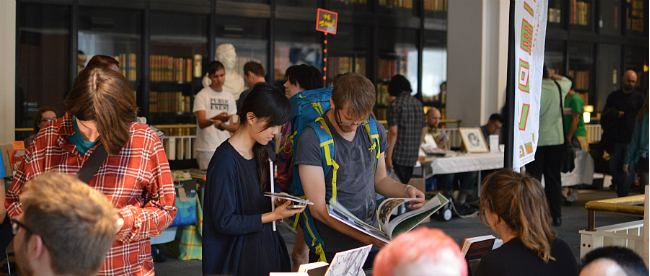 Comica Festival Comiket at the British Library. Photos above courtesy of Dean Simons
Soaring Penguin Press publisher John Anderson is one commentator who believes this is the case but also feels natural selection will eventually weed out the poor performers. "[There are] far too many shows. But it'll all balance out in time. There has to be either an intrinsic or extrinsic value to the show for someone to organise it year after year. But even if it fulfils some inner need, if it's costing money, the organiser will stop before too long."
Of course given the rescheduling of last November's Comica Festival Comiket we know that it's not just the lesser known shows that are vulnerable. Despite a largely very successful Comiket at the British Library in August, the Autumn event suffered a late postponement until the Spring after a low take-up in table bookings. Given that the Hackney Flea Market and the South East London Zine Fest had been scheduled for the same day in London this was, perhaps, the first major indication that one of the traditional mainstays of the small press circuit was now in direct and serious competition with other fairs – not just for punters but also for exhibitors. When you consider that during that period in preceding and subsequent weeks across the country – and in a very short window of time – we had the likes of LICAF, MCM, the Alternative Press Pop-Up, CECAF, Thought Bubble and more, then perhaps the only real surprise is that there weren't more casualties.
https://www.youtube.com/watch?v=lThM211o-gU#t=26
Relive Comica Festival Comiket at Central Saint Martins in this "fan-made" video by Heri Mkocha
For Spandex creator Martin Eden the market may be overcrowded but it's a matter of common sense choice and picking the events that are tailored to your readership. "There are definitely too many events but you don't have to go to all of them. Personally, I feel that some small pressers are getting a bit tired of the bigger shows like MCM Expo and the dreadful LFCC, and the preference is for pure comics shows like Thought Bubble and Sean Azzopardi's brilliant CECAF. For me, Thought Bubble was a brilliant experience and I'm almost considering making it my only show of the year – just like Bristol was my only show a few years back."
That element of creators being more selective about which shows they choose to attend is something that David O'Connell (ink + PAPER, Jampires) has observed and he echoes some of John Anderson's sentiments about the long-term shelf life of some events. "It's great that there a lot of shows around but it's been noticeable in the last year or so how creators are now whittling down the number of shows they attend, and are less prepared to give time to poorly organised events or ones that aren't really about comics. They can't afford to turn up to anything that has the word 'comics' in the title any more. I wouldn't be surprised to see the current large number of events become streamlined to a few high-quality comics art events (Thought Bubble/LICAF/ELCAF) over the next couple of years with the film celeb appearance-type shows continuing quite happily with less and less actual creators present."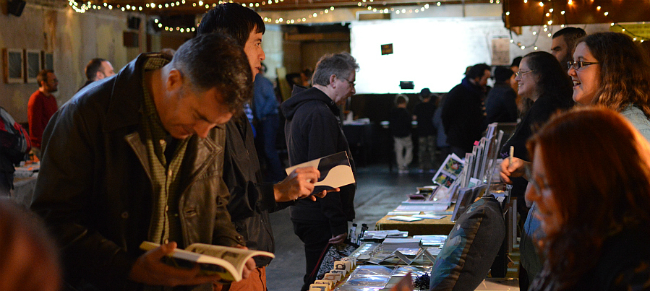 Sean Azzopardi's Crouch End Comic Art Festival. Photo courtesy of Dean Simons
Gill Hatcher (Team Girl Comic, The Beginner's Guide to Being Outside) makes interesting points about how an overabundance of scheduled shows at a more grassroots level can have a drastic knock-on effect in terms of footfall and financial incentive. "I don't have such a problem with the number of large events, living in Glasgow I can realistically only afford to travel to a couple of them a year anyway (Thought Bubble and the Lakes for the past two years, plus Glasgow Comic Con and MCM Scotland obviously). However, I do have a big problem with the number of smaller comic marts in Glasgow.
"There are various groups of event organisers all currently competing with one another to establish themselves and as a result we have events every couple of weeks, often two on the same day! In the past there would maybe be three of these events, tables £20 each. Lots of people would attend and you'd make a decent profit. Now, I'm expected to spend £20-40 every few weeks, for events where audiences and their cash are severely diluted. I can't afford to do that so have to be much more selective about what events I go to."
Peter Rogers (The Interactives/Dapper Chimp Press) acknowledges there may be a surplus of shows but believes there should be a clearer delineation when it comes to target audiences for each event. "There are probably too many shows now, with not enough differentiation between them. We'd be better served with one or two shows trying to be for mass widespread appeal and the rest being either regionally focused or with some kind of specific theme, such as DIY comics or a specific genre."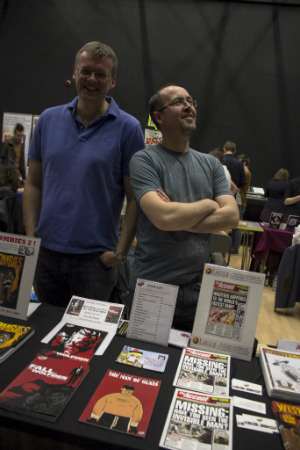 Carefully choosing cons that match your target audience is something that Colin Mathieson and Accent UK (WesterNoir, Stephenson's Robot) have learnt to be an invaluable exercise (Colin pictured far right with Accent's Dave West. Photo courtesy of Camila Barboza). "I thought this year's Thought Bubble was the best ever but hearing of negative experiences, it seems that the 'one-size fits all' of the early Bristol or later BICS shows, where all creators attend and share the same audience doesn't suit everyone. Creators now have an incredible choice of shows to hopefully better suit their work and find their audience. The increased choice allowed us to make six careful changes between our 2013 and 2014 show schedules and in most cases the 'new' events rewarded us with record sales."
Should creators be taking more responsibility about selecting the shows and fairs that will suit them best then? Paul Shinn (March of the Penguins/Look What I Drawed) thinks so "On the one hand, I'd say that the growing number of shows is definitely advantageous as it provides more opportunities to exhibit and sell your work and increase your audience, which can only be good, right? If anyone feels like they are being stretched too far, well, you don't have to do every show! Where I would say it is a disadvantage is in knowing which shows are worth your time, and the sheer number of UK events can be incredibly daunting. Although every event has its own unique advantages and disadvantages, so over time you can tell if a show and its audience is geared for the type of work you do and worth you doing again. I suppose that is one problem with the number of new events happening each year in the UK, as they start out as unknown quantities so it is a bit of a gamble as to whether it will be a lucrative investment, or a cash cow."
British Comic Awards nominee Rachael Smith (House Party, I Am Fire) agrees "I think it's more a case of knowing which shows suit you best – which I'm still learning. I don't think there are too many shows. I've had some bad shows and I've had some good shows, I find it best if I space them out a little and make sure they're not all in London."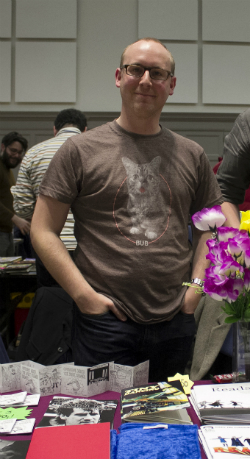 Avery Hill Publishing have also discovered what works best for them on a case by case basis. Co-publisher David White (left, photo by Camila Barboza) says "I haven't got a problem with the number of shows that are on, the challenge is finding the ones that work best for you. It's been a genuine case of trial and error for us to find the shows where we do well, and they change dramatically in size, scope and location. This year's Thought Bubble was fantastic. We sold well, and we had a great time. I'd love to do Thought Bubble once a month if it was the same as the one we've just had each time, but of course that's simply not realistic.
"Is there scope for another Thought Bubble-type event in the UK in the first half of the year? Maybe, but we can't lose sight of the huge amount of work the Thought Bubble team have put into building their event to where it is today. Events of the quality and size of Thought Bubble don't appear over night. Some of the bigger events on the calendar don't work so well for us, but other publishers and creators do well at them. That's part of the finding what works for you. And I'll just say, I'm continually surprised that we haven't got an event of the quality and size of Thought Bubble at some point of the year in London. There must be a reason, but I don't know what it is."
Gary Clap is co-editor of Dirty Rotten Comics – an anthology that particularly welcomes first-time contributors – and he agrees with White about identifying the shows that reflect your own publishing/creative philosophy. "I think it's a case of choosing sensibly, and working out which shows best fit the work that you're putting out. Unfortunately for new creators, this can be a labour of trial and error; we've certainly been burnt in the past by attending events that haven't really meshed with what we were doing. The recent growth of the more alternative, smaller events has definitely been positive for us in terms of providing a wider audience and providing a better means of networking with likeminded creators. If anything, I'd argue that we could do with some more of these smaller events across the year."
Even if you come away from a specific event with low sales are there other compensations that make turning out a bonus? Is there a non-financial incentive from attending show? Can there be value in having a presence at events to fully exploit networking opportunities? John Anderson believes so … "Soaring Penguin Press doesn't do too many shows. The majority of our sales are through distributors. Shows are more of a marketing exercise than a retail experience. It gives us the chance to show our range at once, which in turn gives me the chance to talk to creators whose work I like and be able to say, "This is what we do. Want to be part of it?" And it seems to be working. Anecdotally, I've had conversations with a couple of creators who are excited at the prospect of having a Soaring Penguin Press book.
"That having been said, I would imagine that the one-day events would probably have a larger proportion of local creators than the two-day events. Particularly when the event is a good distance from London, where we're based, I have to plan on two or three days to be there for the one day. That's expensive, with less time to recoup the costs."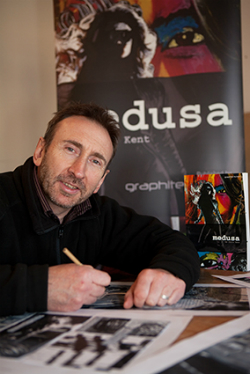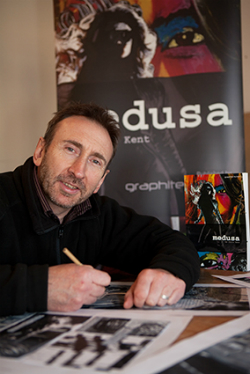 If you're a self-publisher looking simply to sell rather than discovering new talent, of course, shifting units and recovering the cost of attending will be one of your primary goals. Chris Kent (The Golem, Medusa, pictured right) is less swayed by the "making contacts factor".  "I feel I do have to make business decisions about which shows, especially considering travel and accommodation costs from my Scottish Borders base. Some shows would be particularly costly, so I avoid those, and I'm not always convinced by the networking argument – that a show can be successful via networking, even if it's not successful financially. I believe that a show should be both."
Similarly Donya Todd (Death & the Girls, Bimba) emphasises the need to be earning back your outlay, "The number of shows isn't a problem at all. It's great that we can pick and choose where we think our work will have a receptive audience. There has to be a balance between travel and making new products though or you risk having poor sales… It's fantastic to know that fans already have your comics but breaking even at events is important too!"
That balance that Todd mentions brings us back to the issue of timing of events and the now notorious concentration of shows in the October/November period. Gareth Brookes (The Black Project, Manly Boys and Comely Girls Annuals) is another creator who feels his practice suffers in that Autumn period "I like doing shows and as long as they're spread evenly around the country I think it's a good thing. I'd like to see them spread more evenly throughout the year though. My new projects have ground to a halt since October."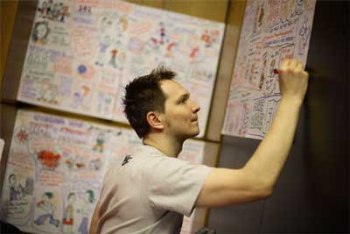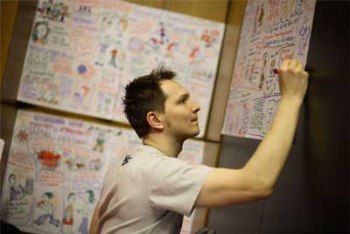 Richy K. Chandler (Tempo Lush Tales, Lucy the Octopus, pictured left) concurs with that sentiment almost word for word. "As a dad I can't make it to as many shows as I might otherwise so I'm glad there are plenty of events to chose from (even just in London alone).  It would certainly be nice if they were spread more evenly throughout the year though." Returning to Paul Shinn – he may be a newer exhibitor at shows but he also agrees on that point. "One thing that I do think needs reviewing is when these events happen. There seems to be a real glut of events towards the end of the year (October/November) with often multiple events on the same weekend, which must water down both those exhibiting and those attending. Maybe it would be better to spread these out a bit more, throughout the year."
Joe Decie (The Listening Agent, The Accidental Salad) has a philosophy of "the more the merrier" when it comes to an expanding show scene but he's yet another creator concerned about a congestion of conflicting scheduling dates (while at the same time yearning for a more diverse demographic). "Maybe they should organise them so they don't clash though, that's just silly. But there's always been plenty of shows, I miss all the alt press anarchist zine fairs, they seem to have dropped off in the last few years. They were good fun and attracted a different crowd."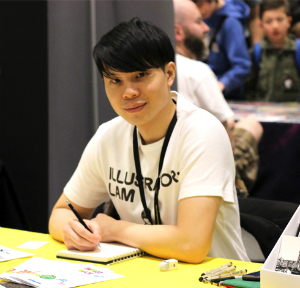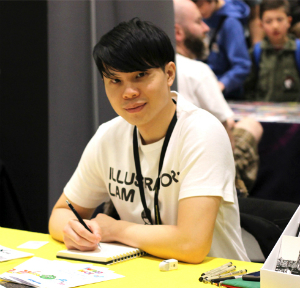 Mickey Lam (right), who self-publishes comics like Mr. Yang Fights Aliens and Fwiendly Fwuit under his Illustrator: Lam imprint, similarly sees merit in an expanding scene. "There are many more opportunities to get your own work out there. Personally, I just stick to a few [shows] that I would like to continue with for the next few years. It's a balance between spending time promoting versus producing your work."
Kirk Campbell, the other half of the Dirty Rotten Comics editorial team, is cautiously optimistic, but stresses the onus should be on the exhibitors when it comes to selecting. "Creators have a duty to themselves to pick the events that best suit their product and I do feel to look at the convention scene as a whole entity is to ignore the variety of sub-groups and target audiences being catered for throughout the year. In a period of growth such as the one we are experiencing, unfortunately there is the high chance that going to an increased number of conventions will result in some dud experiences. This should not be confused with this new wave of conventions being a negative thing in the long run. The only downside I have experienced is when two or more conventions of a similar ilk are taking place on the same day in different parts of the country. This fragments the scene as you find creators are split between one or the other when in fact many would probably attend both if they were taking place on different days."
As will be abundantly clear by now, that last sentiment is one that has been very much a recurring theme throughout the responses I received from both artists and publishers.
Undoubtedly the pressure to maintain a presence at fairs will be significantly greater for some than it will be for others. It's something that Craig Collins (Metrodome, Roachwell) is aware of. "I'm in a position where I can't go to everything, so the increasing number and range is welcome. I don't feel a need to be at every show going, but I can understand those that do if you're trying to establish the name of an imprint, etc."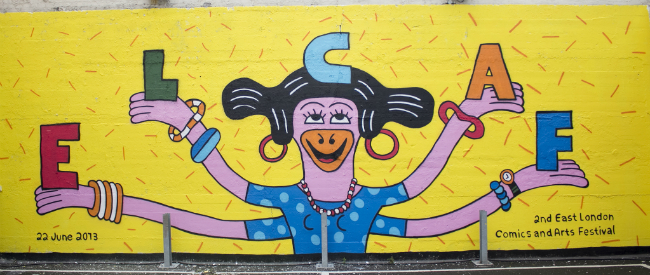 Nobrow Press's ELCAF is, relatively speaking, one of the newer shows on the calendar but has already gained a committed following. Photo courtesy of Camila Barboza
Cliodhna Ztoical (Killer Queen) has some savvy points to make here on the differing reasons for exhibiting at shows, bringing the crux of the issue back to individual motivations for attendance in the first place. "Personally I find the growing number of shows neither an advantage nor a disadvantage as I just do the ones I want and have been at this long enough to for the most part know which shows my work isn't suited for and don't attend them or if I do I take different work. In asking if there are too many shows you have to ask what people want to get out of shows? There are plenty of people who've got exhibiting down to an art forum, they offer fan-art and £5 'manga' portraits and they make a killing but what's the end goal there? Is it to make a 100% living from just doing shows?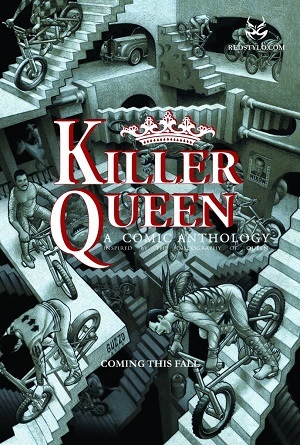 "If all you do is fan art are you ever going to develop as an artist or are you going to be happy just producing the same cookie cutter material out show after show? Or are you doing the show purely for promotion or networking and just aiming to break even or are you not concerned with covering costs at all? Are you better doing just local shows with low table costs and making a bit of money but not really getting your work out very far? Or are you better in saving money to do one or two of the bigger cons which charge considerably more for tables and will cost you more in travel and accommodation – and likely leave you out of pocket at the end – but could have bigger audiences and more chances to network, thus being more beneficial in the long run? Or do you just say fuck it and do every single con you can with no real plan or motivation beyond the event? I've done all three at various times as I had different driving factors at different points.
"For the most part I don't feel the UK is yet oversaturated as there is still a big enough divide between the shows.  With the exception of Thought Bubble, no show in the UK covers all areas, each one is more focused on one area (London Super Con – mainstream American, MCM – manga/anime, Comiket – small press…)  The number of MCM-type shows might be reaching saturation point but as I don't do this show anymore I don't pay attention to them."
For some small pressers it's an obvious necessity that comics cons and fairs take a second place to family commitments. P M Buchan (Blackout, Love Will Tear Us Apart) notes "Personally I have young children so have to cherry pick the conventions that I exhibit at, though I took my son to Kendal this year and he had a great time, so I might be looking at doing more cons in future" while for those newer to the circuit like David Robertson (David Robertson's Dump) the availability of choice is a positive boon. "I am somewhat new to the whole scene. Although I've been making comics for years as Fred Egg Comics, I have only tabled at cons starting this year with Treehouse Comics. Perhaps things have gotten worse, I wouldn't know. It all seems pretty great to me!"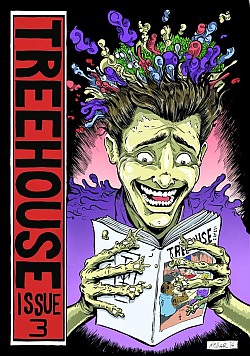 If there's one obvious observation to be taken from this discussion it's that one creator's glut is another's welcome opportunity.  This divergence of opinion perhaps touches on the differing reasons people are involved in self-publishing in the first place. For a section of small pressers it may be something they essentially see as a hobby with no expectation of it being more than a leisure time activity, while others will view it as the first step on a pathway towards a potential career. For that second group maintaining a constant presence at events to build up their brand will have a greater importance and the pressure to attend the majority of shows becomes more intense.
Of course the vital thing to remember is that it's not just exhibitors who are potentially being stretched too far – it's the punters as well. Plenty of choice of places to display your wares at is of little value if it's effectively splitting and diluting your customer base. The aforementioned scheduling of three self-publishing events on the same day in London last November – which no doubt, given their appeal to a very similar crossover audience, played at least some role in the Comiket postponement  – is just one indication that, certainly in that Autumn period of the year, we have now very probably reached a point where there are far too many events chasing a static and finite number of attendees…
Join us again next time when we will be discussing methods of presentation and whether the easy availability of higher quality printing options has had a knock-on effect on traditional grassroots DIY culture. 
If you have any thoughts on the points expressed here please do add them in the comments section below.And if you're a UK DIY comics self-publisher, small presser or micropublisher then there's still time to take part in upcoming columns. Contact me via my Broken Frontier e-mail address on our staff contact page here.
For regular updates on all things small press follow Andy Oliver on Twitter here.