"I'm incredibly honoured to be part of the exhibition and especially glad to have some of my conservation-themed work display. I hope Inking Women will showcase the rich diversity of women's stories being told through the medium of comics." – Gill Hatcher
'The Inking Woman' – spotlighting 250 years of British women cartoonists – recently opened at London's Cartoon Museum to great acclaim. From household names to enthusiastic self-publishers through to historical figures from the medium's rich past, the exhibition has a truly celebratory zeal to it. It runs until July 23rd and you can get full details on admission, opening times and directions from the museum site here.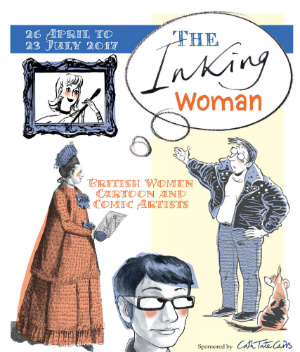 With so many of the exhibition's contemporary artists having been featured extensively here at Broken Frontier (and a number of them getting their very first coverage on this site) it seems only fitting that we support 'The Inking Woman' with a series of BF blog posts linking back to some of our key coverage of individual featured creators – with images selected by the artists themselves!
Gill Hatcher's contribution to the UK small press scene over the last several years has been an immense one. She's the founder of the Scottish all-woman collective Team Girl Comic which provided not just a vital platform for grassroots creators over the course of its twelve anthology issues but also a sense of comics community for its contributors.
TGC recently rebranded themselves, so to speak, with their new book That Girl Comic which deals with the theme of "growing up". It's currently being crowdfunded on Kickstarter here. We gave you a few reasons at BF here as to why you should back it a couple of weeks ago.
In 2014 Hatcher was nominated for a British Comic Award for The Beginner's Guide to Being Outside (published by Avery Hill Publishing) – a touching tale of a young girl from the city coming to appreciate the natural world while on a fractious family holiday. Those environmental themes have been a staple of Gill's solo work in comics like The Seagull Appreciation Society and Go Wildlife!. She has also self-published Adam and Gill's Trivia Game with Adam J. Smith, her solo book Taxidermy Tales and was a contributor to the first Broken Frontier Small Press Yearbook.
You can find out more about the comics of Gill Hatcher in the links below…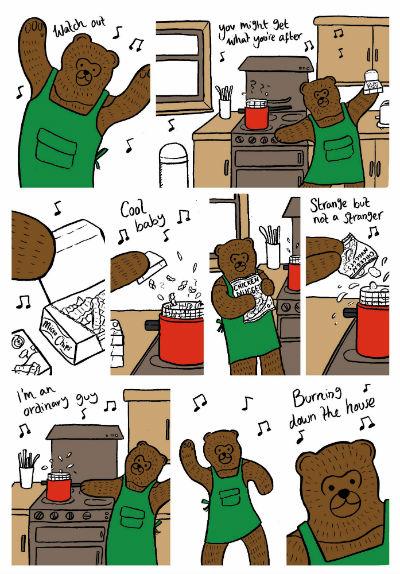 'Bungle's Chip Pan' from Adam and Gill's Trivia Game
Key Broken Frontier Reviews
The Beginner's Guide to Being Outside (2014) – "Unassuming and delicately constructed, The Beginner's Guide to Being Outside is a triumphant and gorgeously executed piece of all-ages storytelling that I have no doubt will propel Gill Hatcher's profile to the next, and much deserved, level of recognition."
Team Girl Comic #10 (2014) – "Without a doubt, [Team Girl Comic] is the quintessential embodiment of the UK small press zeitgeist of the last few years."
The Seagull Appreciation Society (2015) – "The Seagull Appreciation Society speaks to its audience on their own terms but without ever patronising them, and it does so with a ready and engaging use of humour that ensures proceedings never degenerate into a procession of dry facts and exposition. Gill Hatcher has created a comic with a vital and important message here that will instantly capture the imaginations of those it is targeted towards."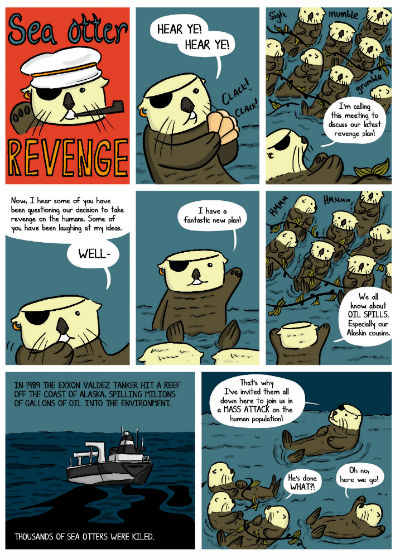 'Sea Otter Revenge' – an example of the environmental themes that run through Gill's comics
Key Broken Frontier Features
Interview with Gill Hatcher (2013) – "While we're always working towards improving the quality and professionalism of our publishing, inclusivity is still at the heart of Team Girl Comic's values. We believe that everyone has a story to tell, and what makes a good comic is how that story is communicated."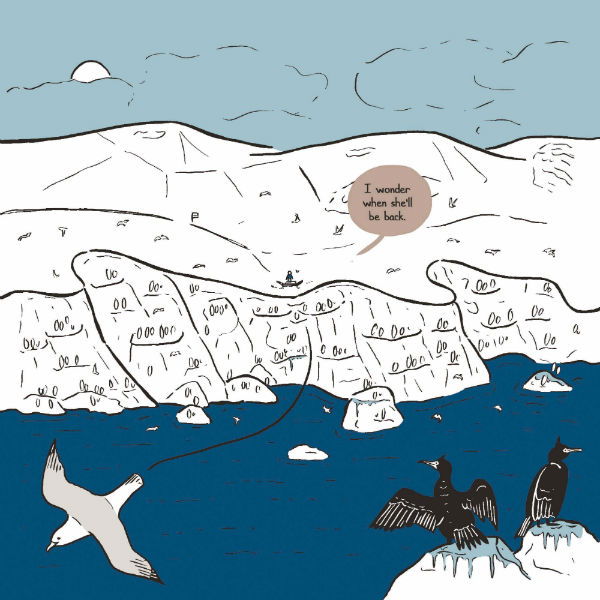 Art from the Scottish Independent Comic Book Alliance Award-nominated The Seagull Appreciation Society
For more on 'The Inking Woman' visit the Cartoon Museum site here and follow them on Twitter here.
For more on Gill Hatcher's work visit her site here and follow her on Twitter here. You can find her online store here.