A positive thinking and well-grounded small publishing collaborative of artists with no shortage of imagination.
Team Girl Comic's fun-loving casual collaborative ethos lends itself well to the anthology nature of their releases – and so the variety is never lacking. One of the best things about this comic is that you can turn a page and never quite know what you're getting. Whether it be an autobiographical snippet, philosophical musings or unfathomably bizarre short story, there will always be something to entertain, amuse or empathise with.
Issue #9 opens with Claire J.C. Stewart's absolutely genius "A Conversation with My Nine Year Old Self" (below), which is exactly what it sounds like. A conversation between the artist and her nine-year old counterpart in what she describes as an "epiphany-come-time-travel kind of thing". The combination of slightly disillusioned comic artist and excitable pre-teen is both funny and poignant. The collective nature of Team Girl Comic's work means that some of the artwork doesn't have the smooth finish of others. That's not a problem, however, that befalls Maki Yamazaki's stunningly illustrated "It's a Beautiful Z Day", a three-page spread detailing the diary entries of a young woman left behind in the lonely aftermath of a zombie apocalypse.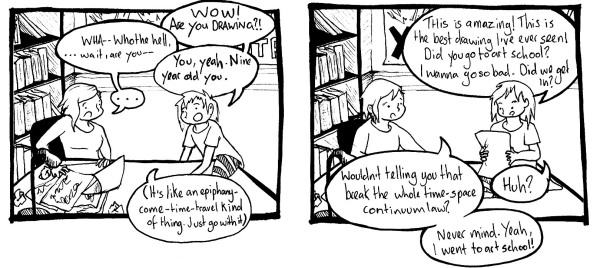 A lot of the stories in this collection have a strong autobiographical sense to them, and as is often the case, these real life stories can be more gripping and relatable than anything imaginary could be – giving we readers an intimate diary-like insight into the minds of the women behind this great little publication. Like, for example, Gill Hatcher's "Cold Call" (below) which is both amusing and bittersweet in its recollections of door-to-door 'cold callers', from the point of view of the one doing the calling. "The New Pair of Shoes", by Cacachute, certainly plays with the idea of a diary entry. The three-page anecdote highlights the innocent and selfless nature of children's worrying, as well as including a UNICEF quote pointing at the very current issue of child poverty in the UK.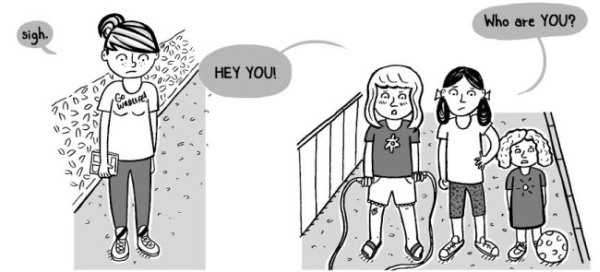 I am ashamed to admit that the one story I find the most relatable is the (not truly realistic but more realistic than we'd all like to admit) "Death by Netflix" from MJ Wallace, a simple one-page spread encapsulating the phrase "one more episode can't hurt". While I'm on the subject of the somewhat more surreal – the three-page delight that is the charmingly surreal "Accountant Squid" deserves a mention, both for the unexpected oddness of its subject matter and the dynamic ink & water style of artwork from its creator Elenor Einhorn. Another personal favourite of mine is Claire Yvette and Coleen Campbell's joint effort; "The T-Shirt" (below), a touching story about the lifespan of a band t-shirt that makes you think about the memories and significances that our simple possessions can carry with them.

This is the ninth issue from Team Girl Comic, and they show no signs of slowing down. Quite the opposite in fact. This is a group that's quickly building their own platform and community – a place were the girls of the comic world can get together and share stories and ideas. Team Girl Comic may consist of female-only authors (the hint's in the name) but don't make the mistake of thinking that this is a girls-only book. The stories here are universally relevant and show the continuing development of a positive thinking and well-grounded small publishing collaborative of artists with no shortage of imagination.
Anthology – various creators • Team Girl Comic £3.00, December 2013
Team Girl Comic #9 can be bought online here