There are surely few periods of history more exploited in genre fiction than the late Victorian setting with its accompanying mental imagery of coaches on cobbled streets, pea-soupers and murder by gaslight. Chris Kent's The Golem is a graphic novel set in 1897 London, on the cusp of the turn of the century, and draws on many of those familiar standards that we associate with the era to bring a suitably melodramatic tale of treachery, tragedy and revenge to the comics page.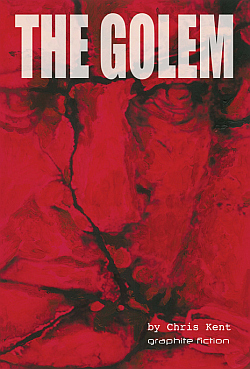 The book's lead character is Alfred Larchmont, a struggling entertainer working as a magician in a decrepit theatre. This debt-ridden prestidigitator's already desperate fortunes are about to take a downturn, however, when his assistant is killed in a grisly on-stage accident. Duped and blackmailed by his theatre colleagues, and betrayed by his wife, it seems the future has little value for the crushed conjuror. But events are about to tale an unexpected twist when Larchmont finds himself the unexpected beneficiary of a legacy from the recently deceased illusionist Vladimir Robinski.
For within that bequest is a giant figure of clay – the supernatural Golem of Jewish folklore – whose preternatural powers Alfred incorporates into his act. But a combination of the spite of jealous fellow performers, his fractured homelife and the truth behind his reduced circumstances will lead Alfred and his newfound ally to one final performance: a last curtain call that will see vengeance of a most horrific kind exacted upon his myriad tormentors…
While The Golem is a long form, full graphic novel (150-plus darkly inviting pages) it is, to all intents and purposes, a fleshed out version of an old EC comics or House of Mystery-style tale. It has all the ingredients of those classics including a put-upon protagonist who rises up to exact poetically just retribution on those who have cruelly oppressed him (via, of course, the requisite form of supernatural intervention so important in these affairs). Indeed, to pull another DC comics reference out of the hat there are elements of this story that also reminded me a little of the pertinent punishments dealt out by the Fleischer-Aparo Spectre back in the 1970s. It's a well-paced piece of borderline Grand Guignol and if it works towards an admittedly predictable conclusion it does so with the reader's full complicity in the proceedings. To echo those aforementioned EC shorts, the audience knows exactly what road Kent is taking them down and what the pay-off is likely to be, but that sense of inevitability plays a large part in the story's intrinsic appeal.
Where The Golem suffers in places is in the dialogue department. There are occasions where character's speech patterns can feel somewhat stilted and unnatural in delivery; a use of language that feels perfunctory rather than intuitive. However, this weakness is more than made up for by the palpable feeling of tension that is manifested by Kent's art. His use of the nine-panel grid throughout is bold and distinctive with the busy, shaded greys creating a shadowy, claustrophobic atmosphere that emphasises the overwhelmingly gloomy fatalism so integral to the book's narrative. Kent plays with this page structure, sometimes using it as a traditional sequential series of images, sometimes splitting one single illustration into nine parts. The effect is quite unsettling, creating the illusion of time being sped up and then slowed down again, leaving us to linger on certain emotive, full-page tableaux far longer than we may have done otherwise. Uncomfortable visuals that build up to a terrifying storytelling crescendo…
An eerily lit chiller with Hammer horror-style overtones, The Golem may not be seeking to offer anything startlingly original as its premise but in terms of visual execution it's consistently inventive and almost beautifully grotesque.
The Golem can be ordered from the Graphite Fiction site here priced £10.99.