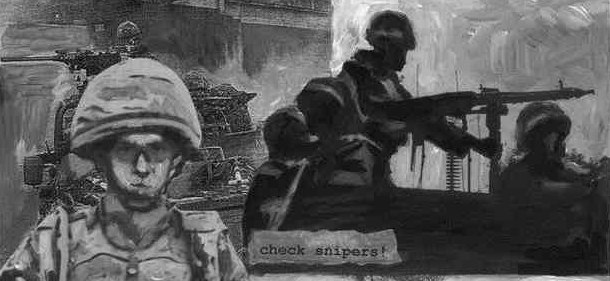 Chris Kent is a man of many artistic talents, working not just in comics but also in a number of disciplines in the world of fine art. To date he has published three graphic novels through his Graphite Fiction operation, all firmly placed in the realms of psychological horror. His first offering in 2009 was the deeply unsettling 'Medusa' – the twisting, hallucinatory story of a British soldier returning from the war in Iraq in search of his missing daughter and who finds himself haunted by a disquieting mythological presence. 'The Golem' (reviewed here at BF) is a tale of Victorian melodrama with a supernatural twist, and his most recent book is 'Flood', a short that is grounded in very real and relatable environmental concerns.
In my latest 'Small Press Spotlight on…' interview I chat to Chris about those distinctive horror influences in his work, his multi-media approach and his constant experimentation with the standards of the form…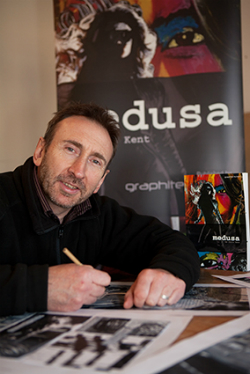 BROKEN FRONTIER: Fittingly, you describe your Graphite Fiction imprint as creating "disturbing tales with startling images". Can you elaborate on that one-line mission statement of sorts and the type of comics you create?
CHRIS KENT: I would describe this mini mission statement, partly, as a note-to-self about a balance of images and words. It's also a reference to horror as a theme in my work. Horror, for me, is a way into other emotional and narrative areas; pathos, empathy, even humour and camp. Horror is a peg to hang things on, and hide things behind.
BF: Given the dark nature of your comic work to date, what do you count as your primary influences from both within the world of comics and from other media outside of it?
KENT: My influences include Guillermo del Toro (Pan's Labyrinth /Hellboy), Janus Stark, Dave McKean, EC horror comics, Silent City – Erez Yakin /Yevgeny Yevtushenko, Peter Greenaway, David Lynch, films set in snow – The Shining, Fargo, Windchill , and especially Frankenstein (1931) directed by James Whale.
BF: As an artist you're not bound by any one form. Comics creator, painter, sculptor, furniture maker – all of these disciplines figure on your CV! To what degree does your work in fine art inform your graphic novel practice? And do you think that gives you a different perspective on your approach to the comics page?
KENT: Via fine art I've learned to experiment – to destroy and re-make, and gained a fascination with layers. I enjoy using craft skills (for example woodcarving) as I also have to physically make the images.
BF: Your debut graphic novel Medusa was an ambitious story in terms of its twisting, almost labyrinthine narrative. What was the genesis of the project and what do you feel the mythological/supernatural elements added to the psychological aspects of the book?
KENT: Firstly, all my three books started out from real events. Medusa was based on the war in Iraq, including the effects of chemicals and depleted uranium weapons on the soldiers involved. Saving Private Ryan clearly showed how inevitable death was in war.
I've written and spoken about discovering Greek myths which contain stories that we keep reliving. I also wanted a detective discovering things through the story, his own story (in a non-linear way). Mythology and the supernatural were there to make the inner psychological effects/events visible or more real.
BF: Visually Medusa is a very distinctive piece of work. Could you talk us through your creative process on the art and what you were hoping to bring to the story with that fusion of art, collage and photography?
KENT: I used pencil drawings, cutting out, collage, and painting. It was created in a semi-documentary diary form. As the story develops, the war zone seems to be have been left behind. Strangely it is then that things start to get out of control for the main character Elliot. So at that point, paint and collage were used to distort the narrative further.
BF: You bill The Golem as your "Hammer Horror tribute".  Can you give us a little background on the book's protagonist, Victorian magician Alfred Larchmont, and the web of deceit he finds himself caught up in?
KENT: Alfred Larchmont is a real person, a hard worker, a magician and entertainer in a Victorian theatre. The real and unreal world. He's done no harm to anyone. Once Alfred discovers the Golem and incorporates the Golem into his stage act, the others who work at the theatre begin to hate him  for it. They want to destroy the Golem. Alfred suffers in a world akin to a post-economic crash, where everything is taken away from him. He is in debt, and can see no way out. An ordinary man destroyed by the greed and jealousy of those around him. The Golem is a sort of wish fulfilment for Alfred; Golem as genie.
BF: After the structural complexity of Medusa were you looking to create a more straightforward story with The Golem?
KENT: The Golem was a sort of antidote to Medusa. I wanted The Golem to appear a simple revenge tale, amidst 19th century myth and magic. (What happens when someone is pushed too far?) I certainly reference Peter Greenaway's The Cook, the Thief, His Wife and Her Lover as an influence on the development of the The Golem. I wanted The Golem to display different kinds of horror – a world where surreal events become normal. And through these events, the reader and the theatre audience are implicated in the way the story unfolds.
BF: The Golem is another very eerie piece of storytelling but artistically it has a very different feel to Medusa (and again to Flood) – there's some playful use of nine-panel grids and clever manipulation of the reader's sense of time in the book. Are you consciously experimenting with your visual storytelling to accentuate mood and atmosphere with different narrative techniques in each of your projects?
KENT: I used the nine-panel layout as a continuous pattern throughout, as a rigid, obsessive rhythm. A hypnotic effect like the Golem's influence in the story. Each of my three books is its own world, on its own terms, where artwork and story are whole and tied together.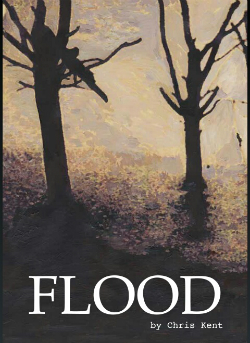 BF: Flood is your most recent self-published book and, again, it's a departure from previous work in that it's essentially an illustrated short story rather than a comic per se. What differing storytelling opportunities did that change in format afford you as a creator?
KENT: Flood is a new format for me; a picture book, (I acknowledge Audrey Niffenegger's work here). My choice of using one picture per page was to allow the reader to join in, to think beyond the single page picture, like a child being told a story.
Here I use environmental disaster as horror. Flooding is a real contemporary horror for many thousands of people in this country. The potential destruction is happening now. We are vulnerable, and Flood addresses this issue.
BF: As not only a self-published practitioner but also someone who runs workshops in comics creation what thoughts do you have on why we have seen such an explosion of interest in the form in the last couple of years?
KENT: I hope that the explosion of interest in comics is because people are becoming more visually aware and imaginative. However, I'm more inclined to believe it's because large budget CGI-heavy movies have spread the names and signature images of a number of particular comic book characters which have become part of our culture now. I know that there has been a certain 'trickle down' of interest from these comic book giants to the small press and independent producers. I hope that this current interest develops and that more people get the chance to see and purchase examples of the fantastically creative comics which give unique ways of viewing and thinking about the world.
BF: And, finally, what can we expect to see from Chris Kent in the future? Are there any new projects coming up that you're currently working on? 
KENT: I am currently developing two small comics, one based on my hero – Boris Karloff (a poignant little tale). I'm about to embark on work for an exhibition of new paintings, and am midway on a big collaboration with a US author on a really unusual graphic novel for 2015. There's also two publishers showing particular interest in my work for next year.
For more on the work of Chris Kent visit the Graphite Fiction site here. You can buy his graphic novels from his online store here.
For regular updates on all things small press follow Andy Oliver on Twitter here.