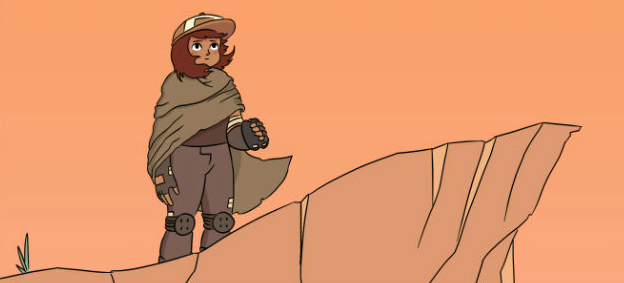 ELCAF WEEK!
It's a big week for 2017 Broken Frontier 'Six Small Press Creators to Watch' artist Josh Hicks. Not only is he is echibiting at ELCAF this Friday-Sunday but the first collection of his work – Human Garbage from Good Comics – debuts at the festival. His work will first have come to readers' attentions from anthologies like Off Life and Dirty Rotten Comics but he is, perhaps, most well known for his splendidly madcap and self-published Glorious Wrestling Alliance book.
Today, in the latest of our ever ongoing 'Small Press Spotlight on…' interviews at Broken Frontier I chat with Josh about that compilation of his strips, his journey through the small press scene and his love for the colourful characters of the world of wrestling…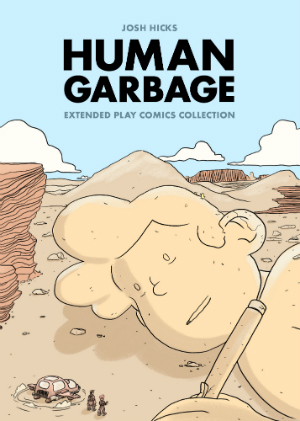 ANDY OLIVER: To begin with fill us in on your artistic background and what it was about comics as a form that ensured it was your medium of choice?
JOSH HICKS: I've drawn and made up stories and stuff since I was a kid, and I always doodled little comics or made animations, but never really applied that to anything solid. I ended up studying film at university and the storyboards were always more polished than the finished thing, so after a while comics just seemed natural.
There are lots of things that I love about comics specifically. I love the autonomy of it, I love that it combines a ton of things I'm interested in — writing, drawing, design — and I love the weird formal things you can do with it that you can't do anywhere else. I feel like I've found the perfect medium for me. I never want to not do comics.
In terms of both self-publishing and contributions to anthologies where will readers have seen your comics to date?
People might have seen my work in a few issues of Off Life and some Dirty Rotten Comics anthologies. The first issue of my ongoing wrestling saga, Glorious Wrestling Alliance, is out there too, and I've put out a couple zines with Ioan Morris's Dry Comics in the past.
I also did a monthly strip in a Cardiff newspaper for about half a year but nobody would have seen that. If they have they get a prize.
How important has your involvement with anthologies like Dirty Rotten Comics and Off Life (below) been in raising your profile and bringing you into the wider UK small press community?
Both of those anthologies have been hugely helpful and important to me. Both Off Life and DRC have gone a long way toward making me feel like a part of some sort of comics community, and it's always a cool feeling to be featured alongside artists whose work you like. At the very least it can be helpful to know that there's somewhere to potentially put out the work, especially with standalone shorts and stuff.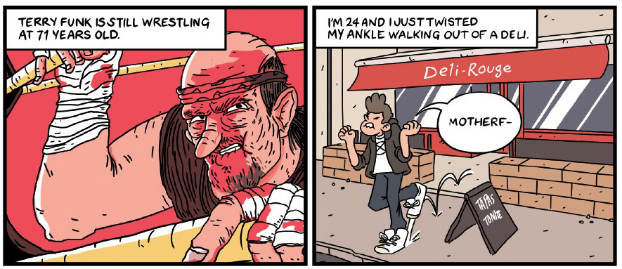 Off Life in particular was massive for me because they published what was essentially my first ever proper, finished comic. I submitted it on a wild whim and was genuinely amazed when they said they actually wanted to run it. That reassurance kind of set me off on committing full-force to comics. It was like a vote of confidence — I don't know if I would have gone after comics so aggressively without that. Thanks Off Life!
For many readers it will be your wonderfully bizarre Glorious Wrestling Alliance comic that will have been their entry point to your work. What's the premise of the book and what were some of the inspirations for its oddball collection of characters?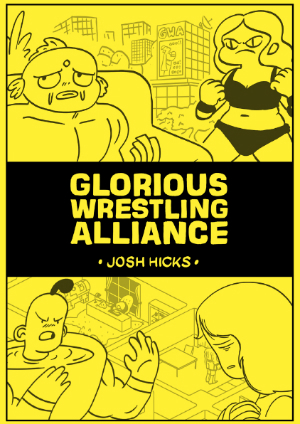 Glorious Wrestling Alliance is a behind-the-scenes look at a fairly silly professional wrestling promotion. It's a big ensemble character piece, and the wrestling itself is generally inconsequential, so we mainly get to just watch the interactions between the roster as their individual anxieties and neuroses play out. There's a guy with a fish head, there's a guy who's a big gravy boat, there's a frustrated wrestler slash poet… it's very intellectual. There's a lot of little pants.
I do love wrestling, but I don't think it's a prerequisite for enjoying the book. I don't want it to ever be inside baseball or anything — it's just jokes and character stuff with wrestling used as a setting. I think the inspiration comes from loving wrestling video games as a kid, especially these imported Japanese things where everything looks amazing but you don't fully understand who all the characters are or what the relationships or power balances are supposed to be. I just wanted to dive into one of those worlds, surround myself with the stupidest possible characters and then try and build a consistent and believable universe around them. I think that was the impetus. I can't remember where the gravy boat came from.
Do you have plans to return to the world of Glorious Wrestling Alliance? And in what directions would you like to take the characters in a second instalment?
I have plans. I'm drawing the second one right now. I took a bit of a break to work on other stuff but now I'm back into it and it's really fun to do. It's the first continuation of anything that I've ever done, and so picking up where you left off and getting to do stuff with characters without having to totally create and establish them from scratch is a new sensation. It lets you do new things and kind of refocus that time and energy into different places. I recommend it.
For this issue the cast are taking a really poorly planned tour on the road and living in a big bus and hating it. Big egos, no personal space, disgusting living habits. Drawing it is sort of like playing a weird hack of The Sims. I just wanted to stick them in a big box and figure out all the different ways that they would all annoy each other.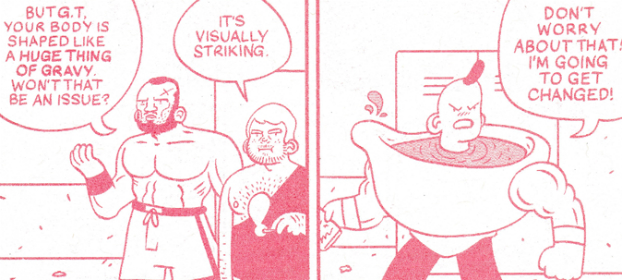 Your comics to date have veered from slapstick humour in GWA to the grimly disquieting in Cedar Grove Community Hall Circa 2002. How important is a sense of constant experimentation with style and genre to you as you hone your comics craft?
I don't think I ever consciously choose to do something different to the last thing for the sake of it, really, but I do think comics are so labour intensive and take so long to make that unless you're doing exactly what you want, there's no point. So usually I'll get some desire to work in one genre or something, and then the style naturally fits that. I think it's nice to keep it fresh and experiment. Plus, doing different stuff can only broaden your skills set and help you get better in general.
You recently contributed a story with Mikael Lopez (below) in the all-colour celebratory Dirty Rotten Comics #10. How did that partnership come about and how did your collaborative process on that strip work?
Mikael emailed me out of the blue, I think because he'd seen one of my strips in an issue of Dirty Rotten Comics. He asked if I'd be up for drawing something for him and sent me a script. I don't usually ever draw anything that isn't my own work but I really liked the script and thought it would be cool to do a full sci-fi thing, so I jumped in.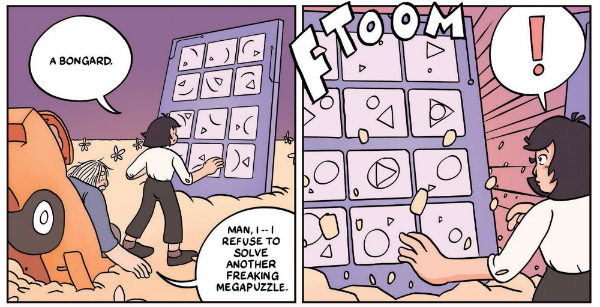 We had a good process going. I slowed it down a bit, because I had to clear out my schedule before I could fully get going on it, but it was very collaborative. I'd send him designs, he'd tweak them, then I'd get going on pencils, he'd give me some notes, then I'd ink them, etc. It was super easy and I hope we have a chance to do something again in the future.
Your new book Human Garbage (sample pages below) is being published by Good Comics for ELCAF. Can you tell us about some of the new work in its pages?
Human Garbage collects most of the short work that I've done since I started making comics, with the exception of anything that didn't fit the tone or that I have privately disowned. I wanted it to feel like a real, solid reading experience — and not just a bunch of strips thrown together — so there's a new comic that I've put in there that acts as a kind of framing device for everything else.
Aside from that, these are all 'the classics'. About half the pages were published in low-run black and white zines, so I've gone back and coloured them up, and I think they came out really well. I've basically been colouring for two months non-stop. I'm excited to have all this work in one place, and hopefully every piece boosts the pieces around it. I'm looking forward to people reading it.
As Human Garbage also re-presents some of your previously published stories. Has this collection given you an opportunity to revisit that material and make amendments?
Aside from the obvious colouring, I tried my best not to fix anything major. Maybe I should have. It's tempting to just redraw it all, but luckily my natural laziness kept me from that path.I added some title typography to a couple of strips and fixed a typo or two. There was a typo in my first ever comic — I didn't catch it until I read it in Off Life — and it's haunted me for about three years, so fixing that was the first thing I did. I am now able to sleep soundly.
Where can readers hope to see you at fairs and festivals this year?
I will be at ELCAF all weekend (June 16, 17, 18). I'm very excited, never been before. I'll be signing with Good Comics at Gosh! on Small Press Day (July 8), and I'll be at Thought Bubble in Leeds in September — ostensibly to sell comics but mainly to try and hassle James Stokoe into drawing in my copy of Half-Century War. Ideally I'll be at BCZF in some capacity, and if there are any Cardiff-based shows later in the year I'll probably be at those, too.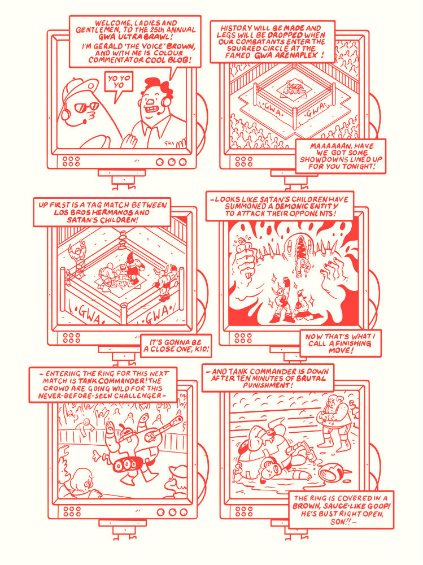 And, finally, are there any other projects you have in the works that you can tell us about at the moment?
I'm working hard on the second Glorious Wrestling Alliance, and will hopefully do a third one after that to kind of round it all off, and then I'll leave it for a bit and see what else I want to do. I really want to do a longer, serialised thing about living in a cult and have done a bit of writing for that. We'll see if that ever happens, but I keep telling people I'm doing it, so I sort of have to now.
For more on the work of Josh Hicks visit his site here and follow him on Twitter here. You can visit his online store here. You can order Human Garbage online from Good Comics here and visit the Dirty Rotten Comics store here. 
Josh will be at ELCAF from Friday-Sunday at Table 53. 
For regular updates on all things small press follow Andy Oliver on Twitter here.