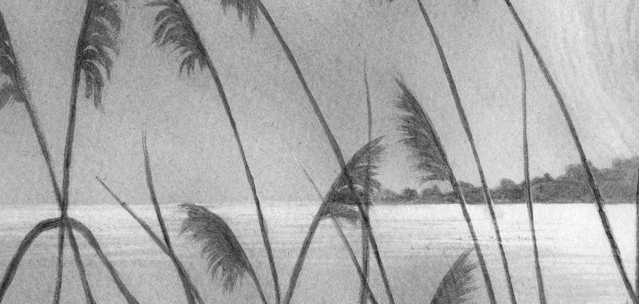 Emma Raby's stunningly rendered work – with its clear influences from the world of children's illustration – first came to my attention in the pages of Donya Todd's anthology Bimba. Her meticulously stylised approach to the page is informed by folkloric elements and, to date, she has also self-published two comics: The Sea Serpent and The Dead Moon.
Earlier this year I included Emma as one of my 'Six UK Small Press Creators to Watch in 2015' along with Rozi Hathaway, Jess Milton, Danny Noble, Alice Urbino and Adam Vian. As my final interviewee of that half dozen I chat with Emma today about the mythological connection in her work, her creative process, and the very particular influences on her approach to the page…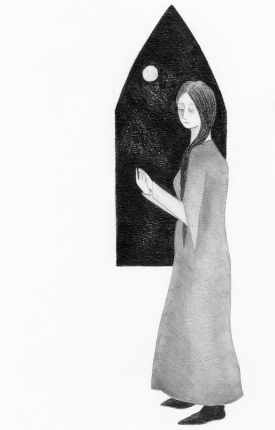 ANDY OLIVER: Can we start with a little scene-setting biographical information? How did you discover comics as a medium? What was your entry point to the form?
EMMA RABY: I started with The Beano when I was very small and then moved onto Peanuts, I have a really huge collection of Snoopy comics and even had the local second hand bookshops looking out for them for me. But it wasn't until I got to university that I really got interested, I shared a house with Jack Teagle and Donya Todd and there were comics everywhere!
I think the first one I read that really got me hooked on reading them was The Fixer by Joe Sacco which Jack introduced me to whilst I was writing an essay on war art. It was the combination of history, landscape and the use of black and white that really pulled me in.
Where has your work been published to date, both in terms of group projects and self-published comics?
I am very much a beginner in comics! My drawing process is very time-consuming and I work full time in a university library so I have not been involved in many projects yet.
My self-published comics are The Dead Moon, a version of a British folktale and The Sea Serpent, my own story about a fishing trip. The only group project that I have been involved in so far is Donya Todd's Bimba anthologies.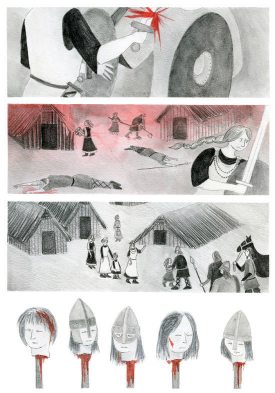 For many readers it's those contributions to Donya Todd's Bimba that will be the most familiar of your material. How did you become involved with that anthology?
Donya badgered me into it! She had been trying to convince me to start drawing comics for years and Bimba seemed like the perfect opportunity to try, there were so many fantastic female artists involved in it (see example left from #1 and example below right from #2). She was really open about the theme of Girl Gangs, which was brilliant. I had been drawing Anglo-Saxons for a university project on Beowulf and she just let me continue!
Given the very distinctive, almost storybook, visual appeal to your pages who would you say are the biggest influences on your art style?
The biggest influences on my style are probably from my background in children's illustration. I am a huge fan of Charles Keeping, particularly his black and white books which are very atmospheric. His use of line is completely brilliant too. I am also very influenced by Edward Gorey. I love the eerie and strange quality to all his work. Shaun Tan was the artist that really inspired me to try drawing comics, I read a lot of comics but it wasn't until I read The Arrival that I began to think of them as something I could do.
Could you tell us about the origins of the Brolly Lolly collective that you've been a part of since graduation?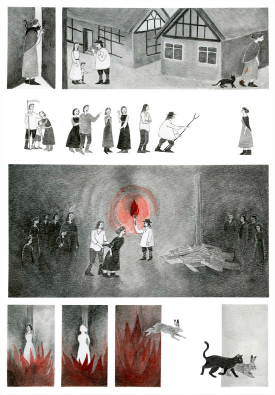 The Brolly Lolly collective are all graduates from the children's book illustration masters at the Cambridge School of Art. Most of our members joined up as a way of getting involved with illustration outside the world of children's publishing. Not everyone in the group is into comics. We are quite diverse in our interests. We had students on the course from all over the world which was brilliant for learning about illustration from all over everywhere but has also opened up more places for our collective to display work, for example Ania Stypulkowski is taking our work to TCAF this year which is really exciting.
Folklore and legend play a major role in your comics. What is it about these mythological archetypes that have such an appeal to you?
Everything about folktales appeals to me! I love the connection between the story and the place it is from which is why I have mostly stuck to British stories; visiting the place the story is from is important to me. I am also interested in the historical element to folklore, trying to find the best time period to fit the tale into. I am really fascinated by the motifs that crop up over and over again in different stories too: three brothers, three trips to the ball, three visits from a bird to a juniper tree. I have to admit that I am drawn to all the gruesome bits too!
I reviewed your last comic The Dead Moon recently at Broken Frontier, saying "Raby's panel-to-panel storytelling, and the rhythm of the tale's pacing in particular, [are] sublimely presented throughout." What was it about that particular folk story that caught your imagination and inspired you to bring it to the comics page?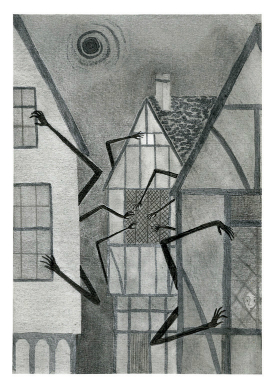 I first read The Dead Moon (examples left and below right) in Katherine Briggs' British Folktales and Legends years and years ago and I began working on the story as a picture book, I returned to it after having lived around Cambridge and spending more time in the fens. The words in the version I read first were just perfect, really atmospheric.
I love all the little mentions of folklore in the story that aren't all fully explained, like the will-o'-the wykes and the witches riding giant cats. I couldn't wait to draw them. I'm a bit obsessed with the landscape of the fens too, all the tall plants and expanses of water are brilliant to draw. I keep returning to the area again and again.
Like Rozi Hathaway – another of BF's 'Six UK Small Press Creators to Watch' – did in The Red Road you work without words, letting the images tell the tale by themselves. Is that adoption of pure visual storytelling linked to your background in book illustration?
Not really, I'm just rubbish with words; doing this has been a killer! Although I did spend most of my time at university focusing on illustrating longer texts meaning that I did not have to write any words. When I started to read authors such as Shaun Tan and Jim Woodring I realised that whole narratives without words were possible. One of my goals for 2015 is to be brave and to try adding some words into a story and to see how it goes.
Could you talk us through your creative process? What presentational medium are you most happy working in?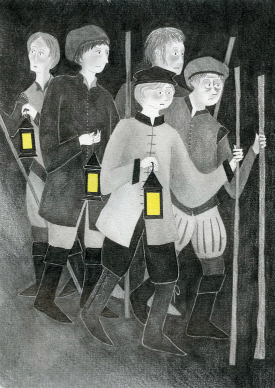 I have a very slow creative process, meaning that I usually only complete one project a year. It usually begins with an awful lot of research into all aspects of the story. For example for The Dead Moon I worked out a period that it best fit into and then began to so a lot of reading about Elizabethan England and the fens during that period. I visited the fens and photographed and drew the landscape and plants to work from.
I generally work in pencil. I draw a very complete rough that I trace from; my finished drawings have layers of gesso and marks embossed into the paper before I draw them in pencil. This is because I really love the step-by-step process of printmaking but as I have eczema I am not able to do it very often and working in layers gives me the step-by-step process that I enjoy. When you do printmaking it's only when you print it that you finally see the finished drawing. I get the same feeling when putting the pencil over the other layers. I like not being quite sure exactly how it will look.
What fairs and festivals can Broken Frontier readers see you at this year should they wish to check out your work further?
This year I will be going to ELCAF with Brolly Lolly. We also have a space at TCAF, although I will not be there in person my work will be. I was at Alternative Press Takeover doing my first solo fair. I will also be at CECAF with Broken Frontier.
What else are you working on at the moment? What can we expect to see next from Emma Raby? Will future solo work continue to mine that rich vein of folklore?
I am definitely sticking to folklore at the moment. I am currently working on the start if a comic about Hereward the Wake, one of the last Anglo Saxons rebelling against William the Conqueror. There are loads of stories about him, some with a lot of historical truth to them and some totally made up, many stories about him were later attributed to Robin Hood.
Emma's take on Beowulf plus her self-published The Sea Serpent and The Dead Moon: A British Folktale
So far I have done lots of reading and visited Ely where his famous last stand took place. This will be another book set mostly in the Fens. I'm still looking for somewhere to fit in walking through the bogs on stilts!
And the final question I'm asking all my 'Six UK Small Press Creators to Watch' – where would you like to be with your comics practice by the end of 2015?
I would really like to have self-published another comic by the end of the year. It would be great to have got involved with another anthology too. I loved working with Donya on Bimba.
To find out more about the work of Emma Raby visit her tumblr here and follow her on Twitter here. You can buy copies of The Dead Moon from Emma's online store here.
For regular updates on all things small press follow Andy Oliver on Twitter here.