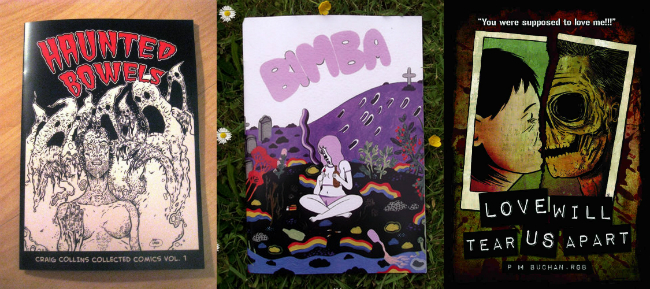 After a burst of guest blogs of late we're returning to our multi-creator discussions again today in our popular 'State of the Small Press Nation' series. Since the beginning of the year at Broken Frontier we have been hearing from those active on the UK small press scene – from self-publishers to micropublishers, event organisers to printers – about some of the key talking points facing the British small press in 2015. You can access all the pieces to date here.
Today we turn to the question of online sales and just how viable a route to reaching a new audience it is for those publishing their own work. Does the effort invested in an online store justify itself in term of items sold? Does expense match generated revenue? Or is there a more important aspect to this in maintaining an accessible online presence regardless?
Of course, for those who make comics simply to reach and interact with an audience the financial aspect is a moot point. P.M. Buchan (La Belle Dame Sans Merci, Blackout) is one such creator. "Honestly, my online sales are often more of a trickle than a flood, but what would be the point in creating this work if I didn't make sure that it was consistently available to people wanting to read it? I'm not making comics to make money, I want to connect with readers. Given that I'm too busy to attend most cons and do most of my shopping online, how would I justify not making my work available that way?"
That same idea of recognising the courtesy of providing access to a potential readership, and ensuring work is always available regardless of sales numbers, is an important factor for many. As Richy K. Chandler (Lucy the Octopus, Tempo Lush Tales, below) says, "Personally, I sell a very small number of comics online but it's important to me that people can order my comics from wherever they are. My main source of sales is definitely conventions at the moment." Martin Eden (Spandex) is of a similar mind: "If I wanted to make a living out of my online store I'd earn about a tenner a month and starve to death! But I'll always keep it there."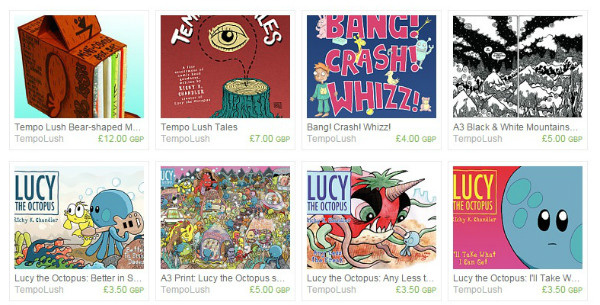 For some there are definite patterns to sales swings online linked to external influences. Craig Collins (Roachwell, Metrodome) says "I've found it worth the time and effort, but often things work in a rolling fashion based on having a new book available or meeting a new crowd at an event. With a new book or after an event your store can have a surge of activity after being mausoleum quiet for months… perhaps in the future there would be more regular activity if my work attracts a greater audience, but it's certainly worth the effort I've put in. Interestingly I made a digital sales platform on Gumroad for readers in other countries deterred by the postage with my books on pay what you want, and that's gone near unvisited." That spike in sales after festivals or conventions is echoed by others. Ryan O'Sullivan of T-Pub (Twisted Dark, Tortured Life), also mentions that "We've noticed that after every con we have a sales bump online."
For those who don't live near bigger cities and have such easy access to stores that stock small press comics then an online presence is a vital means of distribution. Donya Todd (Bimba, Buttertubs) is one such artist: "My online shop is where I do a lot of business as I don't live in a major city/near any comic distributors. It's taken a lot of time to build up a small following but it's definitely worth doing. This year is the first time online sales have overtaken illustration commissions – so as a portfolio and small business I wouldn't do without my shops."
For David White of micropublisher Avery Hill Publishing it's also a vital stream for reaching an international readership. "We get orders from all over the world through our online store, so it gives us the ability to connect with an audience far beyond the shows we do, and the shops we get our books into. And I'm now on first name terms with the people who work in my local Post Office, such is the frequency that I trouble them.
"A bit of a side-moan here, but the thing that most impacts with mail order is the costs of postage. I hate the fact that if someone in Brazil wants one of our books, in some cases they have to pay almost as much as the value of the book again in postage for us to get it to them. I'd love to find a long term solution to that."
David O'Connell (ink + PAPER, Jampires) concurs and also points to that non-UK customer base: "Stores are often the only way for international readers to get your work so I think they are a necessity. Dan Berry is a good example of someone who works his shop well: when he has a new comic he heavily promotes his shop on Twitter and gets the buyers in one short hit whilst the comic is all fresh and new. I think it's a better strategy than regular, occasional promotion of old material."
Kirk Campbell of anthology Dirty Rotten Comics argues that it's not just a question of presence, it's one of branding. "I would compare the value of having an online store to that of being stocked in the small press section of comic book shops. Sales are going to be relatively low but having that presence can be invaluable when it comes to reaching out to new audience members. If first impressions are such a big determining factor in coming across as significant as a brand, then an online store primarily is just a way of maintaining online presence, yes."

Campbell's co-editorial partner in Dirty Rotten Comics, Gary Clap, adds "We tend to see spikes in online sales around release and review dates, as you would expect. Otherwise, the bulk of our sales are done at conventions. Certainly, we couldn't fund ourselves through online proceeds alone, but it's a healthy and low-maintenance drip-feed that helps subsidise the convention sales. I'd be interested to hear whether other creators have online strategies that help push sales; certainly a good line of merchandise seems to help. Having said this, I can't help but wonder whether a more centralised model might be more helpful; the fact that creators each have individual online stores which require individual payment processing and shipping fees could be off-putting to some consumers."
Gill Hatcher (Team Girl Comic below, The Beginner's Guide to Being Outside) has had conflicting experiences, with her own sales paling when compared with those of the Team Girl Comic collective anthology she founded. "TGC has fairly regular online sales, because it's an established 'brand' with lots of back issues that people like to collect. I sell very little of my own work online, but it's still worth doing to give readers another way to access your work. Especially as it's not always easy for me to keep shops outside Glasgow and Edinburgh stocked up. But I don't invest a huge amount of time in my online shop as it brings me very little income."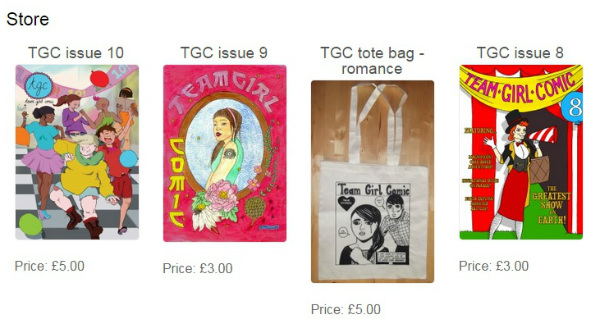 Some find the experience more rewarding. Rachael Smith (The Rabbit) finds it's an exercise that pays dividends. "My own shop is most definitely worth the time and effort." Mickey Lam (Mr. Yang Fights Aliens) also believes the effort of maintenance is negligible, "Selling online is just another method of distribution in addition to cons. For me, it has been very easy to set up and maintain. I've had some sales from Etsy, so I would say it's worth continuing. I've had a few from Society6 too." It's a similar story for Joe Decie (The Listening Agent) "I sell well online, sites like big cartel are easy to maintain. Etsy has its pluses, in that it has a community element, but I'm fine with my little shop."
For smaller publishers the corporate shadow is always a consideration. John Anderson of Soaring Penguin Press feels that an online store has to offer something extra to compensate. "Yes. Absolutely. But the online store is something I have to work much harder on. In order for the store to work, people have to know it's there. That means Twitter, Facebook, a growing mailing list. And something else. For those of us who sell books, a better reason to buy from my site than from Amazon.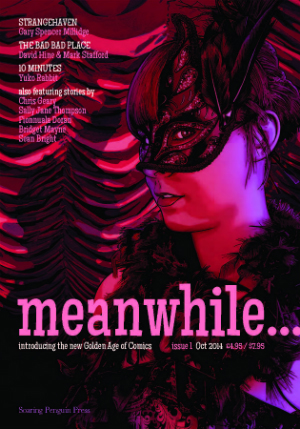 "Amazon are always going to beat me on price if only because their delivery costs are much, much lower. So what I need to do is get people to like what we're doing enough to want to support us. And also, to make our site more than just a place to buy books… to make the site more of a social gathering than just a place to buy books.
"Looking specifically at (Soaring Penguin anthology) Meanwhile…, what I can do off my site is offer a subscription rate which is something you can't get anywhere else. I have to wonder if maybe that's the other thing I should be offering: incentives. Signed bookplates. Invitations to book launches. Things that you can't get just buying the book elsewhere."
Not everyone believes it's a worthwhile investment of time, however. Paul Shinn (March of the Penguins) believes there are more effective ways to promote his work for now. "I don't currently have an online store. While it is something I'm considering, my main concern is will my sales be worth the time and effort I have to invest in it? I do think that an online presence is vital though and I utilise all the usual social media platforms in order to promote my work and keep people aware of where my work IS available to buy, be that in shops or at my appearances at events."
Cliodhna Ztoical ( Sorry I Can't Take Your Call at the Moment but I'm Off Saving the World) is similarly uninvested in the importance of an online outlet. "My personal online store is not viable as I don't focus on it. I'm aware I could make it work better for me but I currently don't have the time to invest what is needed to make it productive. I keep it because it costs me nothing to have it. I have other online stores like Society 6 or Spoonflower which I do ok through (again I don't spend any time promoting them) but I don't make much via them as I don't run those sites so only get a small %. I know several illustrators who have very successful online stores and know what is involved in making those stores work and at this stage I don't have the interest in putting that work in."

Gareth Brookes of The Black Project is more philosophical about modest numbers from his store. "Online represents the smallest part of my sales, but that's OK, I think some creators benefit more than others from it. Some people's stuff comes across very well online, others not so much."
Some are newer to setting up shops on their sites. David Robertson (David Robertson's Dump) is one such newbie. "My online store is quite new. It is a viable and going concern. Sales are OK, and it really doesn't take up too much time and effort. It does maintain my online presence, along with my blog, which I consider it to be part of. A lot of these things came from people asking me, "Where's your website?", "Where can I get your comics online?" and then I went and set them up."
Given that their experiences with selling online are relatively new ones I also put this question to some of the artists I selected as my 'Six UK Small Press Creators to Watch in 2015'. Danny Noble (Was it… Too Much for You?, Hangover Farm) answered in her own uniquely irreverent way… "Even with the incredible support I've had from everyone (you in particular, Chief in Editor) my online store sales barely keep me in the cheapest of ciders. But my books are now kept in toilets on at least 4 different continents and I am choosing to blindly believe this is the beginning of something worth doing half well!"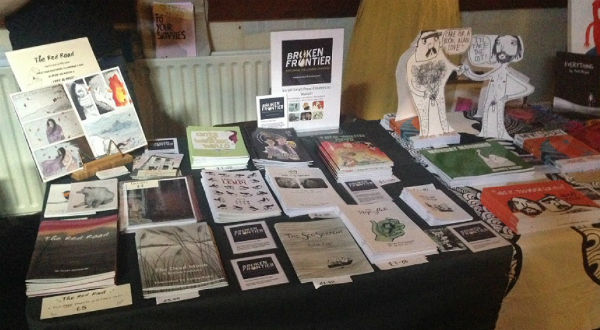 Danny Noble and Rozi Hathaway were both at the recent CECAF 2015 where Broken Frontier promoted our 'Six UK Small Press Creators to Watch in 2015'. Photograph courtesy of Rozi Hathaway. 
Like many creators who go the route of Etsy and its contemporaries, Rozi Hathaway (The Red Road) took the choice of setting up her store via a third party provider. "I made the decision early on to sell though a selling website rather than set up my own commerce, it make it easier for me to manage. I do very little maintenance, but in return pay small fees on a monthly basis. I would like to set up my own online store, but the time and management tends to put me off, for now at least! In terms of having an online presence, it's definitely useful."
I want to add some of my own thoughts now as a reviewer and – dare I say it – someone considered to have at least some valid insights as a recognised commentator on the UK small press scene. I have an alternative viewpoint on why having an online store is absolutely essential if you want to maximise potential publicity for your self-published work, and one that has nothing to directly do with sales. There's a very basic reason why it's vital… if you want online coverage from sites like Broken Frontier for your comics then there's a very simple rule:
No online store = very little chance of me reviewing your work.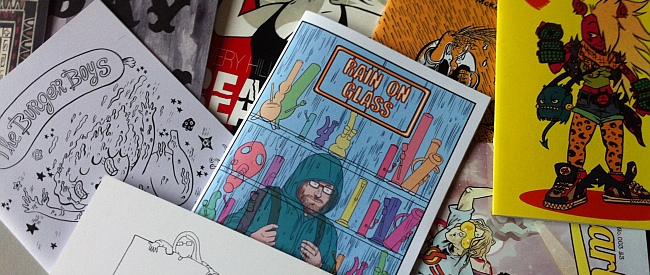 As I've said here before at BF a review is a three-way relationship. We have to think not just in terms of feedback for your project but also about our audience. No one is going to thank me for reading through an 800-word review only to discover at the end of the article that there's nowhere to actually buy the book in question online. If I can't direct my readers to a link allowing them to purchase a copy of the comic being discussed then the entire exercise becomes pointless.
Having an online store increases your chance of being reviewed immeasurably. Reviews increase your profile. And an increased profile may bring you interest from peers in the community, other review sites, anthologies, micropublishers, or possibly even larger publishers. Strangely enough, tangible sales are not necessarily the most important part of selling online. After all, it's the opportunities an online store provides for interest and publicity elsewhere that can be just as significant as revenue raised…
If you have anything to say about the points raised by the creators/publishers in this discussion piece then please leave them in the Comments section below.
To read all previous entries in the 'State of the Small Press Nation' series to date click here. 
For regular updates on all things small press follow Andy Oliver on Twitter here.