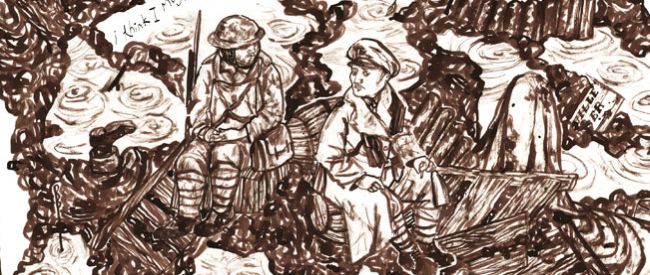 "Writer/artist Alys Jones's graphic novelette is a multi-layered foray into the horror of the trenches of the First World War that constantly plays and tinkers with the readership's perception of events…"
For the last eighteen months at Broken Frontier 'Small Pressganged' has been our semi-weekly column dedicated to small press, self-published and altcomics, and their creators. With Broken Frontier's relaunch and our new mission statement, 'Small Pressganged' moves from being a fixed column to a regular feature on the site, "unearthing the gems of the small press" throughout the week.
In our first post-relaunch edition I'm looking at Alys Jones's Beyond the Wire, set in the trenches of World War One, with a short review and then a comprehensive interview with Alys about the book's themes, her approach to its presentation and her illustration work to date…
Beyond the Wire is a most appropriate title to look at as we refocus Broken Frontier's coverage this week because it's exactly the sort of project that encapsulates the potential of the small press and micro-publishing in delivering work that is thought-provoking and experimental, both in theme and physical presentation.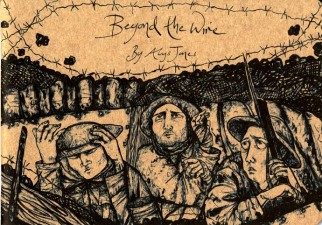 Writer/artist Alys Jones's graphic novelette is a multi-layered foray into the horror of the trenches of the First World War that constantly plays and tinkers with the readership's perception of events and their relationship with the characters within its pages. Superficially it's an account of the appalling environment of the conflict, and in terms of a series of haunting tableaux of the conditions and atrocities of that period of history, her evocative, sepia-tinted, set piece illustrations would succeed on that level alone. But Beyond the Wire is a far more nuanced offering than that, skilfully crafted to confound its audience's expectations.
Paying homage to the poets and artists whose accounts of life at the front have given historians such a valuable perspective into the realities of the soldier's daily existence, Beyond the Wire's main focus shifts continuously between a poet officer, convinced that all that is being recorded is part of his verse, and an average British Tommy stoically despairing of his superior's apparent delusions. But as characters come and go, and scenes from the war blur in and out of themselves, the reader is left to question whose reality – if anyone's – is the true one. This becomes more pronounced with a building sense of ominous claustrophobia growing as the characters become trapped not just in the nightmare scenario of the Great War but also within the seemingly inescapable confines of the narrative itself.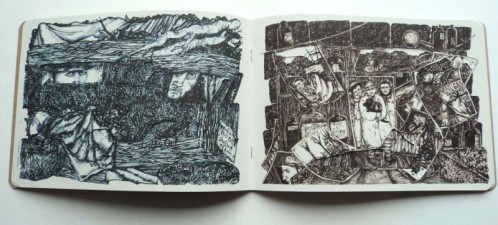 And it's here that the physicality of the book plays such an integral part in guiding us into this complex world of metafictional uncertainty. The majority of the pages of Beyond the Wire have handcut holes which constantly change our viewpoint with just the turn of a page by shifting our perspective of what is occurring from either different geographical locations or the standpoints of the characters themselves. Further, the holes also resemble explosions, as if the constant batteries of enemy gunfire are tearing into the very pages of the comic itself and splintering our interpretation of the sequence of events. It really is a remarkable storytelling conceit and one that, given the logistics involved, leaves me in awe of the astonishing craftsmanship inherent in the construction of this book.
There are some reading experiences that simply cannot be replicated digitally and Beyond the Wire's tactile presentation values are a timely reminder of how print can still reward and delight an audience in ways that would seem cold and clinical on a tablet or computer screen. Fans of Pat Mills's seminal Charley's War or Jacques Tardi's It Was the War of the Trenches will find much to admire in this truly immersive, interactive account of the Great War. A triumphant combination of audience manipulation and accomplished technique, Beyond the Wire is that all too rare event in contemporary comics – a truly original piece of storytelling.
And now read on for Alys Jones's thoughts on the creation of the book…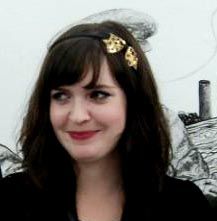 BROKEN FRONTIER: Beyond the Wire was completed as part of your Masters degree as your personal response to the art and poetry of World War I. Why did you choose the graphic narrative as the medium for conveying those ideas?
ALYS JONES: It is in my nature to explore my ideas visually, and perhaps because I have always read a lot, the project very quickly seemed to form itself into a book. However I also produced a lot of drawings, paintings and prints alongside, and made a life-sized mural so that the audience could feel like they were inside one of the pages. A lot of this work can be seen on my website. I originally made the illustrations about A2 sized for Beyond the Wire, but I like the smaller published copies as they can be handled more comfortably. They more closely resemble a notebook which might have been carried about in the War itself.
BF: Can you tell us a little about the research process for Beyond the Wire? Who and what were some of your main influences, and how did they inform your approach to the book?
JONES: I think you can look at the book almost like a battered old photograph album. Each page is closer to a static snapshot than cells in a comic, which often form a more fluid narrative sequence. This is because most of my visual research involved looking at photographs taken during World War One. I wanted to recreate the stillness in those photos, and the sometimes closed, ambiguous expressions of the soldiers in them. The colours used in the book were also taken from sepia photographs and newspapers.
In my book only the three speaking characters appear more than once. Every other figure represents an unknown soldier. Those old photos seem populated by multitudes of now anonymous men, I find them very haunting. I felt uncomfortable plundering these pictures directly, as though by copying a face I would be exploiting an unimaginable experience for my own unworthy purpose. So it became important to change the soldier's faces and draw them from my imagination as much as possible. This also became a way to imagine an individual experience for each character I was drawing.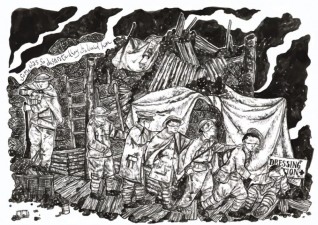 The narrative structure and text were very strongly influenced by war poetry, in particular In Parenthesis by David Jones. I looked at hand written poems by Siegfried Sassoon, Wilfred Owen and Robert Graves because I wanted my character's words to have an appearance that suited the way I felt they would speak. I also frequently returned to the work of Otto Dix, Paul Nash and the Charley's War comics. I made a couple of invaluable trips to the Imperial War Museum where I could look in detail at uniforms, equipment, trench signage and all kinds of things, which felt very important.
BF: It's a project that plays very skilfully with the reader's expectations thanks to those perspective-shifting handcut sections that radically change our perceptions of each scene with just the turn of a page. What reactions were you hoping to elicit in the audience with those stirring narrative jumps and, logistically, what were the challenges involved in that storytelling procedure?
JONES: At first I think it came about by accident, I made a drawing I liked and ruined part of it, so I just cut it out. But because of the setting and subject matter, the holes took on a new meaning, and I began to explore what they could show, conceal, and alter in the images. They allow a transition in time and place and sometimes offer a kind of paper theatre effect, where you can see all the way down a trench. The holes also came to symbolise pieces of blasted and fractured memory, lost bits of narrative, and to echo the lost, broken and damaged human body.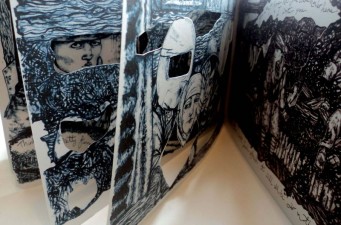 In terms of reproducing the book, it's a little tricky! I had a lot of help (thanks guys) cutting out copies before our launch at Daunt Books last year, but I will probably be cutting them out for the rest of my life! I think it makes each copy a little bit special and different though. I came to really enjoy the challenge of making a picture incorporate the holes on both sides, it forced me to come up with things that I never would have thought of otherwise.
BF: The other standout narrative technique you employ on Beyond the Wire is to root it in the realms of the metafictional. To what degree is the book also a commentary on the complex interactions between artist, audience and characters?
JONES: That was how the project started really. I had just begun my M.A. (in Illustration: Authorial Practice at Falmouth University) and was pretty stuck, I didn't know where to start or what to do! I was doodling characters, sort of recognisable archetypes from literature, hanging around in limbo having been edited out, left unfinished by their author or gone out of print. I think my tutors pointed out that this was, in fact, an idea worth pursuing in itself, so I carried on making little strips and sketches and began looking into meta-fiction and author conscious narrative in more depth.
Neil Gaiman's Sandman explores these themes so cleverly, and I also took a lot of inspiration from Flann O'Brien's At Swim-Two-Birds (which I attempted to turn into a comic strip-gulp). Also The French Lieutenant's Woman by John Fowles, in which he states: "It is only when our characters and events begin to disobey us that they begin to live", a sentiment that seemed  to resonate strongly, particularly in my project, where the characters seemed to have a mind and will of their own. I really love it when I begin to draw a face and there emerges an expression subtly (or entirely) different from what I had intended, it's usually far more interesting!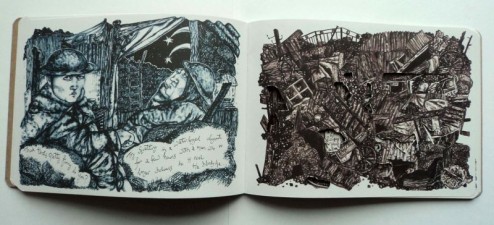 I'm fascinated by exploring the position of the reader within a narrative, and the power struggle that exists sometimes between authors/artists and their characters. I think drawing a character can be very similar to writing about one, but their feelings and experiences have to be described in their face, hands, figure and relationship with their surroundings, rather than in text.
BF: Can you fill in the backstory on how the book came to Atlantic Press?
JONES: Atlantic Press is associated with the Authorial Illustration M.A. at Falmouth and headed up by the course leader Steve Braund. They specialise in graphic works that respect the creator's personal voice, and have published some great things by illustrators including  Paul Slater and Barnaby Richards. I was lucky enough to be jointly awarded the 2011 Graphic Literature Prize (alongside Elizabeth Blue's Micanopy Murders), which meant Atlantic Press published both our books. I'm so happy they wanted to, what with the holes, I'm not sure I ever would have found another publisher willing to take it on, and the book would never have come about in the first place without Steve's input. Atlantic Press was definitely the right home for my book.
BF: You have a very supportive soundbite from legendary British comics creator Pat Mills to promote Beyond the Wire. Given the subject matter, and Pat's seminal work on Charley's War, that must have been an endorsement that particularly resonated?
JONES: Yes! I was so pleased that he liked the book. I gave him a copy at a Comics and Conflict conference at The Imperial War Museum and he emailed afterwards to say how much he liked it. I was quite nervous about showing it to him, I thought he might not be interested. But it was a massive confidence boost. Normally when I send work out I hear nothing back, and that can be seriously disheartening, so it's just brilliant that he has given the book his support.
Charley's War was a big influence on the project, both Pat's storytelling and the artwork by Joe Colquhoun are completely immersive and full of empathy. They avoid glorification or nostalgia, which felt important to me too. So although it's obviously a very different piece of work to Beyond the Wire, Charley's War was definitely an inspiration.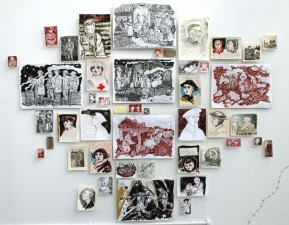 Above: A selection of material from Beyond the Wire at Alys's M.A. show
BF: Something that struck me when I reached the poignant end of Beyond the Wire was that it was a book that recreated the Great War by immersing the reader in the experience emotionally rather than seeking to overtly analyse and educate. Is that a fair assessment of what you were trying to achieve?
JONES: I was definitely attempting to articulate a feeling rather than impart historical facts. The story is set within an unfinished World War One poem, not a specific, real historical setting. Each situation depicted is composed using elements from a combination of sources, to give a sense of time and place, rather than to document or inform. Having said that, once it became clear that the story would take place during the First World War, I felt a responsibility to the subject matter, to try and give it as much authenticity and accurate detail as possible.
The project benefitted so much from research, although I'm sure there are still lots of mistakes and inaccuracies in it. The ending is quite abrupt, it seemed important that it gave an impression of being cut short, like the unfinished poem it inhabits, and the lives of the characters within it. Although it is set in that historical period, it is most definitely a contemporary piece of work, dealing with a modern experience of literature, history and imagination. Despite being published, I don't feel like it's all out of my system yet, I think the project will keep going alongside other work for a long time to come.
BF: Looking through some of your work online you do seem to have a fondness for playing with with historical or classical illustrative themes and styles (your Oh For a Muse! or Alys's Adventures strips for example). Is this an area you have a particular interest in?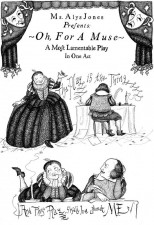 JONES: Yes definitely, as a child I was quite obsessed with the Victorians in particular and I've always loved visiting the National Portrait Gallery, looking at costumes and speculating about the lives of the sitters. I think it's probably from books that I draw most my inspiration (pardon the pun), but films, plays, and even things that happen in real life can be pretty interesting too! I like the idea of getting inside my favourite stories, it's escapism bordering on delusion- Alys's Adventures in Her Lunch Hour being one deranged example. When I began that strip I had just finished my M.A. and was working in a shop full time, I felt quite frustrated about how little work I was making. So I decided to draw all the bizarre things that could happen if I fell asleep and went down the rabbit hole, into other stories in my lunch break instead of just moping around Topshop eating flapjacks and feeling resentful.
BF: What's next for Alys Jones? What upcoming projects can you fill us in on?
JONES: I'm working on illustrations for a children's book in collaboration with a writer, which is quite a departure! I'm really enjoying making work for younger readers and using a bit more colour. I think it's looking good so far, so the next challenge will be to find the right publisher for that. I've been selected to make some work for a digital project based around a Charles Dickens novel-very exciting early days on that one! I'm making some work for Tiny Pencil, which is a really cool publication, I'm chuffed to be involved with. And I also have a very spooky ghost story, which I wrote during my M.A. year, it continues to explore many of the themes discussed above. I can't wait to turn that into a graphic novel too! I better get on with it..!
Beyond the Wire is published by Atlantic Press. You can order copies here priced £12.20 plus postage and packing. For more on Alys's work do check out her website here which includes many behind-the-scenes images from the book and its creation.