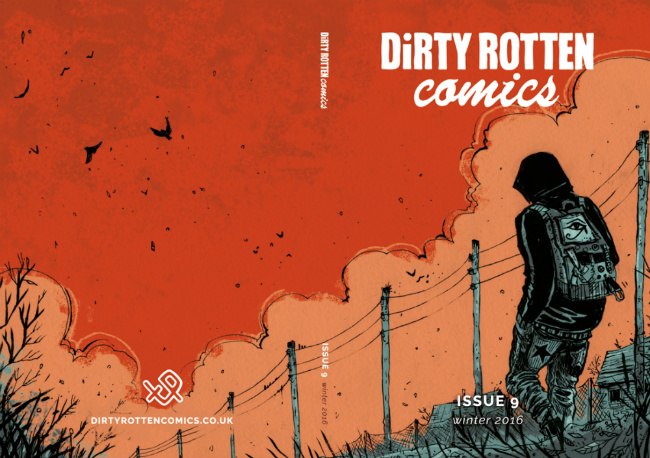 ELCAF WEEK!
Since their emergence as one of the most pivotal anthology projects on the small press scene in 2014, Dirty Rotten Comics have given a platform to dozens of new artistic names and played a vital part in pushing a number of creators to a far greater level of recognition. Indeed, I first discovered a number of my own choices for Broken Frontier's 'Six Small Press Creators to Watch' initiatives in the pages of DRC, including Jey Levang, Emily Rose Lambert, Olivia Sullivan and Peony Gent.
But they're no longer just a one-comic operation! Campbell and Clap's Throwaway Press is now the micropublishing imprint which puts out not just DRC but also a number of solo artistic comics. Today, as we wind up our ELCAF Week coverage, I speak to the duo about their publishing ethos, the coming of Throwaway Press and the sheer comedic genius of Matthew Dooley… 
ANDY OLIVER: Two years on from our last interview here at Broken Frontier would you say that the Dirty Rotten Comics ethos of inclusion and accessibility is more important now than ever?
KIRK CAMPBELL: The diversity in the scene now, and the emergence of more creators from an illustration background exploring sequential art, means that support and opportunities for comickers needs to be a very 'present' part of UK small press. Naturally there is a high level of inclusion and support among people within the scene, but that needs an end result.
GARY CLAP: In any creative field it's always important there are platforms for creators to get their work seen by a wider audience. We've maintained from the beginning that our editorial policy should be based on merit, which serves as a great leveller and means that first-timers stand just as much a chance of being published as more experienced professionals. If someone is putting out great content, let's get it out there. Simple as that.
Rozi Hathaway from DRC #5, Danny Noble from #6 and Alex Potts in #7
Since we last spoke you've formed a micropublishing imprint in Throwaway Press. What was impetus for furthering the brand and expanding your publishing options?
CLAP: It was the next logical step in terms of our own development as creators and publishers. We're always looking at how we can increase exposure for indie comics, so it made sense to branch out and push individual work as well as anthologies.
CAMPBELL: DRC was proving so popular with artists that about a year ago we questioned how we could build on this synergy. People who had contributed four or five strips to DRC over a one or two year period would, through virtue of their sustained output, be on their way to producing their own 30+ page collection. As Gary says, we want to support those creators who would like assistance in publishing their own collections. It's a very exciting venture which we hope to expand as much as possible in the next few years.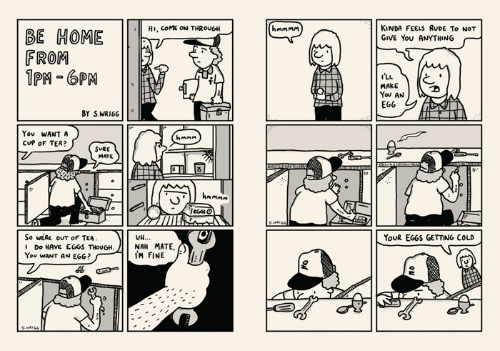 Can you tell us about some of the books that you've published through Throwaway Press and what attracted you to them as projects?
CAMPBELL: Scott Wrigg (above) is someone who we met and became friends with through DRC. He's a prolific comicker and has a real talent for mocking social situations and the modern-day 'lovvies' enthusiasm for everything. As an Australian living in London, his POV was a unique one and had that 'outsider' element, commenting on things we take for granted. Mates was a chance for him to combine his gag strips and longer-form work. Since moving back to Australia, he's just released two more books. We're delighted that our collaboration was part of his progression.
CLAP: Likewise, Matthew Dooley became a friend through Dirty Rotten Comics before he approached us to publish Meanderings. It was important to us from the beginning that we strike up publishing arrangements with people who we know and have worked with previously. Matthew Dooley has been with us from the beginning, so it was a natural next step to publish a longer collection of his work. His surreal, bleak sense of humour ticked all of our boxes, and we were chuffed to see him win the Observer/Cape/Comica Prize last year.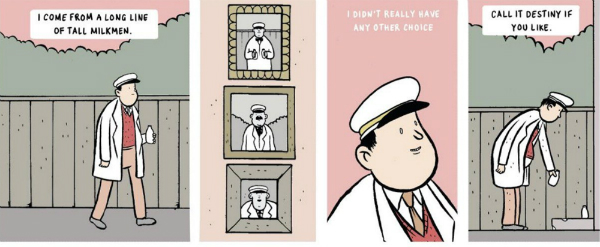 How much of a learning curve has it been moving into that wider micropublishing arena? What have been the particular challenges?
CAMPBELL: We have high ideals about what Throwaway Press could become, and we've realised in the first year or so how much hard work is required to achieve that. I think anyone who has a go at micropublishing needs to ask themselves first and foremost, is the product good enough to be a long-term success? Do I have the energy to commit to making it work?
We certainly believe that our answer to both questions is 'yes'. We intend to ramp up our output over the next 12 months, as the scene is in a real period of growth and we all need to be careful that the current purple patch in productivity among small press creators doesn't breed complacency.
CLAP: We always need to be mindful of the expenditure in both time and money involved in taking on a project. At the end of the day it has to work for everyone, so a bit of forward planning helps avoid difficult conversations further down the road. As with anything worth doing there are going to be missteps along the way, but if you respond to them positively and adapt your strategy accordingly, you will only see a net benefit in the long term.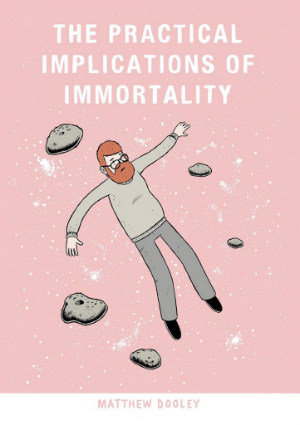 As noted, one of the great successes of your output to date has surely been in bringing the comedic brilliance of Matthew Dooley to a wider audience. What can we expect from his new offering from you The Practical Implications of Immortality?
CAMPBELL: More of the same hilarious, self-reflective and satirical pastel-shaded, award-winning strips that Matt is building his reputation on. The full shots of cartoon Dooley stood nude in a bathroom are profoundly beautiful in a weird way.
CLAP: It also features the strip which won him the Observer/Cape/Comica prize, and is a worthy successor to Meanderings for those who enjoyed his first outing. We've also expanded to digital publishing recently, so it's available in all sorts of ebook formats for those who prefer to read comics 'the modern way'.
On the subject of exciting new voices that you were the first to publish there's been a number that we've gone on to champion here at Broken Frontier as part of our 'Six to Watch' initiatives including Olivia Sullivan, Peony Gent, Jey Levang and Emily Rose Lambert. How rewarding is it seeing the ever growing profiles of some of the artists who have been such an integral part of DRC over the years?
CAMPBELL: That's what we're there for! Its an absolute delight to know they are getting recognition from places like Broken Frontier. DRC hopefully features in the long game of many artists – one of the starting points for establishing themselves. When they look back on a 20-year career, we'd love to think past contributors would identify DRC as a positive part of their progression. We're excited to help as many truly amazing artists as possible get wider recognition.
CLAP: Yeah, it pretty much validates everything we set out to do with DRC in the first place. Hopefully with our expansion to more titles by individual creators we'll be able to push that even further in the future.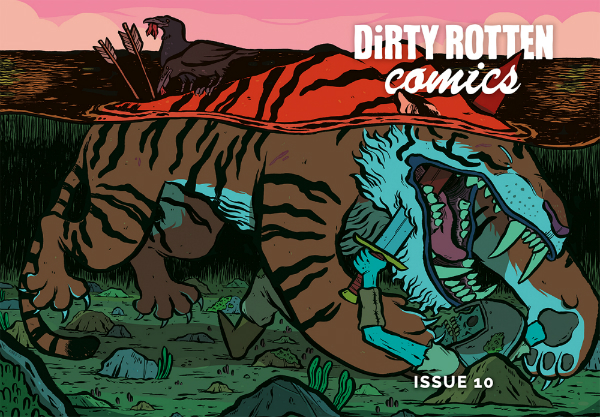 Top DRC cover by Jey Levang and #10 cover by Lucie Ebrey
You've just celebrated your tenth issue of DRC with an all-colour extravaganza (above and reviewed here at BF). What was the thinking behind this very first curated issue of the anthology?
CAMPBELL: Put simply, we wanted it to be a celebration. It felt like a colour issue with a selection of new strips from past contributors was a nice end-point to these first couple of years of DRC. And boy is the quality of content high; some of the most outstanding 4-page strips I've personally ever seen. Issue #10 was firstly a thank you to everyone who has supported us and secondly a step forward in terms of our outreach and commitment to supporting new and upcoming British comics talent.
What kind of work and which names from the esteemed history of DRC can readers expect to see in #10?
CLAP: Some highlights for me include the poignant and stunningly illustrated 'The Arrival' by Kathryn Briggs, who has appeared in the last few issues of DRC and is consistently brilliant. Andrew Warwick also stood out for me with a slice of dark poetry in 'The Mulberry Tree', and Ioan Morris provides some trademark black comedy in 'Bobby'.
Long-term fans should look out for the returns of Kevin Loftus, Jey Levang and Teal Barnes who (among others!) have been with us nearly from the beginning.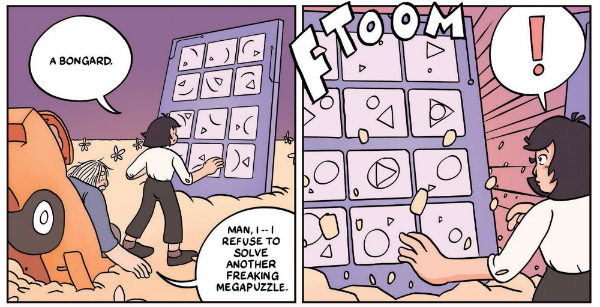 CAMPBELL: A few of my faves in this issue are 'Something Real' by James Wragg, Josh Hicks/Mikael Lopez's 'Escape from Madoka' (above) and Olivia Sullivan's 'Brave New World'.
James has produced such a visually-detailed and poignant commentary on love and relationships in a dystopian future and in 'Escape from Madoka' Mikael has written such a smart and thought-provoking take on the proliferation of artificial intelligence that Josh's visuals complement perfectly. Both pieces are focused, smartly written and brilliantly realised in terms of their pacing and visual structure.
My reading of Olivia's 'Brave New World' (below) is that it's a well-crafted comment on our conveyor belt fast food culture and scientifically engineered meat. Of course I could be totally wrong – that's just my interpretation – but that's the power of such a well-crafted strip.
All of these certainly took me four or five reads to fully get to the bottom of the messages contained within, which was great fun!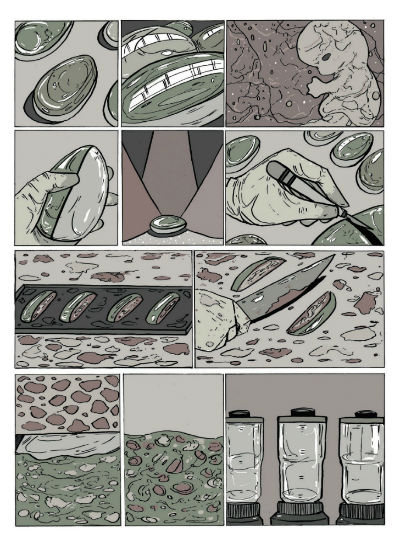 Will you be returning to the submissions set-up for DRC #11? And now that you've had the taste of colour will that be a feature of future issues?
CAMPBELL: The whole point of DRC is the levelling of the playing field in terms of inclusivity and the chance for British-based comics creators to have their voice heard. Our aim is to sustain the model, build audience awareness and hopefully offer more and more creators the chance to get their work published and branch out to paid publishing opportunities. We want submissions from illustration students, we want submissions from first-timers, we want submissions from those who have almost given up on getting their work noticed. That's who DRC is there for and we don't want to lose sight if that.
CLAP: We've had a lot of interest from students at the recent talks we've given, so I'm hoping that we'll see a lot of new faces this time around. We've just opened submissions, and will certainly be looking for more colour pieces this time around (although that doesn't preclude black and white submissions!).
Work from Jey Levang in DRC #8, Peony Gent in #9 and Emily Rose Lambert in #10
And, finally, are there any upcoming projects from Throwaway Press that you can tell us about? Will you be publishing more solo books this year?
CAMPBELL: Certainly – we are speaking with a number of creators who we have worked with in the past and who we are keen to get solo books out with under Throwaway Press. No names for you yet but that's because we want to do it properly… as soon as is appropriate we'll be shouting out from the rooftops!
You can follow Dirty Rotten Comics on Twitter here and Throwaway Press here. Visit their website here for more details on their books and how to order them. 
Dirty Rotten Comics will be at ELCAF at Table 9 from Saturday-Sunday.