Katriona Chapman can count comics as just one part of a varied career in the world of illustration. Co-editor of the recently launched anthology artszine Tiny Pencil, Katriona's self-published work through her Tomatito Press imprint has a beautifully tactile philosophy to it; something that is much in evidence in Brockley Foxtrot, her graphic journal account of the lives of a family of urban foxes reviewed in 'Small Pressganged" last year here. As part of our ongoing 'Small Press Spotlight on…" interviews at Broken Frontier I chatted with Katriona about her path into comics, her affinity with illustrating the natural world, and the critically-acclaimed Tiny Pencil…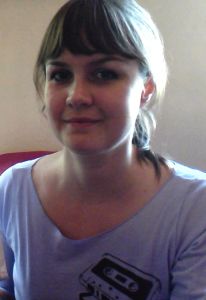 BROKEN FRONTIER: Comics are very much just one string to your artistic bow given your rich background in book illustration, including children's books. Could you give us a potted history of Katriona Chapman's career in illustration to date?
KATRIONA CHAPMAN: Yes comics are something I've come to later on in my career, though I've always read them and always loved them. As a teenager I read lots of very long comics series and graphic novels, and when I became interested in illustration I think I was put off attempting comics initially because I couldn't see how anyone could get through such a massive quantity of work to create a graphic novel!
Having quite a slow and realistic drawing style I couldn't imagine how long it would take me to create something like that. So I got started in children's books and worked freelance for quite a few years before coming back to the idea of comics. So far one of the things I've enjoyed about the change of focus has been being able to write more, and to write for adults.
BF: Tomatito Press is your own imprint under which you've published books like Five (below) and Brockley Foxtrot. What have been the particular challenges to self-publishing and, conversely, its benefits for you as an artist?
CHAPMAN: Self-publishing is very challenging as it takes a huge amount of work to do what a publishing company does, as an individual. For me print quality has always been one of the most important things… in fact being unhappy with how my work sometimes looked when printed by freelance clients was probably one of the main reasons I got started in self-publishing, so that I could take more control! But it takes a lot of work to find the right printer, and to work with them to get the right results.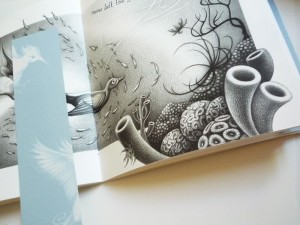 Shopping around for quotes, going back and forth on questions of printing method, paper stock, etc., all takes a huge amount of time if you're very particular about how you want your printed products to look and feel. Also marketing your books and distribution are aspects of self-publishing that can eat up a lot of your time. I've definitely found my workload has shifted much more towards the business side of things with less time for drawing and creating new work. But in terms of the plus sides, the rewards of having complete creative freedom over the project have been huge, and I've felt much more proud and happy with the results than much of my time as a freelancer.
It has also given me the ability to say no to poorly-paid illustration jobs that I often felt pressure to accept when all I was doing was freelancing. Instead of waiting around for jobs to come through and in the meantime just producing work for my portfolio, now I have no end of work I can do to expand my little publishing business. There might be less money in it for me so far, but if the enjoyment is much greater then I think that's important!
BF: Brockley Foxtrot was the book that introduced me to your work; a gorgeous graphic narrative about your interactions over a number of years with a family of foxes. There's a very tangible connection to the natural world in a certain strand of your work. Is that an area you feel you have a particular affinity for?
CHAPMAN: Yes definitely. It's funny because I was never bothered about nature at all when I was growing up! I think maybe going travelling in my 20s to parts of the world with extremely beautiful natural environments got me interested… and the longer I travelled the more I was interested in being out in the middle of nowhere as opposed to just going from city to city. Now I'm obsessed and take every opportunity when I'm on holiday from London to try to find wilderness and see animals in the wild. I like the harshness of nature as well as the beauty and I like how small and insignificant you can feel being out in the middle of the wilderness. Perhaps it helps put things in perspective!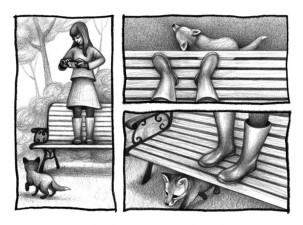 I remember being on the back of a mule in the middle of the Peten rainforest in Guatemala, and my mule had run off far ahead of the rest of the group and I thought how easily that environment would destroy me if I got properly lost. I think as a species humans can be very arrogant and it can be good to feel very small in the face of nature sometimes! Part of what I loved about the fox cubs was that they were wild and ferocious little creatures, as much as they were cute.
BF: Something that is very apparent from your self-published work is its tactile aesthetic. Handling a beautifully hand-bound book like Brockley Foxtrot or Five, for example, is a timely reminder that there are some reading experiences that digital can never, ever replicate. How important is that physicality of presentation to you?
CHAPMAN: As I mentioned before I do spend a lot of time on researching paper and making sure the art I'm printing will look its best on the printed page. I'm very particular about matte finishes too, for the kind of projects I do! I enjoy reading beautiful editions of books and have some in my collection that I particularly love… Drawn & Quarterley's Tove Jansson Comic Strip collections for example.
My latest project Tiny Pencil is my first time litho printing and perfect-binding and it's funny but we get a LOT of comments about how good it smells, which is amazing… something I'd never even considered! I'm not against digital publishing either, I read plenty of digital books and comics too. But for my own projects illustration in print is quite central to what I do.
BF: Alongside Amber Hsu you've co-edited the aforementioned and recently published Tiny Pencil anthology (reviewed here at BF), celebrating a graphite-centric approach to illustration with a mix of single pieces and sequential art. How would you describe Tiny Pencil's mission statement?
CHAPMAN: Well when Amber and I met we connected through our love of pencil illustration, and we took it from there. Amber originally came up with the idea of collaborating on a pencil-themed zine and it kind of snowballed into a massive publishing project as more and more amazing artists agreed to take part, which was very exciting.
Our mission statement is to raise the profile of pencil as a medium… showcase work by pencil specialists but also feature work by artists and illustrators who are more well-known for working in other media. Pencil can often be seen a just something you use to do rough sketches before you move on to paint, ink, or digital final art. And we wanted to show what can be achieved when you stick with the pencil!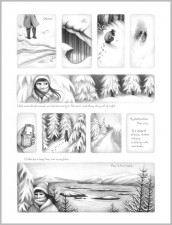 BF: With the launch of the first "forest"-themed issue of Tiny Pencil now just behind us and an incredible array of talent on show in that opening issue, how do you see the book developing in the future?
CHAPMAN: We're planning to regularly publish two main issues per year, spring and autumn, plus one or two special extra issues every year. We're already midway through creating our summer special for this year, which will be a young-person-friendly collection of themed mini-zines containing comics, activities, and illustration that people of all ages can interact with. There are various plans afoot to make it a really special little edition so follow Tiny Pencil on Twitter and Facebook to keep up with developments!
We also have no end of interesting themes and angles lined up for future issues and are getting masses of interest and masses of submissions so we're hoping it's going to continue to do really well.
BF: Talking of anthologies, one of my very favourite British ones is David O'Connell's ink + PAPER which I've reviewed on a number of occasions as part of Broken Frontier's 'Small Pressganged' column. How much of a thrill for you is it to be contributing to the upcoming next issue of one of comics' quirkiest and most eclectic collections?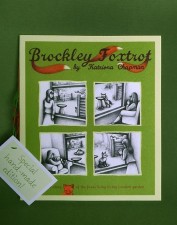 CHAPMAN: It's an amazing thrill! I was so excited to be asked as I hadn't really done any proper comics before, and I threw myself in at the deep end by deciding to do ten pages for David. I think ink + PAPER is a wonderful anthology, really top quality and I'm very proud to be part of it… I can't wait to see issue 4 when it comes out.
BF: And, finally, are there any other upcoming projects from the Chapman camp that we should be looking out for in the near future?
CHAPMAN: At the moment Tiny Pencil is still dominating my work schedules but I have plans for a possible webcomic in the future. And of course being me I'd be looking into turning that into a printed book if I ever manage to get round to drawing it. I also have a hardback edition of my first Tomatito Press book Five coming out soon, published by Soaring Penguin Press which is really exciting!
Katriona Chapman's website can be found here and for more on her Tomatito Press imprint look here. You can also check out the Tiny Pencil site here. You can buy Katriona's work, including Brockley Foxtrot, from her online store here and Tiny Pencil is available for purchase online here.