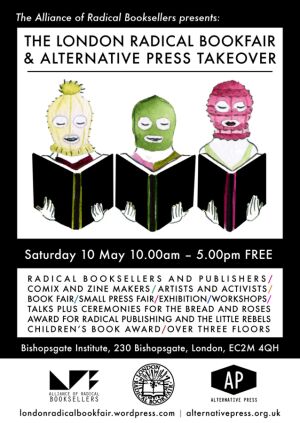 Alternative Press have announced the line-up here of exhibitors for the London Radical Bookfair & Alternative Press Takeover at the Bishopsgate Institute – the former home of the Comica Festival Comiket – on Saturday May 10th. Championing small press comics and zines, alongside radical publishing and bookselling, the fair will see around 80 exhibitors in attendance.
What's always exciting about events like this, of course, is the possibilities they afford for discovering new creators and work. As much as I love catching up with familiar SP faces at comics events it's always refreshing to shake up the mix a little and unearth some new gems from the small press. With no spring Comiket this year (the next one will be later in the summer instead) this is an unmissable opportunity to celebrate D.I.Y. publishing culture in London in the first half of 2014.
For regular 'Small Pressganged' readers a number of familiar names from reviews in this column will be selling their wares at the Takeover. If you haven't checked out the comics and zines of the following people before then here's a chance to refresh your memories about what I had to say about them in preparation for May 10th, with a soundbite from me and links to previous reviews here at Broken Frontier!
"There's a lingering quality to Alex Brady's detailed linocut pages that ensures you will dwell long on each brooding image, digesting the carefully observed frailties of the lives depicted therein."
Ordinary Street reviewed here
Ex Libris reviewed here
"I can only urge you to obtain a copy of this most affordable of anthology intros to 20-plus (largely) Brit-based indie talents. I'll give you the two quid back myself if you don't find at least something herein that makes you feel it was a worthwhile purchase…"
Comix Reader #4 reviewed here
Comix Reader #5 reviewed here
"Nuanced and layered storytelling."
Hundred Metre Garden covered here
"Clandestine first love with a papier mache twist is the order of the day in this remarkable debut graphic novel from creator Gareth Brookes."
The Black Project reviewed here
"The manga style energy of Lam's visuals is infectiously animated."
Mr. Yang Fights Aliens reviewed here
"In the ever burgeoning pantheon of Brit small press anthologies ink + PAPER has firmly established its own niche. It's the Sunday supplement of that world; something to put one's feet up with and enjoy on a leisurely weekend morning with a pot of Earl Grey and some delicate biscuits."
ink + PAPER #1 reviewed here
ink + PAPER #2 reviewed here
ink + PAPER #3 reviewed here
ink + PAPER #4 reviewed here
"In a remarkable year of equally remarkable U.K. original graphic novels The Encyclopedia of Early Earth is one of 2013's comics gems and a true testament to the fertile imagination of Isabel Greenberg."
The Encyclopedia of Early Earth reviewed here
"Making an art form out of the ludicrous and the preposterous, Lizz Lunney continues to delight her readership with some of the most endearingly fun small press comics out there!"
Lizz Lunney's minicomics reviewed here and here
Depressed Cat: Nine Miserable Lives reviewed here
Take Away! reviewed here
"Score and Script is not just a comics anthology but also a celebration of the sprawling potential of the form. "
Score and Script reviewed here
"Sarah Gordon's work is always animated, buoyant and lively."
The Last Tape in Hell reviewed here 
"Moreton has a canny knack of engendering an empathic response from his readership, inviting them into his meandering narratives and providing something both identifiable and familiar."
Smoo Comics #5 reviewed here
Smoo Comics #7 reviewed here
"Join the Army serves as both a clever piece of graphic design and a defiantly antagonistic refutation of the glorification of combat."

Join the Army reviewed here
"A vital showcase of graphite-based talent just begging to be investigated further."
Tiny Pencil#1 reviewed here
Tiny Pencil #2 reviewed here
Tiny Pencil #3 reviewed here
For more on the Takeover – including a full list of exhibitors and travel directions – check out the website here.