A science teacher with attitude takes on otherworldly invaders in Mr. Yang Fights Aliens, Mickey Lam's tale of an extraterrestrial incursion in London.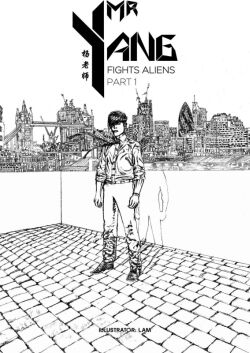 Ostensibly a recently qualified schoolteacher with a line in slightly acerbic, droll asides, Mr. Yang is about to find himself taking up a rather unexpected extracurricular activity. Up until this point in time the greatest stresses of his life have revolved around his social life being adversely affected by the routine of marking his pupils' schoolwork. But when Yang encounters a spaceship abducting a homeless man he becomes involved in the machinations of a race of hideous aliens with sinister intentions for mankind…
In Jamie Yang we have a character who will, I'm sure, seem familiar to all of us. He's that deadpan, straight-faced teacher with a line in dry put-downs who we all would have met at some point in our school careers and been in awe of on the one hand, and yet secretly desperate for their approval on the other. He's an interesting protagonist because, while not necessarily very sympathetic, there is something seriously cool about this science teacher turned planetary defender!
A fun set-up then but, in terms of plot and originality, the book doesn't really attempt to go any further than its cover blurb: Mr. Yang Fights Aliens is, essentially, both the title and the entire premise summed up in four words. It's a fun distraction as a read but ultimately it's escapism without too much depth. Still, there are times when we're all looking for an enjoyable diversion that we don't have to think about too much and in that regard Mickey Lam's extraterrestrial-fighting, martial arts-practising pedagogue certainly fits the bill.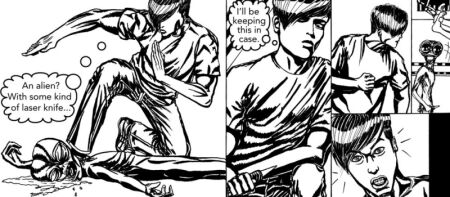 The manga style energy of Lam's visuals is infectiously animated throughout and the grotesquely exaggerated aliens being set against the backdrop of an intricately realistic London also works to strong dramatic effect. Lam wisely plays it straight despite the inherent absurdity involved, giving the book a slightly understated feel. As an action story Mr. Yang Fights Aliens gallops along at quite a pace. In that respect it's solid comfort reading but at this point it lacks the engagement of an extended supporting cast or much in the way of subplots to grab the casual reader. Still, this is only the first issue and now that the foundation-building for the series is over it will be interesting to see how Lam develops the potential of his rather unusual protagonist in the follow-up issues…
For more on the work of Mickey Lam check out his Illustrator: Lam website here. His online store can be found here.