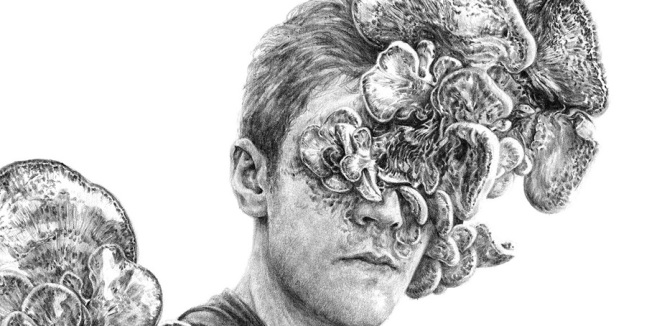 The third edition of Tiny Pencil – the artzine promoting graphite-based goodness through a mix of illustration and comic strips – is subtitled The Beast Issue, and comes with a warning that it contains "content of a graphic nature". Those cautionary words should be heeded by punters of a delicate disposition. Not just because TP #3 contains occasionally explicit material but because it's crammed throughout with some seriously disturbing monstrous creations that make me fear for the twisted mindscapes of the creators who have contributed to this foul folio of the fantastically fiendish.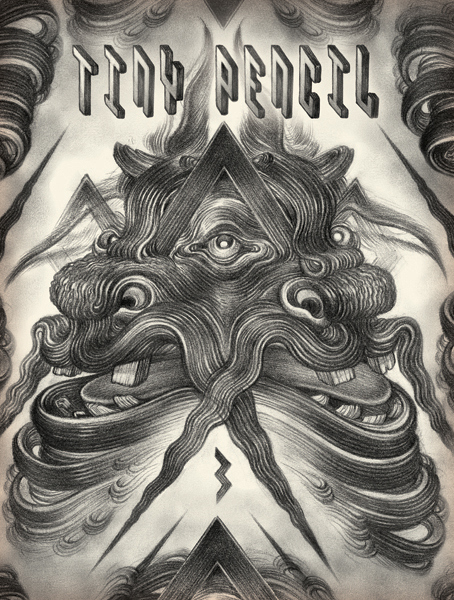 'Monsters, Machines and Unnatural Things!' screams the tagline to describe the theme for this issue and trust me when I say that editorial team Amber Hsu and Katriona Chapman are not throwing out an idle boast with that slogan. If anything they're underselling the disquietingly demented contents of Tiny Pencil #3. It's about as radical a change of tone as you could imagine after #2's all-ages, kiddie-friendly Mammals! Monsters! Mars! issue. But that same shift of emphasis underlines the always surprising air this anthology has; not just from issue-to-issue but also from page-to-page.
Of those artists providing double-page, non-comics illustrations the work must likely to revisit the reader in  some twisted nightmare form in the wee, slumbering hours of the night comes from Italian artist Vania Barbato whose pages brought me in mind of Bill Sienkiewicz, Bissette/Totleben on Swamp Thing and the imagery of the most sinister of Japanese ghost films. Two Portland-based creators Jon MacNair and Susannah Kelly provide similarly uncomfortable hybrid apparitions while Renee French unsettles with a series of obscene entities – gruesome glimpses at something quite evil as if fleetingly caught from the corner of the observer's eye as it exposes its true nature to the world.
Samples from the contributions of Vania Barbato, Renee French and Jon MacNair to this issue
Elsewhere, Matt Craven stakes his claim as someone to watch out for – possibly on more than one level – with his depiction of an unfortunate soul who seems to have become both resident and prisoner within the confines of a shopping trolley, and Rupert Smissen's fungally-impaired unfortunates (see top banner image) also send a shiver up the spine. A special mention among the non-comics contributors this issue to long-time 'Small Pressganged' favourite Alys Jones who provides a logical extension to her excellent work on Beyond the Wire in her depiction of a malevolent intelligence permeating the landscape of the trenches of the Great War (below).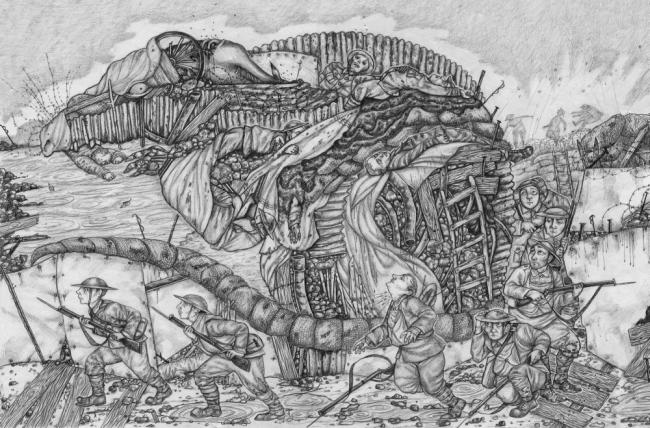 Many of the comic strip offerings in Tiny Pencil #3 are somewhat less unnerving in comparison, punctuating these galleries of the gruesome and providing a brief respite from their smothering embrace. Isabel Greenberg (The Encyclopedia of Early Earth) gives us one of her customary pieces of wicked whimsy in the two-page comic strip 'The Ballad of Brave Sir Will' and, as ever, the haunting, drifting dreamscapes of Tobias Tak engage the reader with their slightly demented children's storybook feel. Jeremy Holmes's creepy yearbook is positively Burton-esque in delivery while the versatile AJ Poyiadgi's horror short dresses chilling content up in playful trappings as we learn, via rhyming couplets, of a man haunted by a mysterious entity. The intricate page design of Pete Murgatroyd's clockwork creatures comic had me bookmarking his site soon after reading, and Sina Sparrow's satirical look at demons with dating problems certainly raises a smile.
Examples of the work of Pete Murgatroyd, Isabel Greenberg and Jeremy Holmes in this issue
After last issue's child-friendly fun and games it's perhaps to be expected that the contents of Tiny Pencil #3 may well raise an eyebrow or two. But, as I said in my review of #2, that unpredictability is an integral part of this publication's appeal; the radically changing, themed branding of each issue mirroring the impulsive and idiosyncratic randomness of its creators' contributions. As ever, Tiny Pencil #3 is a vital showcase of graphite-based talent just begging to be investigated further.
For more on Tiny Pencil including many interviews with the creators that grace its pages visit the website here. Tiny Pencil #3 is available from the TP online store here priced £11.00.