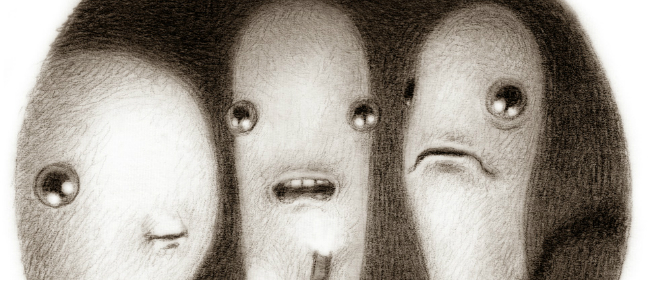 The rise of the micropublisher on the small press scene has been one of the most promising developments I have observed in the years I've been writing 'Small Pressganged' for Broken Frontier – not least because it's a publishing model originally established in the US that has also begun to flourish here in the UK, as seen in the output of the likes of Avery Hill Publishing, Great Beast and Dogooder Comics. It can provide security for collectives of creators or greater promotional opportunities but, most importantly, micropublishers can also, on occasion, act as a bridge between self-publishing and some of the "bigger" names in the industry.
Rina Ayuyang's Yam Books – long-term readers will remember I reviewed Mardou's Sky in Stereo from Yam here at Broken Frontier last year – is a relative newcomer to this arena, releasing often tactile and always handsomely produced books. Yam's last offering Hagelbarger and That Nightmare Goat is the work of a creator who will need little introduction to fans of the indie/alt side of comics. Eisner-nominated Renee French – a recent contributor to graphite-based UK anthology and 'Small Pressganged' favourite Tiny Pencil – has, after all, been published by Top Shelf Productions, Fantagraphics and Oni Press, among others, as well as being a successful children's author.
The titular Hagelbarger is a genial "seamonster" – although in this case "seamonster" equates to a small globule-type creature, almost an aquatic maggot – whose vocation in life appears to revolve around benevolently constructing nests for other creatures in his underwater world. When Hagelbarger discovers a life-giving stick which spawns tiny luminescent "swimmers" he finds himself the object of attention of That Nightmare Goat, a sardonic nemesis who covets said stick for his own possession. With Hagelbarger's similarly blobby chums Hap and Tiffo involved in the retrieval of the stick it's up to the three friends to save the glowing swimmers from the clutches of their caprine foe…
Hagelbarger and That Nightmare Goat is a curious piece of storytelling in that it consciously – defiantly, even – avoids easy genre definition with its odd fusion of children's book presentation and darkly abstruse plot. Indeed, strictly speaking I'm sure many would argue that Hagelbarger is not a comic at all, with the book's use of single images on the right page and separate dialogue on the left hand side making the characters' thought processes seem oddly – yet appropriately given its storybook aesthetic – detached from the illustrated action. It's a graphic novella that encourages comparison to work designed for a younger audience with innocent protagonists that appeal to the child in us and a fairy tale villain in the Nightmare Goat whose disquieting presence is all the more pronounced for its incongruous mix of menace and comical physicality (that constantly lolling tongue). Yet this is no fantasy parable for the younger reader. There are deep, intimidating, and intriguingly impenetrable depths to these pages.
If there is a moral to the tale of Hagelbarger and That Nightmare Goat it's not an obvious one. The audience may interpret the book in any number of ways: an obscure metaphor, an endearing piece of nonsense for nonsense's sake, or an open invitation for the individual consumer to elicit their own personal meaning from events. For that reason the lack of transparent allegory means that this may prove to be an unsatisfying read for some. But French's work is always visually captivating on its own terms. It's her ability to find beauty in the grotesque, that soft and dreamlike quality to her imagery, and the casual merging of the cute and the horrific that gives her work a murkily entrancing charm. Seldom is the sinister and the unsettling quite as appealing as this…
For more on Yam Books check out their site here. Hagelbarger and That Nightmare Goat is available for order here priced $18.00. 
For regular updates on all things small press follow Andy Oliver on Twitter here.