Free comics! It's hardly a difficult proposition is it? Here's our monthly spotlight on accessible online work covering creators who have appeared in 'Small Pressganged' in the past at Broken Frontier. Once again – read, enjoy, bookmark and, if you like what you see, why not head over to the relevant artists' online stores and investigate their print comics further?
Hundred Metre Garden – Elliot Baggott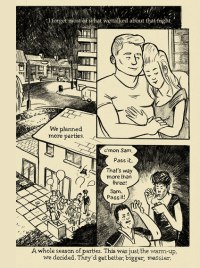 If the Eisner-esque opening page doesn't immediately catch your attention then perhaps the intriguing premise of this "online graphic novel" will. It follows four beer-swilling lads in a South London house looking to create the ultimate party pad. But there's something not quite right about their accommodation; something ominous that will make its existence felt as weariness begins to replace their once riotous lifestyle. To date, around 50 pages of Hundred Metre Garden have been posted and what initially looked to be something in the vein of Men Behaving Badly has proven itself to be a far more nuanced and layered piece of storytelling. I'm most intrigued to see more of this story because I genuinely cannot second guess where it is going. That's always a pleasing sign.
Read Hundred Metre Garden here. Elliot's online store is here and you can follow him on Twitter here.
Teapot Therapy and other stories – A J Poyiadgi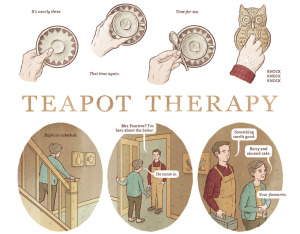 Serialised comics strips are, of course, just one aspect of material available online. A number of creators have archived their past print efforts on their sites. 'Small Pressganged' favourite Andy Poyiadgi – who long-term BF readers will remember I interviewed here last year – is one artist to do just that. The Poyiadgi back catalogue is, admittedly, best savoured in physical format as his comics often have a tactile edge to them that is truly impossible to capture digitally – his origami comic is the ultimate example of that. But this repository of his comics (originally published in the likes of anthology ink + PAPER and John Miers's Score and Script) is a wonderful place to get a flavour of his pensive, delicately constructed work. The touching and quite beautiful Teapot Therapy is a recommended starting point.
Read the Poyiadgi back catalogue here and visit his online store here. You can follow Andy on Twitter here.
Lucy the Octopus – Richy K. Chandler
Poor put-upon cephalopod schoolgirl Lucy's misadventures have been featured twice in their print collections in 'Small Pressganged' previously (volume 1 here and volume 2 here). What began as a blackly witty but essentially punchline-led feature has evolved into an endlessly inventive exploration of the possibilities of the newspaper strip form. Combining the great traditions of the underdog comics character with a fresh and modern sensibility, Lucy the Octopus should be on every comics fan's list of bookmarked sites.
Read Lucy the Octopus here and visit the Tempo Lush online store here. You can follow Richy K. Chandler on Twitter here.
Querstret Comics – Elizabeth Querstret

Why the repeat linkage to the off-the-wall slice-of-life comics of Elizabeth Querstret when they got coverage here back in February? Easy answer. My hat and I have a starring role in a recent episode recounting a conversation that occurred at one of Gosh! Comics's recent British Comics Month events. Find out more about the genius idea of "Hat Heads" here. (My ego cannot let the phenomenon of my first ever comic strip appearance to go unremarked…)
Visit the world of Elizabeth Querstret in her webcomics here and via her online store here. You can follow her on Twitter here.