Beginning on Monday 24th February the second edition of WASP – the Webcomic Artist Swap Project overseen by Lucy the Octopus creator Richy K. Chandler – will see another batch of creators swap art duties on their respective webcomic projects over the course of a week until Sunday 2nd March.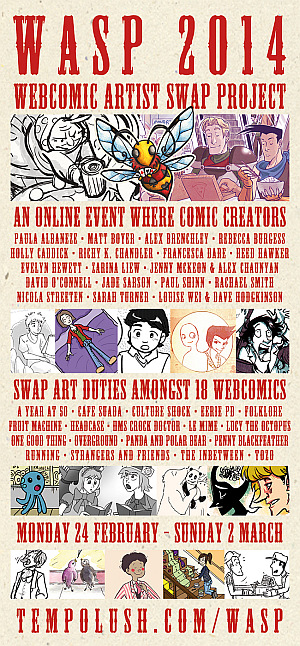 Chandler, of course, has been a popular presence in Broken Frontier's 'Small Pressganged' column with favourable reviews of the print versions of Lucy Volume 1 here and Volume 2 here, and an in-depth interview about his work here. After the success of last year's inaugural Webcomic Artist Swap Project, the 2014 edition will see a whopping twenty webcomickers involved in the fun.
Announcing this year's WASP Chandler said "I'm excited that the project has expanded to include UK and USA strips!  It looks set to introduce comics fans to new artists and strips on both sides of the pond."
On the origins of WASP Richy had this to say in that aforementioned interview in September 2013:
" I thought about asking Zarina (Le Mime) Liew if she wanted to swap art duties for one week of our strips as both a fun exercise and a bit of cross-promotion. Nervously (for fear of painful rejection), I asked comics creator Jade Sarson and comic and children's book author David O'Connell if they wanted to join in. That got the ball rolling.
The idea is far from original. Lots of creators do fanart versions of strips they like, or friendly takes on their friends' comics. Even the big names of Scott Adams (Dilbert) and Stephen Pastis (Pearls Before Swine) swapped creator duties for a week or so a few years back.
With WASP participants, there was a chance a complete stranger would be working on their strip. Personally, I wouldn't want to see a strip with Lucy doing anything out of character like punching one of the cool kids at the school in retaliation. Feeling that most of the creators would feel equally protective over their strips and characters, I decided that writing duties and final say over how the art would look would belong to each of the strips' original creators.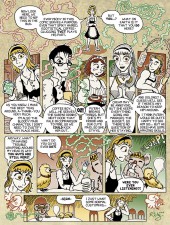 Everyone did really strong work and seemed to approach the challenge in different ways. Sometimes characters would pop up in their collaborator's strip, like with Louise Wei and David Hodgkinson's Panda and Polar Bear appearing in Nich Angell's Cat and Meringue. Naniiebimtook the opportunity to write a gender swapped version of her manga, Mephistos.
Personally I got a thrill getting to draw Jade's Cafe Suada (right) and seeing takes on Lucy by both David and Zarina, who drew Lucy as a human girl."
Creators and webcomics taking part in WASP 2014…

Paula Albaneze HMS Crock Doctor
Matt Boyer Running
Alex Brenchley Overground
Rebecca Burgess Strangers and Friends
Rebecca Burgess and Holly Caddick Headcase
Holly Caddick The Inbetween
Richy K. Chandler Lucy the Octopus
Francesca Dare Penny Blackfeather
Reed Hawker Culture Shock
Evelyn Hewett Fruit Machine
Zarina Liew Le Mime
Jenny McKeon & Alex Chaunyan Eerie PD
David O'Connell  Tozo The Public Servant
Jade Sarson Cafe Suada
Rachael Smith One Good Thing
Nicola Streeten A Year at 50
Sarah Turner Folklore
Louise Wei & Dave Hodgkinson Panda & Polar Bear
Paul Shinn will also be contributing art  paulshinndraws.com
ABOUT RICHY K. CHANDLER:  Richy K. Chandler is the creator behind Tempo Lush, producing comics, cartoons and illustrations.
He's written for the Wallace & Gromit newspaper strip plus Almost Naked Animals and Adventure Time comics.  He is creator of Lucy the Octopus and co-creator of Rosie and Jacinda.
He also teaches comic creation to children and adults.