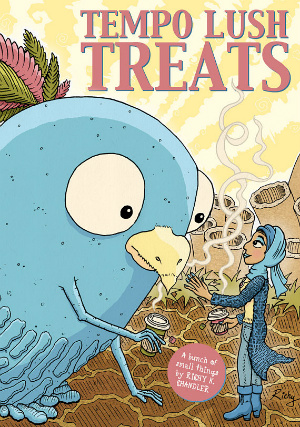 I've said this before in this column but Richy K. Chandler is one of the great facilitators of the UK small press scene – a creator who, through his various Tempo Lush Tales projects, has not just created opportunities for self-published artists to be seen by more expansive audiences but fostered a sense of community in the London scene as well.
It's been twelve months or so of game-changing developments for Chandler's comics practice. Last year saw his long-running Lucy the Octopus webcomic reach its conclusion (check out our BF interview here) and in November his first full-length graphic novel When Are You Going to Get a Proper Job? – an examination of juggling parenthood with an artistic career – will hit bookshelves courtesy of Singing Dragon.
In the meantime fans of Chandler's vibrant work can revisit some of the comics he contributed to other people's anthologies over the years – alongside some other choice shorts – in his latest collection of stories Tempo Lush Treats. Some of the work in this title has also been coloured especially for this edition.
It's hard not to feel a sense of nostalgia when reading through the pages of Tempo Lush Treats and realising how many milestone publications Chandler has been a part of. One of the highlights of the issue is, without a doubt, Mizuko Jizo (below left), a haunting story of ethereal entities who safely guide the spirits of children who die before their parents to the afterlife. This tale was one of the most memorable in Wu Wei, Mike Medaglia's 2013 anthology of spiritual comics, and while it loses its tactile fold-out concertina section in this reprinting its gorgeous new coloured version is a visual delight – a largely wordless tale that nevertheless sweeps us away with its visual eloquence.
Compilations like this, of course, can be perceived in very different ways. Some will see them as scrapbook-style collections of work showcasing the breadth of an artist's approach to the form. Others may look at them as disparate and slightly disjointed in terms of subject and tone.
It's true that there is indeed a feeling that some of the work here, separated from the greater thematic whole of the anthologies it was first published in, loses context and has a slightly orphaned quality as a result. Chandler's offering in John Miers' multi-artist academic exercise Score and Script for example, or his Lakes International Comic Art Festival town trail piece.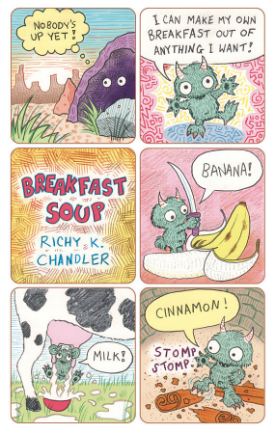 Most of them work perfectly well as standalone pieces in their own right though. The beautiful childlike glee of 'Breakfast Soup' (right) from Centrala's Comics Cookbook which uses a junior anthropomorphic monster to take us back to seeing the world through a kid's eyes. Similarly the rather nihilistic 'Synchronised Skating' – coloured for this collection in oppressive red hues – from Keara Stewart's excellent bad dreams and nightmares anthology A Bit of Undigested Potato retains its sense of creepy submission to inescapable fate, and the touching 'The Front Door' from Aid Nepal's Home anthology with its important message of placing the value of a home over its physicality is a most welcome re-read.
There are a number of seldom seen pin-ups and a piece of poignant visual poetry in 'So Fleeting' that round up a book that is in equal parts warm and touching and yet also moving and thoughtful in mood. Those who remember Chandler's minicomics box set from a few years back will, no doubt, see similarities in terms of the variety of material here (if not the presentation). For those new to the worlds of Richy K. Chandler this is an excellent introduction to the work of an artist with a major breakout project on its way later this year. Longer-term Chandler fans will, no doubt, revel in an opportunity to take a most welcome trip down memory lane…
For more on Richy K. Chandler's work check out the Tempo Lush website here. You can order his comics from his online store here including Tempo Lush Treats priced just £4.00.  Follow him on Twitter here.
For regular updates on all things small press follow Andy Oliver on Twitter here.