If you are new to Lizz Lunney's idiosyncratic comic strips and their resplendently ridiculous narratives then this is the collection that your bookshelf is just begging to house.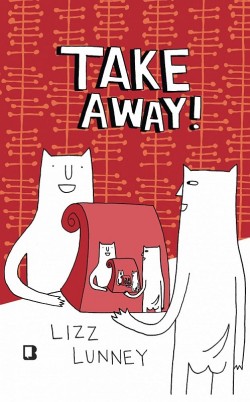 If there is one thing that epitomises the robust health of the current UK small press scene it's how frequently some of our more respected publishers of alternative or Indie-styled comics material are picking up and collecting previously self-published work/creators. Myriad Editions and Soaring Penguin Press, for example, have made it a vital part of their output, and even Titan – more commonly associated with licensed properties and repackagings of classic material – have got in on the act of late. If there is one publisher that started the ball rolling with this phenomenon, though, it was Blank Slate Books. Their championing of artists like Oliver East, and their past promotion of up-and-coming talents through the Chalk Marks imprint, has brought a whole host of exciting new comics voices to a much deserved wider audience.
While Lizz Lunney is hardly an unknown quantity outside of fans of the small press – just check out the number of followers that her most famous creation Depressed Cat has on Twitter – a more substantial compilation of her self-published comics in book format was long overdue. It's Blank Slate who have stepped in to rectify the situation with Take Away!, an anthology that collects some of her most drolly observed humour from the last several years alongside all-new material.
On a surface level the world of bizarre comedy characters that Lunney chronicles bursts with ostentatious absurdity. There's the aforementioned morose feline Depressed Cat with his worldweary outlook on life; Leaning Rabbit who is never happier than when he is living life at an eccentric incline; and the lovelorn cross-species devotee Romantic Bison. Superficially, you can enjoy these creations for their self-indulgent weirdness but, as we will see, while Lunney's work does indeed employ a certain amount of flamboyant daftness for its own sake there's a profundity here that may surprise the casual browser.
Sara Jackson's mini-documentary on Lizz and her artistic process above
While Lunney newbies will find this a perfect introduction to her unpredictable sense of humour the longer-term fans have the bonus of not just seeing old favourites gathered together in one place but also some new misadventures for the denizens of the Lunneyverse. There's a third act for Romantic Bison for example – star of two minicomics to date – and his rabbit object of affection Sylvia as they play matchmaker for Sweary Cat, and Depressed Cat gets a long form story as he makes a spiritual journey that is always going to end in that inevitable trademark "Sigh!"
Obvious silliness aside, the reason the reader engages with Lunney's work is that it speaks to us on universal themes we all recognise, whether consciously or subliminally. Yes, she dresses them up in the trappings of the ridiculous and the incredible but we engage with so many of her creations because we see ourselves, or those around us, in them.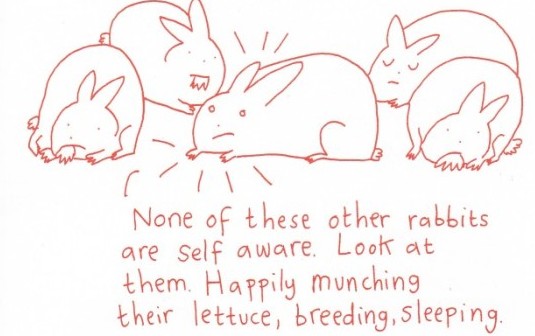 Take Away!'s opening strip, for example, features anthropomorphised food cartons being surreal and funny yet it also has a resonant point about our feelings of being used by the system and devalued by society. Similarly, the existential angst that sentience brings to Self Aware Rabbit (above) works on a comparable level for another of Lunney's leporine protagonists, beyond the obvious humour to be found in his sudden Cartesian revelations of self.
And so it goes on. Keith the Wizard's unappreciative mistreatment of his magical Unicorn workforce echoes the behaviour of every bad boss you have ever had. Dullbog the Bulldog with his tedious, circuitous anecdotes is a reminder of those social bores you both dread and pity at the same time. And the always disappointed Depressed Cat is probably the quintessential embodiment of Lunney's observational wit, symbolising that most central principle of the human condition – our inability to ever be satisfied with our lot.
The genius of Lunney's work is that, whether we are consciously aware of it or not, she is constantly daring us to laugh at both our own hang-ups and the vagaries of life itself through her colourful cast of characters. In that regard her stripped back, uncomplicated cartooning perfectly complements the themes of her work; its minimalism being so very expressive in visually compressing her creations to their core emotional tics.
What, though, of the tactile element to her work? That trademark minicomic presentational style that has been such an integral part in the feel of her books to date? As someone who has covered the world of self-published Lizz Lunney offerings in Broken Frontier's 'Small Pressganged' column on a number of occasions I can certainly sympathise with those who may feel that something essential has been lost from the reading experience by collecting her strips in a more traditional format. The minicomics did come in a number of shapes and sizes, after all, from the stapled landscape-style read of Romantic Bison to the flipbook jollity of Bears in Your Face/The Man with Tetris on his Chin.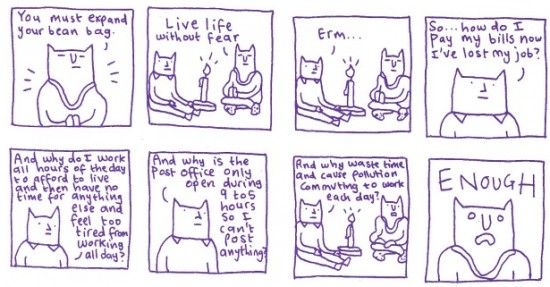 However, in keeping with the philosophy of those small press offerings, there's still a conspicuously tactile element to Take Away!. French flaps ensure that there's a nod to the physicality of the print version of the source material and it's interesting to note the subtle ways the reading experience is, by necessity, changed on occasion by an alternative page layout from the original. What can't be immediately replicated in the physicality department is made up for in the design sensibilities of the book; its takeaway bag cover and list of "ingredients" (characters) overleaf, for example, adding an air of playful whimsy to the proceedings.
If you are new to Lizz Lunney's idiosyncratic comic strips and their resplendently ridiculous narratives then this is the collection that your bookshelf is just begging to house. With a significant chunk of the book comprising all-new material it's an indispensable offering for the committed Lunney enthusiasts too. Take Away! is a long overdue compilation for this unique creative voice on the UK small press scene, and a much deserved showcase for her wickedly witty imagination.
Lizz Lunney (W/A) • Blank Slate Books, £9.99/$14.99, November 2013