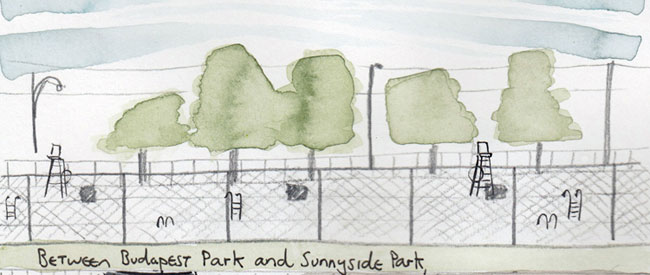 Striding out from his home in Manchester, the critically acclaimed artist Oliver East has blazed the trail for 'landscape comics' in the UK.
As in most narrative media, the vast majority of the comics we thumb through are defined by character and plot; if you had to describe a particular comic, nine times out of ten you'd say it was about a someone who does something.
However, the unique nature of the medium – the total stylistic freedom enjoyed by creators and the fact that readers can spend as long as they like on an image or page – also allows for a more contemplative use of the form.
One example of this is what people are calling 'landscape comics', where a sense of location is the driving purpose, rather than the mechanics of plot. In the UK at the moment we're lucky to have three of the form's leading exponents on our doorstep: Oliver East, Simon Moreton and Jon McNaught. They each use a very different style and method of execution, but all three put the evocation of place at the heart of their work.
Oliver East is probably the most established creator in this, um, field. His self-published comic Trains Are… Mint (now published, along with his subsequent work, by Blank Slate Books) introduced the approach that he has largely made his own. He decided to walk from his home city of Manchester to the seaside town of Blackpool, staying as close as possible to the railway line between the two and recording his impressions and droll reflections as he went.
Since then he's undertaken a number of similar projects, lighting out between Manchester and Liverpool (Proper Go Well High) and from Berlin to the Polish border (Berlin and That). For his latest book, Swear Down, he set off on a walk due south from his house – aiming, with slightly comical ambition, to get to Ghana eventually – while also coming to terms with the traumatic premature birth of his son, which almost cost his wife her life.
His most recent major project was the single-page instalments of Rolling Stock, which he published online almost daily via the Comics Workbook collective blog. Coming to an end in October with number 200, these were not tied into a single narrative and generally lacked the wry commentary that characterises East's books.
However, they did highlight his style in possibly its purest and most stripped-down form; while Swear Down was by far his most 'sociable' book, with his wife and young son even joining him for parts of the walk, in Rolling Stock East seemed keen even to remove himself from the work.
His pages are highly distinctive, eschewing tight draftsmanship for simplified graphic representations, often to the point of near-abstraction. His work is then coloured in a muted palette of natural tones, delivered via watered-down acrylics. The result manages to capture the familiarity of the environment around us while also shining a light on some of the hidden strangeness and charm that may also lurk therein.
It might actually be a little misleading to describe what East does as strictly 'landscape comics'. What seems to draw his attention as much as anything is what people have put in the way; fences, walls and other barriers are recurring motifs. Elsewhere, some pages of Rolling Stock are little vignettes highlighted by a line of overheard dialogue, some are just a series of visual observations and some are linked thematically (such as a page collecting six basketball hoops he'd encountered).
It's not always desirable to apply film ideas to comics analysis, but the way Oliver East's comics work – especially Rolling Stock – got me thinking about montage theory: the approach to editing coined by Sergei Eisenstein (Battleship Potemkin) and his Soviet homies in the 1920s.
In an exciting time when the art of film editing was being invented from scratch, Eisenstein was keen to explore the 'associations' created by the juxtaposition of images. He also identified the concept of 'tonal montage', moving beyond the join-the-dots continuity editing we associate with mainstream narrative film.
Of course, a bit closer to home, Scott McCloud expressed a similar idea in Understanding Comics, when he suggested that the reader does a lot of the work in comics by providing 'closure' between panels: "In the limbo of the gutter, human imagination takes two separate images and transforms them into a single idea" (p66).
He also identified what he calls the aspect-to-aspect transition between images, which "bypasses time for the most part and sets a wandering eye on different aspects of a place, idea or mood" (p72).
This identifies perfectly the pleasure of reading Oliver East's work – especially the more loosely structured Rolling Stock pages. Without the intervention of a narrator or the clockwork ticking of a plot, you're invited to pore over the page in a more reflective way, going back and forth between the images and using them to create an image of the landscape as filtered through the artist's vision.
And, of course, it's always a treat when there's a cock and balls drawn on a factory wall as well.

Oliver East's books – Trains are Mint, Proper Go Well High, Berlin and That and Swear Down – are published by Blank Slate. Rolling Stock is available on the Comics Workbook website.  
In the next part, I'll be looking at the work of Bristol-based writer-artist Simon Moreton, whose work goes to the place where memory, emotion and location intersect.