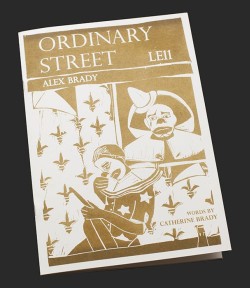 Taking the lyrics of Bob Dylan's 1965 song 'Desolation Row' as inspiration, Ordinary Street is a haunting and sometimes surreal journey through a world of urban decay and moral ambiguity. Alex Brady's stunningly rendered linocut prints are accompanied by Catherine Brady's verse re-fashioning Dylan's original lines and taking us on a tour of an environment where run-down bars, predatory figures and shattered dreams are the norm.
Like Dylan's marathon masterpiece, meaning and interpretation are left largely in the hands of the audience as a sprawling cast of characters – both anonymous and oddly familiar – wander through the narrative. There's a lingering quality to Alex Brady's detailed linocut pages that ensures you will dwell long on each brooding image, digesting the carefully observed frailties of the lives depicted therein. Now, whether this is strictly "comics" in the rigid sense of sequential art I will leave to the individual to decide. I was satisfied enough that each and every page felt like a story in itself; a snapshot into everyday existences portraying their foibles and quirks with a studied and intelligent eye.
One of the great joys of self-publishing, from both sides of the creator/reader divide, is the opportunity it provides for the realisation of obvious labours of love like this. Some of the very best small press works – as I have no doubt said on a number of occasions in 'Small Pressganged' – are those projects where artists can truly indulge themselves and produce something that has been crafted as much for satisfying their own muse as it has been for a potential audience. That's very evident in Ordinary Street and I can only begin to imagine how time-consuming the creative process must have been here.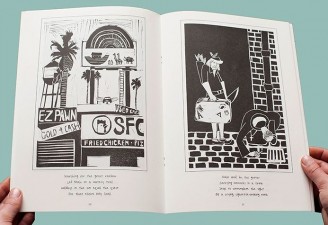 Ordinary Street is an ode to a chaotic cityscape; a series of vignettes of an eerie, twilight world both slightly abstract and yet terrifyingly recognisable, and an introduction to the art of Alex Brady that ensures her work is most assuredly on my "to be watched" list in future.
For more on Alex Brady check out her site here. Ordinary Street is available to buy at her online store here priced £5.50.