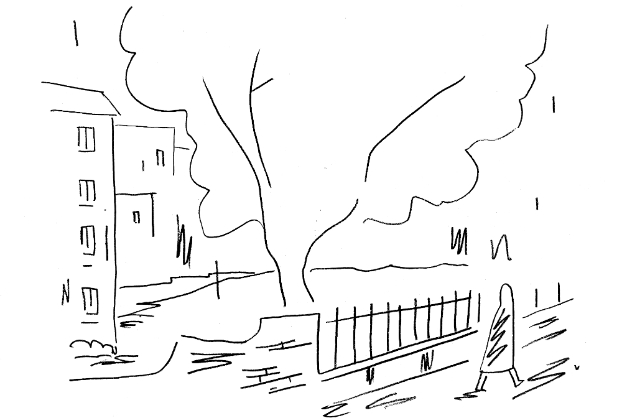 SAFARI FESTIVAL FORTNIGHT!
With his long-running and influential zine comics series Smoo Comics having recently come to an end, and his new publication Minor Leagues taking his creative practice in expanded directions, 2016 has been a transitional period for Simon Moreton, that most pivotal of UK small press players.
Moreton has been a much featured creator in this column over the years with his distinctive blend of autobio and minimalism. Outside of his self-publishing ventures he has been published by Avery Hill, Retrofit and Uncivilized Books and was also for many years a co-organiser of the Bristol Comic and Zine Fair.
Today, as part of our ongoing coverage of artists exhibiting at this year's Safari Festival, I talk to Simon about saying goodbye to Smoo, the greater responsibilities of autobiographical comics, and what the future holds for this unique voice in British self-publishing…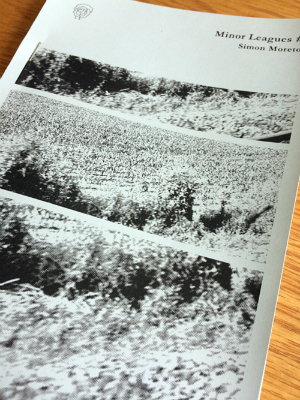 ANDY OLIVER: Your long-running Smoo Comics series came to an end last year. Looking back, how do you feel Smoo evolved in the years it was published in terms of both its thematic coverage and your own stylistic approach to the page?
SIMON MORETON: Thematically SMOO was consistent, I think. I was always interesting in documenting and understanding my life, and I still am. Stylistically however it was always changeable because I was learning on the page – when I sat down to draw the first issue in 2007, it was the first time I'd drawn anything more than a doodle since A-level Art, 6 years earlier. I barely knew about comics or zines, and knew nothing whatsoever about self-publishing. So I was making everything up as I went along.
The biggest change that happened, really, was off the page. I met all these people and was exposed to all these ideas and ways to do things that just helped me massively rethink what art could be. I think for most of us, it can be really hard to give ourselves permission to be creative, to develop your instincts and make the art you want.
Zines and comics give you the permission to do that, and a lot of the positive stuff surrounding that world (there is negative stuff, too) was, and is, about learning to make art while supporting one another to do the same, too. To be progressive and care about what you make and who you make for and who you make with.
God knows how I'm doing on that front, but I'm a lot closer to making the kind of work thematically and stylistically I'd like to make. But I still don't think I'm particularly good at it. Hopefully one day I will be.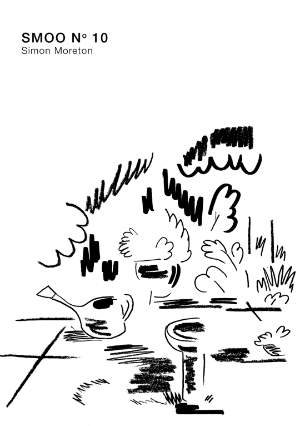 Was there a tinge of sadness at the conclusion of Smoo or did you have a more pronounced feeling that it was time to move on to something new?
I guess I was a little sad. People can be creatures of habit, myself included. But that sadness was exactly the reason I had to give it up. I think there's a difference between struggling to create a coherent body of work, and not trying new things because you're afraid of failure or whatever. I realised I was doing the latter.
Your new project Minor Leagues debuted earlier this year. How does it differ from Smoo in presentational terms?
Minor Leagues is a zine of writing and drawing and comics and prose and poetry. Where logistics allow, I'll make Minor Leagues at home, printed on my printer on different papers and cut and stapled by hand. The first issue is 100 pages long, and loosely themed around the passing of time and the passing away of people in our orbit. It's available for single issues or a subscription. Also, It has a letters page! It's very personal.
Smoo was so memorable for the way its autobio comics gave evocative impressions of events and invited audience interpretation, interaction and empathy. Now that you're working in a number of different mediums in Minor Leagues how has your approach to the recurring themes of your work had to adapt? And what narrative advantages have there been to these different methods of connecting with your readership?
Narratively, using different mediums is simply a case of using the right tools for the job. I mean, I love comics, and the way I do comics has a particular communicative purpose. But I want to be able to say other things to, talk to people in other ways about things that have happened. I don't think that broader palette of approaches will change what I'm doing thematically. If anything, it'll intensify what I'm already doing. That said, I'm really new to prose, and my prose is a little guarded, or a little vague. But that's not about self-protection so much as it is about creating a relatable environment for the reader.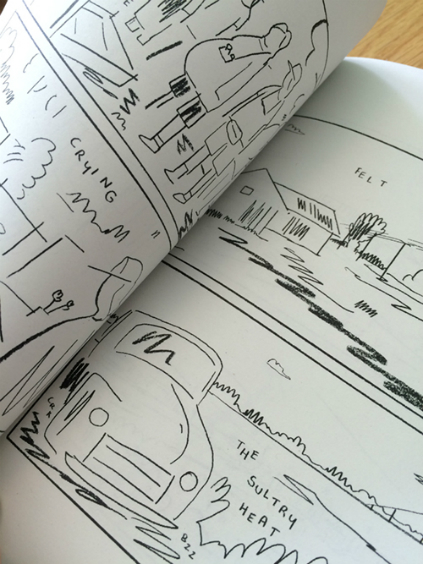 Following on from that, the move into prose and poetry arguably creates a more direct relationship with the reader on some levels. Is there a subsequent sense of increased vulnerability about expressing your feelings in a less implicit or implied manner with some of very personal written reflections in Minor Leagues?
Yes, definitely. Some of the stuff in Minor Leagues was very hard to share and to write. But that's kind why I'm doing it. But I think if you want to understand yourself even better, you have to open yourself up to the uncertainty of new feelings, or the threat of vulnerability. And I'd like to understand myself better because I want to be a better person, and I think one follows on from the other. However, there is a line, especially where that material might hurt or compromise other people, that I need to be aware of.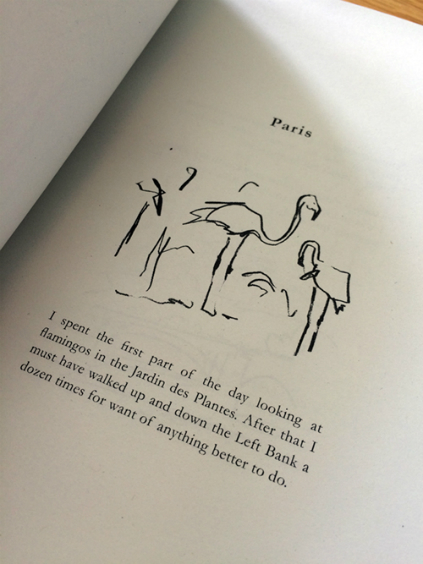 You've indicated that the physical format of Minor Leagues could change from issue to issue. Do you envisage Minor Leagues becoming a McSweeney's of the DIY culture world?
Oh gosh, I don't know about that! I basically just want to keep my options open. It might always be totally the same. I don't want to change the format for the sake of it. Only if the contents might work better if presented differently.
You've also recently launched your Lydstep Library series of pamphlets, the first being Garden (below). How would you describe the focus of this new run of zines?
The Lydstep Library series is a tongue-in-cheek place where I can try out new stuff for the fun of it. I often want to try and put all my ideas and influences into whatever I'm working on at a given time, which is a pretty bad idea. So having an outlet like the library series is a really positive way to indulge different ideas that might not fit in other projects I am working on.
Since we last spoke your first full-length graphic novel Plans We Made has been published by Uncivilized Books. What were the challenges of working in a longer-form narrative style for the first time?
Plans We Made was a big challenge in lots of ways. I wrote about a lot of them here on the Forbidden Planet International Blog. But in essence, moving from writing short vignettes of the sort I published in SMOO, to something that would hold a reader's attention was really tough. Comics are about beats, rhythm, sequencing, perhaps even more so if you're working with material as ephemeral contents as my drawings. There's no plot, but the whole book is about evoking a feeling. So what's the emotional journey of this book? What's the dynamic rhythm of the marks on the page? Why would people want to read to the end? It's like ambient music or something.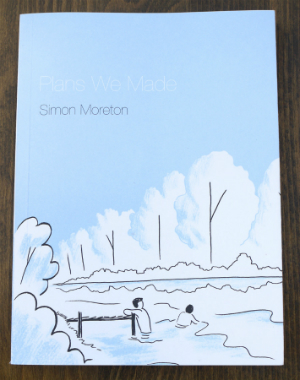 The real learning curve has come from having a book 'out there' way beyond the reach of my zines. It's a bit scary. People seem to either love the book, or just not be taken by it at all. I mean internet reviews are always polarised anyway and I think I intuitively knew that my comics aren't for everyone and I'm fine with that. Defiant, almost. But maintaining your confidence in the face of any form of negativity is really hard. People say they don't like it, that's a lot more impactful than people saying they love it.
The other thing, and I realised this when I was chatting to a couple of cartoonist friends recently, was that I am really scared of letting people down. With stuff I'm self-publishing, I don't mind what people think, because I know my boss is totally cool with me taking a risk. But as soon as someone else is putting something out on my behalf, god. Well. I go through a crisis of faith. My mental health takes a kick. It's scary. And ultimately, although sometimes I whinge about doing work for other people as being a 'constraint', really it's because I'm scared. I'm scared of giving someone I like a crock of shit they have to pass off as good art.
I felt that way about just about any anthology piece I've done, my Retrofit Comics book, Grand Gestures, about Plans We Made, and about this new comic I've just finished. They're all released by people I respect and whose success I care about. And I give them this…this thing? And no matter how hard I try, I always think I've let someone down.
But personally, I'm really proud of Plans We Made. Would I do it differently if I did it again? Well, sure. But that's the nature of making stuff: you learn from it and put it into the next thing you do. As it is, I think it's a really nice book.
You'll be at Safari Festival this year but what other festivals and fairs can Broken Frontier readers expect to see you at through the rest of 2016?
I'll be at Bristol Comic and Zine Fair in October. It'll be my first year exhibiting without also being an organiser.
I'm once again representing US publisher Retrofit Comics at both Safari and BCZF, and I'll have loads of their releases, including new ones from Sophie Franz, James Kochalka, Maré Odomo and more!
And, finally, are there any other upcoming projects you're involved with that you can tell us about at the moment?
I've just finished work on a 44 page floppy comic called What Happened (above and below right). It's vaguely about the summer before I started secondary school. It's being published by Kilgore Books as part of their Autumn line-up, and there's a Kickstarter just launched here to fund that run of books. So that's me, Noah Van Sciver, Emi Gennis and Tom Van Deusen. All being well, the books will all launch at SPX in the US in September.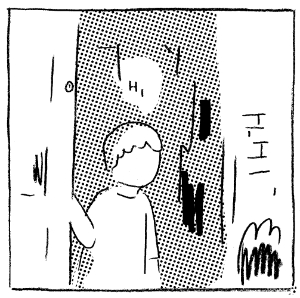 Minor Leagues #2 should be out in the Winter on Lydstep Lettuce, which is the name my partner and I have given to our new imprint. We're releasing stuff we make on it for the time being, and maybe work by other people and things other than zines in the future.
I'm also hoping to make a Lydstep Library zine for Safari if I can get it together, but I just spent two days straight drawing all of What Happened so I'm pretty fried right now.
For more on the work of Simon Moreton visit his site here and his online store here.
You can also follow him on Twitter here.
Simon Moreton will be exhibiting at Safari Festival on August 27th.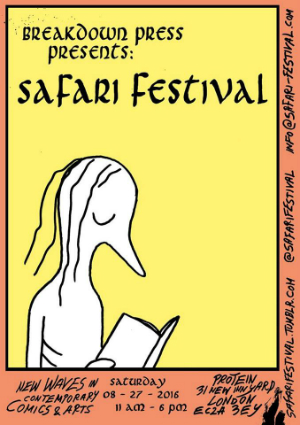 For regular updates on all things small press follow Andy Oliver on Twitter here.